PetaPixel Photography Gift Guide 2011
Christmas is almost upon us, and for the second straight year PetaPixel's gift guide comes incredibly late. Think of it as a general guide to nifty photo-related gifts that have emerged over the past year rather than a Christmas gift guide — after all, gifts are great to receive year-round, right?

Camera Stickers — 3 for $5
Tiny stickers shaped like modern and retro cameras and gear. Terrific for sticking all over the place!
Polaroid Picture Frame and Mirror — $7
A picture frame that looks exactly like a Polaroid picture. Use your own photograph, or leave it empty to use it as a mirror!
100 Film Paper Towel Box — $17
This giant film roll dispenses toilet paper rather than film. Great for any photo geek's bathroom or workspace.
Shot Glass Lens Set — 3 for $18
Mini ceramic shot glasses shaped like camera lenses. Available in both Canon and Nikon flavors.
Nikon Lens Speakers — $20 – $40
Desk speakers that are shaped like Nikon lenses. Canon lens speakers are also available.
Photoshop Magnet Kit — $25
Turn your refrigerator into a Photoshop workspace look-alike!
Glow Graffiti — $39
Light paint in style with this UV light that's shaped like a can of spray paint.
Airframe — $59
Picture frames shaped like airplane windows. Give people a lofty window seat view into your photographs.
Lens Pillows — $59 – $120
Giant pillows that let you curl up with your favorite lens. Softness is a good thing for these lenses.
iPhone SLR Mount — $249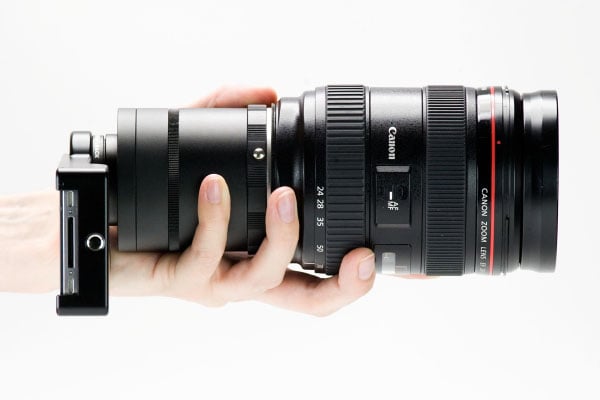 An adapter that lets you use your existing collection of Canon or Nikon lenses on your iPhone 4.
---
Image credit: Old School Ornament by Robert Otani