PetaPixel Photography Gift Guide 2010
Sorry that this year's list of awesome photography gifts comes even later than last year's… we'll try to have it ready earlier in 2011. This year we have 10 fun, novel, and/or useful gifts for photography-lovers you love…

Nikon Camera Pendants — $3
A cheap and fun way for someone to display their Nikon loyalty around their neck.
Camera Lens Bracelets — $10
These lens gel bracelets available in a large number of focal lengths and help you show off your photography-geek pride.
Leica Look-Alike Skin for the iPhone 4 — $13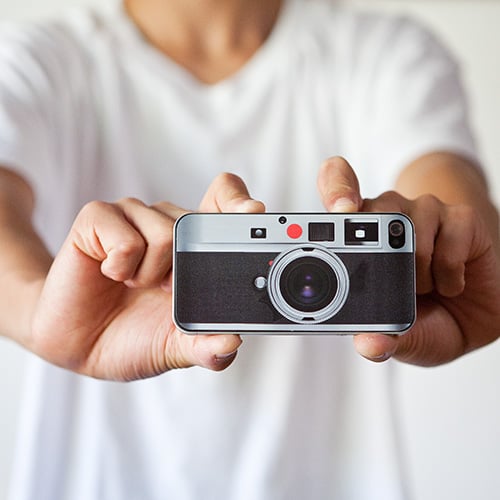 A sticker for the front and back of your iPhone 4 that makes it look like a Leica rangefinder camera.
Photographers Rights Gray Card Set — $15
Carry your rights as a photographer around with you when you're out shooting, printed on the back of a useful set of white balancing and exposure cards!
Camera Dial Laptop Decal — $18
A vinyl replica of your camera's mode dial knob as a laptop decal! Available in both Canon and Nikon styles.
Canon and Nikon Lens Thermoses — $23+
A huge craze this past year was the introduction of coffee thermoses and mugs. These are made to look just like the actual lenses, and are sure to earn you weird looks when you put them to your mouth.
F-Stop Watch — $36
A nerdy watch that shows time in standard full f-stop units.
Mode Dial Cufflinks — $50
Fashionable — or at least geeky — cufflinks that look just like a camera mode dial.
Vintage Camera Bookends — $50
Hold your books up in style with these bookends that look like vintage cameras.
re:vision camera lens cuffs — $201+
Cuffs created from the focus rings and depth of field sliders of old lenses.
---
All of us here at PetaPixel wish you an awesome and safe holiday season!
---
Image credit: Have a Very Bokeh Christmas by Brandon Christopher Warren