The Photographers Behind the Wallpapers
Do you recognize this photograph? It's the wallpaper for Apple's new iPad tablet computer, which found its way into hundreds of thousands of eager hands this past weekend. Photographer Richard Misrach created the image, titled Pyramid Lake (at Night), in 2004 at a Native American reservation in Nevada.
According to ARTINFO, Apple first requested 10 images from Misrach's various series some time ago, but rejected them. Then, two weeks prior to the iPad announcement, Apple again approached him with a request to license Pyramid Lake. After laying out terms to an exclusive five-year deal without mentioning the iPad, Misrach was blown away (in a good way) when the photograph was featured in the announcement.
The web was abuzz for a few days due to the fact that the image Apple featured in the announcement was unlicensed, but Misrach likely signed a contract soon after, and states that the terms were good.
Few photographers will ever have the opportunity to have their work recognized on the scale of default wallpapers for one of the dominant operating systems. Bliss is another instantly recognizable photograph due to its presence on Windows XP: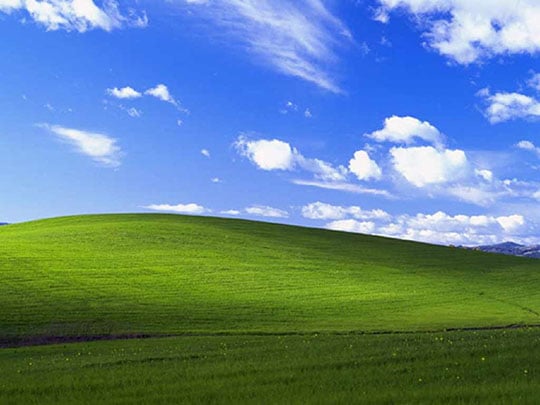 It was photographed in 1996 by photographer Charles O'Rear. Here's a look at the same location, taken in November 2006:
Can you think of other ways photographers' work can gain the same degree of instant public awareness?
---
Image credits: Pyramid Lake (at Night) by Richard Misrach, Bliss by Microsoft, Bliss (location) by Simon Goldin