Canon HongKong Giving Away Collectible Stamp Box Sets with Pro Printers
This past month Canon Canada ran a promotion where each purchase over $200 CAD came with a free collectible Canon Lens Travel Mug.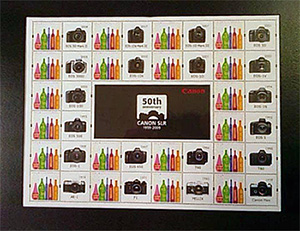 Not to be outdone, Canon HongKong is now offering a special collectible of its own: the EOS Digital SLR 50th Anniversary Stamp Box Set. The value of these collectible items are roughly in the same range (~$37), but the printers this promotion applies to are far more expensive than $200 CAD, with the cheaper one being $565.
These stamps were released last year to celebrate the 50th anniversary of Canon single lens reflex cameras, and contains 20 stamps that each display one of Canon's 20 SLR cameras made since 1959.
Supposedly only 3,000 of the box sets will ever be made, but it looks like they're having a hard time getting rid of them at HK$280 (~$36), since they're being bundled with pro printers now. If you happen to live in Hong Kong or know someone there, you can still purchase the stamps by themselves.
---
Update: If you're outside Hong Kong and dying to get your hands on one of these sets, you can currently find some being sold on eBay.