Posts Tagged 'Tips'
Invaluable advice for the beginning photographer
Jan 24, 2014 · Lisa Clarke
·

58 Comments »

·
There are a lot of tips and helpful articles out there about buying your first 'nice' camera, or even how to make sure everything is working well when you get one as a gift, but there's significantly less help for those who are considering buying their first flash. Enter DigitalRev and their "10 Things to Consider Before Buying a Flash." Read more…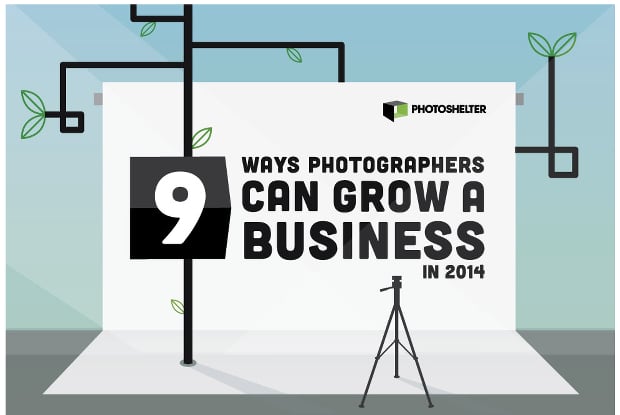 If 2014 is finally the year you plan to turn your love of photography into a business and see if you can quit your day job to do something you enjoy, then PhotoShelter is here to help. In the infographic below, they provide you with nine very useful tips that will help you begin to look at photography from the business side of things. Read more…
There's something inspirational about watching a seasoned photographer work at his craft — whether it's a studio photog who molds light to his will or a street photographer whose demeanor and results both scream professionalism.
Jack Simon falls under the latter of those categories, and in the video above, fellow street photographer Eric Kim takes us behind the scenes with Simon as he walks the streets of San Francisco. Read more…
Back in February of 2012, portraitist Peter Hurley shared an awesome tutorial that showed how to accentuate your subject's jawline in portraits and instantly make them look much more photogenic. That video went insanely viral amongst photographers, and now, Hurley has finally released a followup in which he shares what he calls "his most incredible tip for looking photogenic." Read more…
Sponsored Post
MIOPS is a new smartphone-controlled camera trigger that combines all of the features photographers want in a high-speed camera trigger into one convenient device.
A few days ago, we stumbled on a new set of short interviews with portrait photography master Gregory Heisler that cover everything from lighting, to relating with your subjects, to getting creative, to (and we know you're all interested in this one) getting hired. Read more…
These days, most photographers spend way more time staring at a computer screen than peering through a viewfinder. Despite this, we sure do spend a lot more talking about lenses and cameras than widescreen monitors. Perhaps that's because editing tends to be the far more tedious part of the job. With a little investment though, you can make those late nights pouring over the day's images just a little bit more comfortable.
Read more…
Anyone interested in shooting photos or videos using continuous light without breaking the bank has likely looked at purchasing or building a lighting setup based around CFL bulbs. Earlier in the year, I decided to go this route myself because I film interviews and generally prefer the way that soft continuous light reacts with a subject's pupils and comfort levels for photography. Read more…
Whenever somebody asks me if they should take a free job I answer with a resounding, no. Don't do it. Just don't. It should be a hard and fast rule in your book: do not work for free! That said, everybody breaks the rules, especially their own. Case in point, I just came off of a job this past weekend where, you guessed it, I worked for free.
So since me sitting here and lecturing you about why you shouldn't work for free would be a big waste of everybody's time, especially having just taken a free job myself, lets instead go ahead and look at when, perhaps, just maybe, you should at least consider working for free.
Read more…