An Intro to Flash Types in Photography, from 70W to 4800W
There are literally hundreds of different flashes on the market. With brands competing for attention and offering some very unique features, it is often hard to decide which flash to pick. What is more, buying a flash is sometimes like buying a whole lighting system. If someone buys Profoto they are likely to stick with it for a long time because it's part of a lighting system, not just one flash.

In this introductory article, I will break down some common flashes and dive into their pros and cons.
There are three main types of flashes on the market: speedlights (AKA battery-powered portable flashes), monolights, and pack-and-head systems. They may be battery-powered or not, and of course, they all accept a range of specialized modifiers. Some are better on location, while others are a king in the studio.
Let's go through these types one by one:
Speedlights
The first flash most photographers buy is a speedlight. It's a no-brainer for beginners: with its compact size and considerably larger light output than built-in flashes, it seems like the next step in being more "pro."
A speedlight is always battery-powered, small, portable. Due to the size and battery power, it produces a fairly low light output when compared to studio strobes. Don't expect to be able to light up a large scene using one speedlight. An average speedlight might have 70W of power, while a studio strobe can have 500W or more.
Speedlights (and some studio strobes) have TTL, which is Through The Lens metering. It allows setting light power automatically, which saves time in some cases. Another feature is zoom — almost all speedlights have a zoomable head. This can be handy when you're using a telephoto lens and need to cover a small area at 180mm rather than wide at 18mm
A great niche feature of the speedlight is its extremely short flash duration at low (1/4 or less) output. Still-life photographers may tape four or even six of them together to be able to freeze motion. What is less welcome is wild output and color inconsistency shot to shot. Interfaces can be confusing too.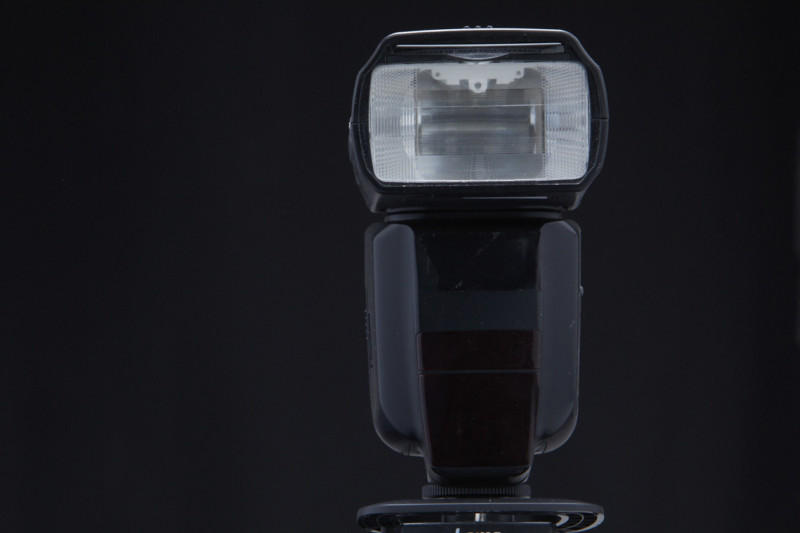 Due to its small size and low output, it often doesn't make sense to use speedlights with light shaping tools. Small softboxes, bounce cards, or gels are among the only options you may have. More commonly photographers will bounce their speedlights against a wall, ceiling, or other large surfaces.
Pros
Small size
Low price
TTL mode
A lot more powerful than the built-in flash
Cons
Low light output
Color inaccuracies shot to shot
Little to none modifier options
Slow recycle times
Monolights
A step up from speedlights are monolights. As the name suggests: everything is in one unit. Battery-powered and mains-powered monolights are quite different, so we will consider them separately. Monolights are quite heavy, and booming them on a light stand requires quite a few sandbags.
Battery-Powered Monolights
Those are fantastic on location. They have large output, anywhere from 300 to 500W, which is plenty to overpower the sun. Battery capacity is enough for 200-300 full-power flashes. Broncolor's Siros 800 can do 800W Because they are bigger lights with higher output, they will be considerably large and require a separate light stand.
On the other hand, battery-powered monolights will be able to accept all modifiers natively (given mounts are appropriate). Recycle time at full power can be quite short. For example, Godox AD600 will recycle in 0.9 sec and full power. Color consistency is also much improved — the Profoto B1x has a negligible color shift across the whole range.
Compared to speedlights and mains-powered monolights, these can run quite expensive.
Pros
A lot of power on-location
Modelling lamp usable for video
Portable
Hundreds of modifiers are available
TTL in most new lights
Can be used over long distances
Cons
Need stands and remotes to work
Take up more space in a camera bag
Battery life can be short
Recycle times at high power can be above 1s.
Spare batteries required
Stands are top-heavy
Mains-Powered Monolights
Take the battery away, and you get a mains-powered light. These are the first choices for photographers working in studios. Compared to battery-powered lights, these will have faster recycle times, shorter flash duration, and be lighter. The size will be pretty much the same — a lot of battery-power monolights have mains siblings.
Some mains-powered monolights can go all the way to 1200W of power, which is a welcomed addition when using large modifiers or needing to cover huge sets. With the benefits of mains power comes the biggest disadvantage: portability. You can't grab and go.
Pros
Faster recycle times than battery-powered monoligjts
Modifiers available
Powerful modelling lamps
Everything in one package
Cons
Need mains power to work
Stands are top-heavy
Hard to control as dials are on the light itself – need to climb up if the remote doesn't offer a power adjustment option
Pack and Head
A classic among many seasoned pros. The power output is often 1000W to 4800W. These packs are the most expensive option, but again there are two choices: mains or battery powered. A pack-and-head system is the bulkiest one you can have, but with large size come large benefits (if you don't mind the size of course).
Battery-Powered Pack-and-Head
A battery-powered pack-and-head system is one of the best on-location choices if you want to have decent power and no heavy lights up in the air. Some great options are Broncolor's Move pack that has 1200W of power.
Because the head is lighter than a speedlight, it isn't a problem to hold for long periods of time. Moreover, compared to a similar monolight system, the pack-and-head will recycle a lot faster.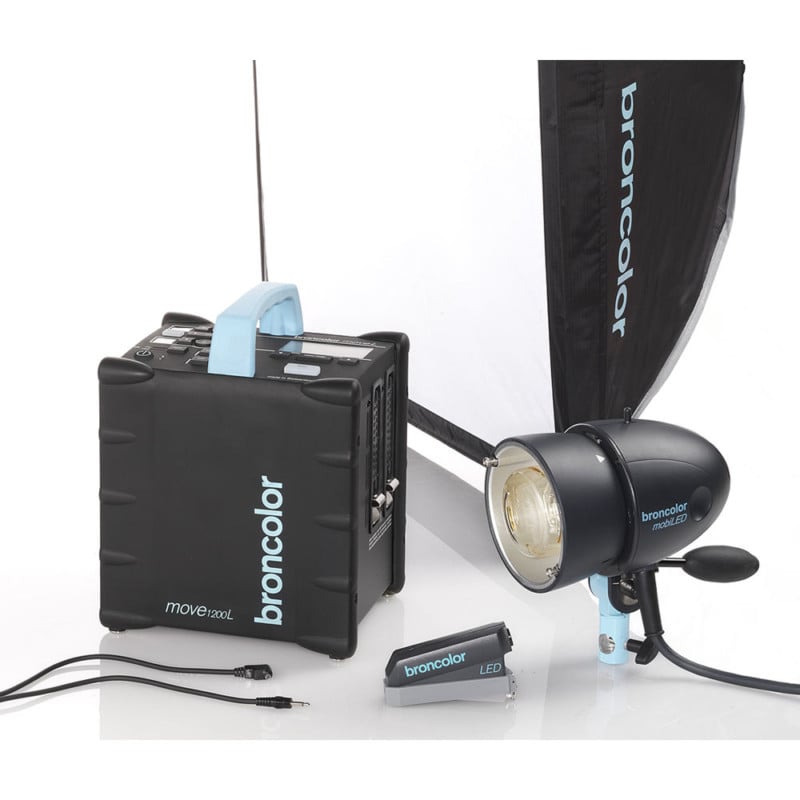 A drawback would be a lack of range. If you're using multiple lights from one pack, the cable length will restrict how far you can have them. Batteries tend to be very heavy for these too, but if you are shooting at half the power (600W), you get an impressive amount of flashes compared to a similar monolight system.
Another drawback is that adding lights eats up power. For example, if a pack is rated at 1200W and has two sockets, it will distribute that power over the number of lights connected. One light at full power can output 1200W, but add a second one, and that 1200W is cut into a ratio you pick. Suddenly maximum power from each socket is reduced.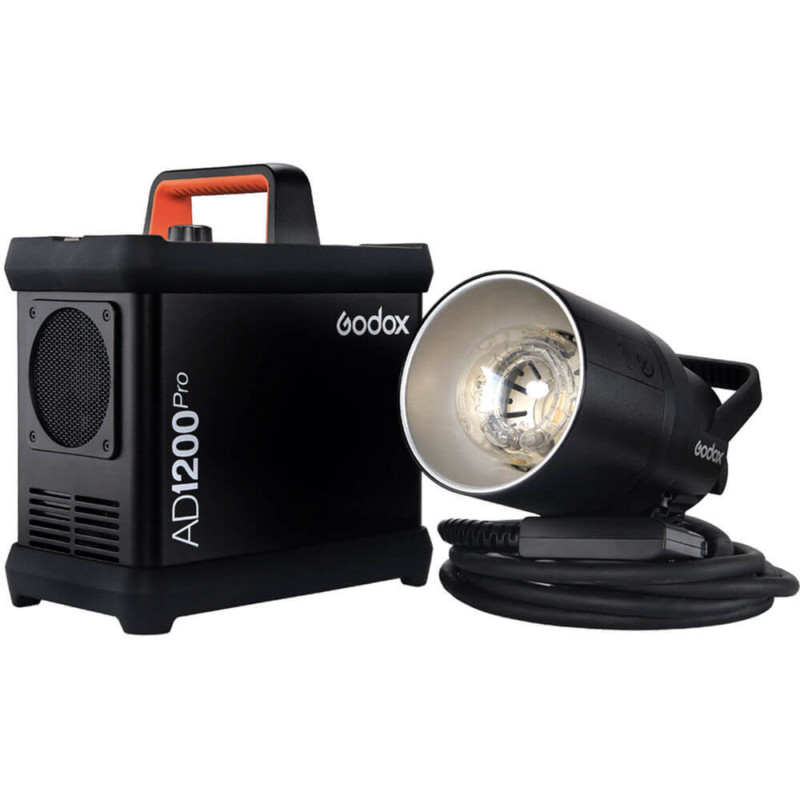 Pros
Long-lasting battery
No unnecessary weight on stands
Controls on ground
Fast recycling times compared to monolights
Most have the option to trickle charge in from mains while in use.
Work with all modifiers and have enough umph for giant modifiers.
Cons
Bulky and heavy
Lack of range due to cable length
Extension cables eat up power
Expensive
Batteries are huge and take a long time to charge
Each head eats up power
Mains-Powered Pack-and-Head
While I can't say that this is the most professional of them all, it is the most commonly found lighting solution for large productions, rental studios, and anything of scale. Mains-powered pack-and-head systems have incredible recycle speeds, the shortest flash duration on the market, and color consistency like no other. Some brands offer solutions to program them into lighting patterns.
Most pack-and-head systems offer two or three sockets. It has become industry standard to have anywhere between 1200W to 3200W of power in total with the full asymmetric distribution. As far as reliability goes, they are the best. Photographers can buy a pack-and-head system from decades ago and use it day in day out without major worries.
Pack-and-head lighting systems are very expensive and weigh a ton. For some, two or three sockets may not be enough. From experience, I tend to have two packs on set. That may not be enough, sets can get crazy with four or more packs. Due to the high cost, very few photographers own pack-and-head systems — they are rented from rental houses.
Pros
Extremely reliable
Consistent
Fast recycling times
Controls on the ground
Heads are light – no unnecessary top-heavy stands
Work with every modifier
Great for big modifiers
Highest power available
Cons
Bulky and heavy
Lack of range due to cable length
Extension cables eat up power
Expensive
Each added light cuts power
So there you have it, a guide to flashes from 70W to 4800W. Now go forth and light!