Best Compact Cameras in 2023
The compact camera, also known colloquially as the point-and-shoot camera, has been a staple of the photography world for over a century. Perhaps the first mass-market compact camera was introduced in 1900 by Eastman Kodak, costing a mere one dollar (about $36 today).

While it wasn't exactly compact by today's standards, the Kodak Brownie was downright tiny in the era of large-format photography. A simple cardboard box camera, it featured an extremely simple fixed-focus convex-concave (meniscus) achromat lens and a rotary shutter with a fixed 1/40th of a second speed and used No. 117 roll film (2.25" square). Selling nearly a quarter of a million units, Kodak would follow it up with the Brownie No. 2 in 1901, which proved to be an even greater success.
From there, fixed-lens compacts were produced by just about everyone. In 1949, Photo-Pac introduced the first disposable camera; 37 years later, Fujifilm introduced the disposable QuickSnap, which became one of the best-selling cameras ever.
In 2010, point-and-shoot cameras accounted for 52% of all photos taken. By the end of 2011, that number was down to 44%, with smartphones responsible for 27% of photos. Compact camera sales dropped 40% in 2013, primarily among lower-cost models, and in 2016, point-and-shoot sales were 10% of what they were at their peak in 2008.
But we've recently seen a resurgence in interest among younger audiences in the compact camera market. In fact, Fujifilm temporarily halted orders for the Fujifilm X100V late last year due to surging demand, and Ricoh has announced that the Ricoh GR III is so popular it can't keep it on shelves. Even the price of used and discontinued models has soared. As of the writing of this article, KEH lists the original Fujifilm X100 at $497 in bargain grade, while the X100F is just over $1,350 — fifty dollars less than the X100V's MSRP.
With such immensely renewed interest in compact cameras, what better time to list our suggestions for those seeking one? We have broken this list down into seven categories designed to suit a variety of users and needs.
At a Glance
Best Overall Compact: Fujifilm X100V
Yes, I just talked at length about how the Fujifilm X100V is out of stock almost everywhere in many (if not most) countries. But Fujifilm has not discontinued the camera — that would be borderline insane given its popularity — and it will undoubtedly return to shelves in due time.
In the meantime, you can stay on the lookout for used cameras or try to find somewhere that may have some in stock if you're lucky. These are some of the very best places to purchase used photography gear — Adorama, KEH Camera, and UsedPhotoPro (Robert's Camera) are my absolute favorites, with new used equipment added daily.
The Fujifilm X100V is Fuji's fifth model in the X100 line of compact cameras, which the company first launched in 2011. Released in 2020, the X100V features the fourth-generation X-Trans IV sensor with 26.1 megapixels from the X-Pro3 and, for the first time, the 23mm f/2.0 lens (35mm full-frame equivalent) has been redesigned to improve wide-aperture close-ups and general corner performance. Along with the new sensor, it also inherits the X-Processor 4 from the X-Pro3 and an improved autofocus system with better continuous AF tracking and eye detection.
The hybrid electronic/optical viewfinder — a feature unique to Fujifilm — is now an OLED panel. It's also larger than the X100F's viewfinder and higher resolution with 3.69m-dots. The 3.0" 1.62m-dot LCD screen is now both tiltable and touch-capable. It is an improvement in just about every single way, but it does lose the d-pad — despite having room for it — which is an unfortunate trend for many Fujifilm models.
Rounding out the list of impressive specifications is a 20 fps burst rate (using the electronic shutter), internal 4-stop ND filter, DCI 4K at up to 30p and 200 Mbps, full HD at up to 120p, Eterna film simulation and F-Log gamma, and 10-bit 4:2:2 recording out via micro-HDMI. A USB-C 3.2 Gen 1 port has also been added, which supports in-camera charging and audio monitoring via an adapter.
Finally, the Fujifilm AR-X100 Adapter Ring is available, allowing the lens to accept 49mm threaded filters and weather-sealing the camera. A wide-angle conversion lens, the Fujifilm WCL-X100 II, turns the lens into a 28mm-equivalent. Conversely, the Fujifilm TCL-X100 II Tele Conversion Lens converts it to a 50mm-equivalent.
Best Overall Compact Zoom: Sony DSC-RX100 VII
The seventh model in Sony's RX100 line, the Sony DCS-RX100 VII, is a genuinely phenomenal camera that not only fits in your pocket but contains an impressive zoom range. Featuring a Zeiss Vario-Sonnar T* f/2.8-4.5 lens with an equivalent zoom range of 24-200mm, the RX100 VII will cover just about most situations you could encounter. A 20.1MP Type-1 Exmor RS stacked sensor sits at the heart of the camera and — along with the revised BIONZ X image processor and integrated DRAM — enables blackout-free shooting at up to 20 fps with continuous autofocus and autoexposure. With exposure and focus locked, the camera is capable of up to 90 fps for seven frames.
Autofocus is impeccable, with 60 AF/AE calculations per second, 357 phase-detection, and 425 contrast-detection focus points. The camera can utilize Sony's lauded Real-time Tracking, which uses AI to track moving subjects. Real-time Eye AF, which works with both animals and humans, is also on tap.
On the video front, the RX100 VII is capable of UHD 4K with full-pixel readout and no binning in Sony's XAVC-S format at up to 100 Mb/s. For those who desire greater latitude in post-processing, the camera offers HLG (Hybrid Log Gamma) and S-Log2 / S-Log3 gamma curves. A dedicated HFR (high frame rate) mode enables users to shoot up to 960 fps.
The RX100 VII, like all previous RX100 models, is impressively compact given not only the photograph specifications it packs inside but also because of its pop-up OLED electronic viewfinder with 2.36m-dots and Zeiss T* coating. The rear touchscreen LCD will both tilt and fold out, allowing for a range of 180 degrees upward and 90 degrees downward.
Best Compact for Street Photography: Ricoh GR III / GR IIIx
Of all the cameras on this list — and perhaps of all cameras currently on the market outside of Leica M rangefinders — the Ricoh GR line directly dates back to the film era. Like Leica M cameras, it has not changed much since the introduction of the original model, the Ricoh GR1, in 1996. Ricoh would then go on to produce numerous variants, including the GR21 (21mm lens).
The Ricoh GR III, released in 2018, is the seventh in the digital GR line, which began with the GR Digital in 2005. In 2013, Ricoh released the Ricoh GR, which — like the Fujifilm X100 — contained a very large APS-C sensor. The GR II, released in 2015, was basically the same as the GR, with a few minor tweaks. But the GR III was radically different.
The GR III featured both a new sensor and a new lens; the sensor was bumped from 16MP to 24MP, and the 18.3mm lens (28mm full-frame equivalent) f/2.8 lens now featured six elements (two aspherical) in four groups over the GR/GR II's 7 element/5 group design. While that may sound like a downgrade, it is not — the original 7/5 lens was utterly fantastic, and the new one is even better. Sharp corner to corner, even wide-open, with remarkable flare resistance, the GR III's lens is one of the best 28mm equivalents in any camera. It also produces rather gorgeous sun stars stopped down.
In 2020, Ricoh answered the prayers of many users and released a complementary model: the Ricoh GR IIIx with a 40mm f/2.8 equivalent lens composed of 7 elements (two aspherical) in five groups. The camera is, in every other way, identical to its wider-angle sibling.
Alongside the GR IIIx, Ricoh developed a new 1.5x GT-2 Teleconverter, which, when used with the appropriate Ricoh GA-2 adapter ring, turns the lens into a 75mm-equivalent by automatically engaging the camera's crop mode to 15MP.
Both cameras now feature 3-axis in-body image stabilization, on-sensor phase detection autofocus, a built-in ND filter, AA-filter simulation, ultrasonic sensor cleaning, and a USB Type-C port. Naturally, the cameras retain one of the best features of the Ricoh GR cameras: snap focus, wherein the camera will automatically jump to a specified focus distance with a full press of the shutter button. Alongside its compact, fit-in-your-jeans-pocket form factor, the snap focus is a street photographer's dream. It allows a user to snap a photo via zone focusing with essentially zero lag without switching between manual and autofocus modes.
Best Superzoom Compact: Sony Cyber-shot DSC-RX10 IV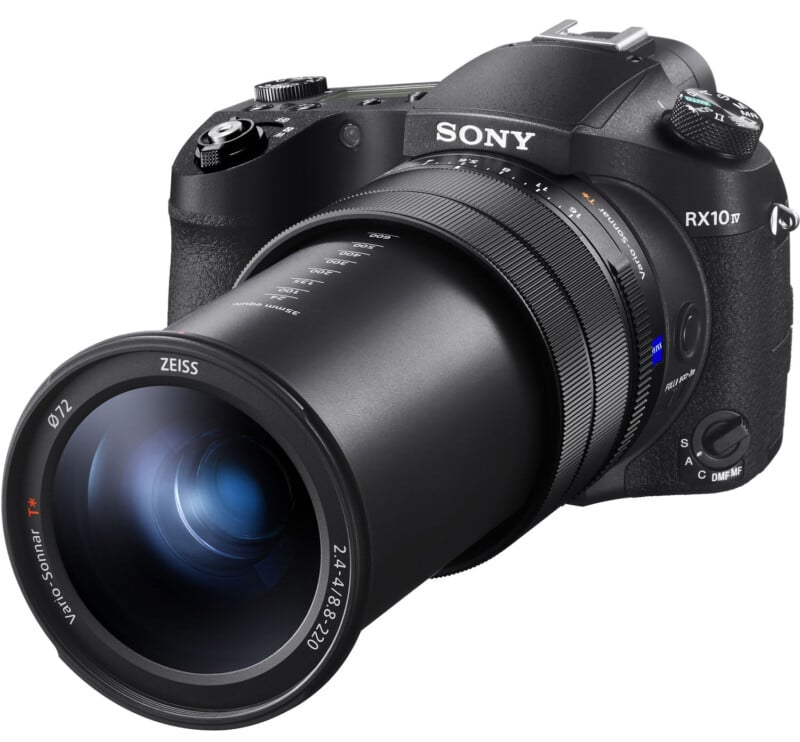 The Sony Cyber-shot DSC-RX10 IV may stretch the label of "compact camera" for many — it does weigh 2.41 pounds (1095 grams), after all. But when you consider the downright astonishing focal range, it suddenly doesn't seem very large at all.
Incorporating a Zeiss Vario-Sonnar lens with a 24-600mm equivalent focal range and a maximum aperture of f/2.4-4, the RX10 IV swings for the fences. Despite its 25x zoom range, the lens is a remarkably stellar performer — no doubt in large part due to its complex 18-element / 13-group optical design, which contains no less than eight extra-low dispersion elements, five aspherical elements, and one "advanced aspherical" element, all of which do an excellent job controlling chromatic and spherical aberration and maintaining high transmission. Optical SteadyShot image stabilization is also included, rated for up to 4.5 stops.
Inside, you'll find the same backside-illuminated, stacked 20.1MP sensor found in the Sony RX100 VII and Sony ZV-1 bodies. Like those cameras, the RX10 IV features a high-speed hybrid autofocus system. However, it is capable of a bit faster burst speeds — 24 frames per second while using autofocus tracking and autoexposure. The RX10 IV also contains an AF-A mode, automatically switching between AF-S and AF-C depending on the situation.
The ergonomics of the RX10 IV are possibly the best of any Sony camera, harkening back to the days of Minolta and Sony A-mount cameras. A substantial and extremely comfortable grip, exposure compensation dial, top panel LCD display, integrated pop-up flash, versatile tilting touchscreen, front focus mode switch, and a de-clickable aperture ring make this one of the most well-balanced and downright fun cameras.
Best Premium Compact: Leica Q3
When most photographers think of premium cameras, Leica is one of the first brands to come to mind. Its cameras tend to elicit very strong reactions — people either love them or find them to be overpriced jewelry (and supposedly something that many dentists buy for some reason). I've owned a few Leicas over the years and currently own a Leica M3 and Leica CL (film version). I also got to try out the Leica M11 before its release, which was the first time I had very few complaints about a Leica M camera.
But Leica's Q series may be its best seller and is undoubtedly one of their best cameras. Yes, it is expensive at $5,995. But considering you get both a Leica body and a 28mm Summilux lens, it seems like quite a bargain.
The Leica Q3 is one of the finest cameras the Wetzlar-based company has ever made. Fitted with the best sensor ever put in a Leica body — the same 60.3MP BSI full-frame sensor found in the Leica M11 — it is capable of astonishingly great results. Not only is the sensor the best Leica has ever used, but it is also among the best non-medium format sensors on the market. Dynamic range matches the Sony a7RIV and a7RV, which likely use the same base sensor, but the Leica Q3 holds the edge at higher ISOs due to lower chroma noise. It also features a base ISO of 64 — two-thirds of a stop less than Sony's ISO 100 — allowing for superior color, tonality, and noise.
Like the M11, the Q3 features "Triple Resolution Technology" — which adds pixel-binned 36MP and 18MP options in addition to the full 60MP resolution. While Leica claims enhanced dynamic range in these modes, my tests found no advantage to the in-camera binned photos and downsampling in post, other than saving space. The 60MP sensor also allows for a variety of crop modes: 1.25x (simulating 35mm), 1.8x (simulating 50mm), 2.7x (simulating 75mm), and 3.2x (simulating 90mm). These would result in images with 38.6, 18.5, 8.3, and 5.9 megapixels, respectively.
New to the Q3 is an updated OLED EVF with 5.76m-dots and high 0.79x magnification, a tilting rear LCD, phase detection autofocus (as well as CDAF and DFD), DCI 8K up to 30p with 10-bit 4:2:0 internally, ProRes 422 HQ internally (Full HD up to 60p), and the new Maestro IV processor with 8GB of buffer memory. The body is IP52 rated against dust and moisture, and improved wireless connectivity — including both Wi-Fi 2.4 GHz and 5 GHz, along with Bluetooth 5.0 — along with a USB-C Gen 2 port allow for either wireless or wired tethering using the updated Leica FOTOS App. Leica exists as one of the few manufacturers to implement wireless tethering properly — it just works.
One thing that hasn't changed from the original Q and the Q2 is the lens — simply because it's a great optic. With a 28mm focal length and extremely fast f/1.7 aperture, the Q3's Summilux lens is one of the fastest in a compact camera and, combined with the full-frame sensor, makes for a low-light beast.
Yes, the Leica Q3 is expensive, but it's also a joy to use. The image quality is unbeatable, and I could see myself using one for the next ten years. But if you consider that the Leica 28/1.4 Summilux-M ASPH costs $1,800 more than the Q3, the price doesn't seem quite so awful.
Any chance someone can gift me six grand?
Best Compact for Video/Vlogging: Sony ZV-1 / ZV-1 II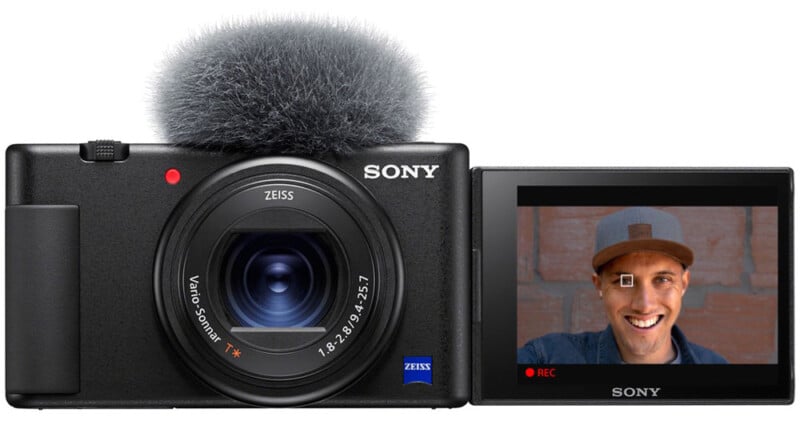 A sibling to Sony's RX100 series, the ZV-1 cameras are aimed squarely at the video and vlogging crowd. A great video camera — especially one aimed at vloggers — requires excellent autofocus tracking, a flip-out LCD screen for selfie monitoring, quality audio capabilities, and a decent zoom range with a fast aperture.
The Sony ZV-1 cameras fulfill these requirements, and, as an added bonus, Sony offers two distinct models.
The Sony ZV-1 and Sony ZV-1 II feature a flip-out 3.0" touchscreen, directional 3-capsule microphone (windscreen included), live social media and conferencing via USB, a front tally lamp, a large REC button located on the top plate, multi-interface shoe for various accessories, 3.5mm microphone port, and Active SteadyShot which combines optical and electronic image stabilization to reduce camera shake by up to 11 times.
Both cameras also use the same 20.1MP Type-1 Exmor RS stacked sensor found in the Sony RX100 VII, which enables quick performance, low rolling shutter, and excellent Real-Time Tracking and Real-Time Eye AF. Features such as Product Showcase, Background Defocus, Soft Skin Effect, and Face Priority Auto-Exposure allow the camera to compete with the computational elements of modern smartphones. UHD 4K video is supported at up to 30p, with Hybrid Log Gamma (HLG) and both S-Log2 and S-Log3 available for more advanced users.
Where the two cameras diverge is in the lenses. The Sony ZV-1 features a Zeiss 24-70 (equivalent) f/1.8-2.8 Vario-Sonnar lens, while the Sony ZV-1 II is fitted with a wider-angle Zeiss 18-50 (equivalent) f/1.8-4 Vario-Sonnar lens. The former is probably best for most users, given its extra 20mm of reach on the long end and aperture that is a full stop faster. But, some users, especially vloggers who often record themselves, may find themselves desiring the wider focal length options of the ZV-1 II.
Sony also released a fixed focal length camera, the Sony ZV-1F, but I suggest avoiding it at all costs. It boasts a 20mm equivalent f/2.0 Zeiss Tessar lens, which is of sufficient quality. However, it lacks numerous vital features of the zoom lens models: it does not have a stacked sensor, phase detection autofocus, internal ND filters, optical image stabilization, a headphone jack, or the ability to shoot RAW photos. The non-stacked sensor results in horrendous rolling shutter, and the lack of hybrid autofocus leads to "flutter" as the video hunts for focus. Additionally, the ZV-1 II is 2mm wider and a third of a stop faster.
Best Waterproof Compact: Olympus Tough TG-6
One of the more significant markets for low-price compact cameras is waterproof compacts — Sony, Ricoh, Olympus, Kodak, DJI, GoPro, SeaLife, Minolta, and Coleman all produce at least one waterproof compact model that is listed on either B&H Photo or Adorama. And, naturally, Amazon is full of cheap, no-name brand variants. A vast majority of these cameras come in under $500. But none match up to the Olympus Tough TG-6.
I have extensively used rugged, waterproof compacts from Ricoh, Fujifilm, Nikon, and Sony. And none have come close to the quality of the Olympus TG series. I always bought these cameras for my father to photograph his work, which involves a lot of dirty, dusty, wet environments and heavy manual labor. He cannot baby his cameras. I first purchased him an Olympus TG-4, after which I became a convert to the TG line.
The Olympus TG-6 features, by far, the best image quality of any compact, rugged, waterproof camera. Its 12MP BSI sensor, which is actually slightly less resolution than the 16MP in prior models, is a Type-1/2.3 capable of ISO 100 to 1600 (up to 12,800 in extended mode). In front of the sensor is a 25-100mm (FF-equivalent) f/2.0-4.9 zoom lens. Four separate shooting modes in the Variable Macro system allow focusing as close as one centimeter. Sensor-shift image stabilization — something not found in many waterproof compacts — can yield up to 2.5 stops of shake reduction.
The TG-6 contains a Field Sensor System, which includes a GPS module, manometer, compass, and temperature sensor, all of which can be embedded in the EXIF data of images. Built-in Wi-Fi allows for wireless tethering to smartphones. The camera is waterproof rated for up to 50 feet with an IPX8 rating, freezeproof down to 14 degrees Fahrenheit, shockproof from falls up to 7 feet, crushproof up to 100kgf (220lbf) of pressure, and IP6X dustproof rated.
Furthermore, the TG-6 has accessories that no other cameras like this have, to my knowledge. One of the nicest is also one of the simplest: the Olympus LB-T01 Lens Barrier, which protects the glass that covers the lens when not in use and can be opened by simply rotating the outer ring. I've experienced the lens cover glass getting scratched — or the coating wearing off — on several other cameras, so this is a wonderful optional accessory. The Olympus FD-1 Flash Diffuser similarly attaches around the lens and funnels the light from the camera's built-in flash to illuminate subjects more evenly in front of the lens, while the Olympus LG-1 LED Macro Ring Light attaches in the same way but uses the camera's built-in LED light for illumination. And, should you want to extend the underwater rating to 147 feet, the Olympus PT-059 Underwater Housing is available.
Perhaps it is no surprise that Petapixel declared the TG-6 the best waterproof camera for under $500. And that's certainly true.
The only niggle is that earlier this month, Olympus officially discontinued the camera. However, it is still in stock at most online retailers, and I strongly suspect a successor will replace it — it's been over four years since its release, so perhaps it is time. But despite that, you cannot go wrong with the Olympus TG-6.
---
Image credits: Header photo licensed via Depositphotos.