Sirui Announces First Autofocus 'Sniper Series' f/1.2 APS-C Primes
Sirui has announced its new budget-friendly trio of autofocus f/1.2 prime lenses for APS-C systems. The new Sniper Series 23mm, 33mm, and 56mm prime lenses are available for $299 each or $849 for the whole set.
The new trio of fast f/1.2 aperture APS-C lenses are the first autofocus lenses made by the company and will be available for Sony E, Fujifilm X, and Nikon Z mirrorless systems in three color options, including black carbon, white ceramic, and silver aluminum, for the fashion-focused photographers to choose from. The set includes 23mm, 33mm, and 56mm options (35mm, 50mm, and 85mm equivalents on a full-frame system respectively) which offer similar performance, features, and form factor with the only real difference between them being the focal lengths.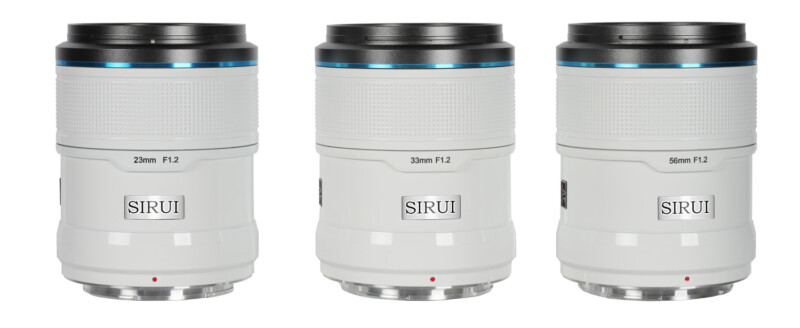 The new lenses offer users an extremely affordable prime lens system with an f/1.2 aperture that most of the similar Fujifilm, Sony, and Nikon lenses can't match. The lenses are compact and lightweight weighing between 0.8 to 0.9 pounds (381 to 427 grams) and measuring between 3.6 to 3.7 inches (92.2 to 94.2 millimeters) depending on the mount and focal length.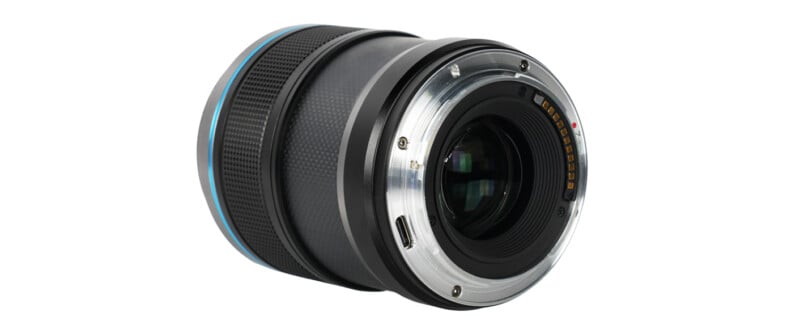 Each lens has 11 aperture blades, offers an aperture range of f/16 to f/1.2, and has a 58mm filter thread. The internal optical structure is where things differ a little between the lenses. The 23mm and 56mm lenses have 12 elements in 11 groups, while the 33mm lens has 11 elements in 10 groups.
Additionally, the 23mm, 33mm, and 56mm lenses have a minimum focus distance of 0.3 meters, 0.4 meters, and 0.6 meters respectively.
The new set of lenses boast a quick and accurate autofocus system that leverages an STM motor that even supports subject and eye autofocus tracking in both stills and video modes, even when shot wide open at f/1.2. Since the lenses are constructed so uniformly, the overall look of images promises to remain consistent across each of the lenses, and also allow for quick/easy swap-outs in gimbal setups without having to do time-consuming rebalancing and calibrations.
The new Sniper Series lens set from Sirui will be launched on Indiegogo on November 20th with the super-early bird price of $299 per lens or $849 for all three.
---
Disclaimer: Make sure you do your own research into any crowdfunding project you're considering backing. While we aim to only share legitimate and trustworthy campaigns, there's always a real chance that you can lose your money when backing any crowdfunded project.
---
Image credits: Photographs by Sirui