SmallRig's New $240 Carbon Fiber Tripod is for Traveling Photographers
SmallRig has announced the FreeRover AP-100 carbon fiber tripod kit. Designed primarily for photographers, the lightweight and compact travel tripod features carbon fiber legs, an inverted ball head, robust load capacity, and plenty of neat quality-of-life features. Better yet, at just $239, it is a relatively affordable carbon fiber tripod.
The SmallRig FreeRover AP-100 has a straightforward design and features four-section carbon fiber legs. It also includes a center column, providing extra height when needed. However, the center column can also be removed, allowing the tripod to be set up very low to the ground.
The working height ranges from 5.1 inches (13 centimeters) to 59.1 inches (150cm). However, without the central column, the max height is 49.2 inches (125 cm). The central column is locked with a simple flip-switch style locking mechanism, allowing photographers to adjust it quickly.
Looking at the legs, they are built of "thickened carbon fiber tubes" that are, despite the term "thickened," very thin. The tube walls are just 0.05 inches (1.2 millimeters) thick. Nonetheless, SmallRig claims its tripod can support 33.1 pounds (15 kilograms) of gear. The included "inverted ballhead" is rated for a payload of 17.6 pounds (8 kg).
Utilizing SmallRig's "FreeSpeed" height adjustment mechanism, the tripod promises a swift setup. The legs are unlocked/locked using a twist mechanism, and each leg's angle can be adjusted using levers near the tripod head. Angle options include 23, 55, and 83 degrees.
Each leg collar includes screw holes for attaching accessories, and each leg sports a hidden built-in metal spike beneath the removal rubber feet. Another compelling design detail is the built-in wrench tucked away in the quick-release hook at the bottom of the center column.
Any appealing travel tripod must have a relatively short storage length. In the case of the FreeRover AP-100, when collapsed, the tripod is 19.3 inches (49 cm) long. A lightweight design matters a lot, too, and the tripod checks that box, weighing about just under 49 ounces (1,380 grams).
At this point, it is hard not to compare any carbon fiber travel tripod against the Peak Design Travel Tripod. The carbon fiber version of that product weighs 45.5 ounces (1,290 grams) and collapses to 15.4 inches (39.1 cm). The Peak Design Travel Tripod has a maximum height of 60 inches (152.4 cm) and a minimum height of 5.5 inches (14 cm). The tripod and head combo is rated to support up to 20 pounds (9.1 kg) of gear. Of course, it is worth noting that the Peak Design Travel Tripod (carbon fiber) is $600.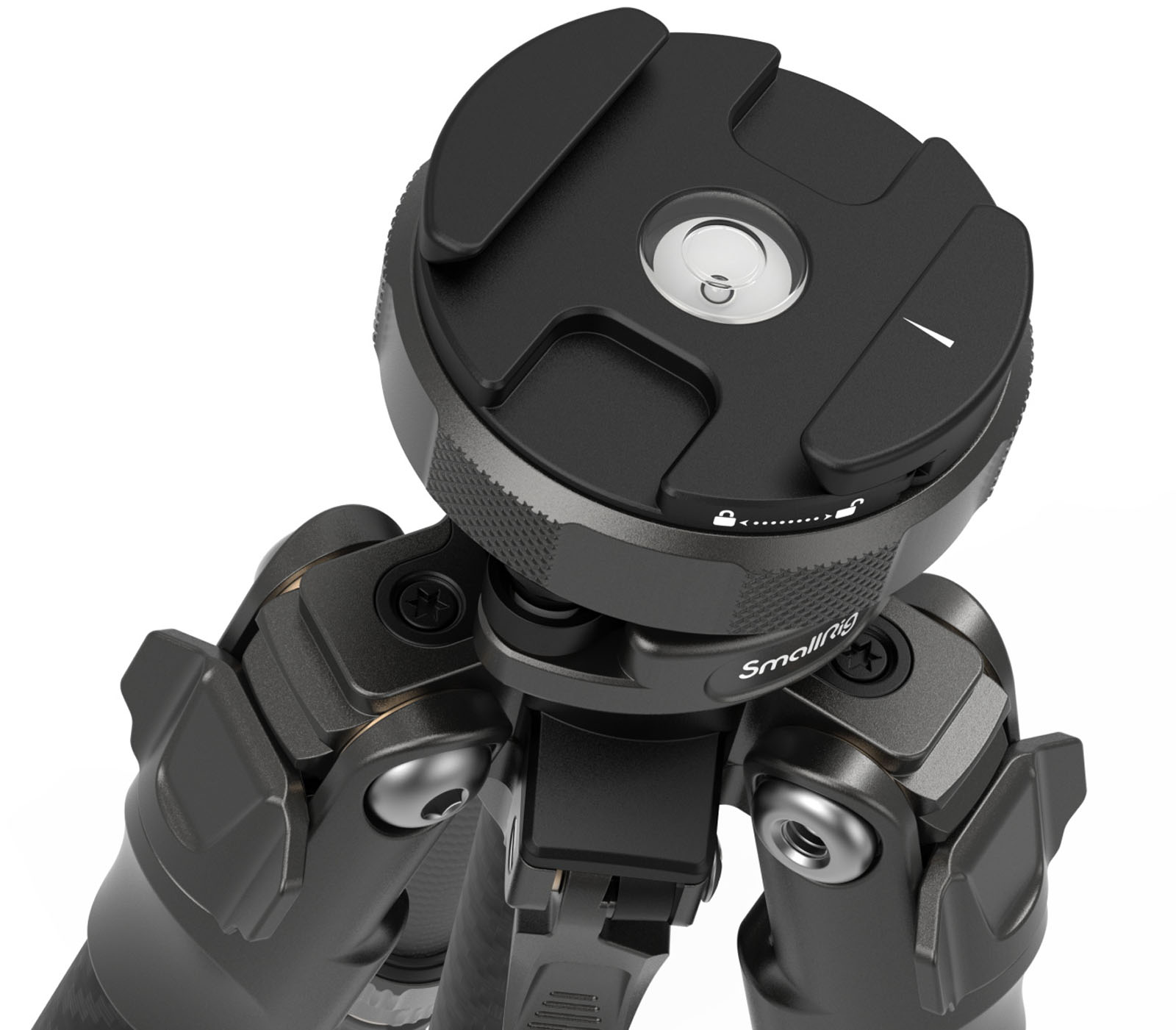 Pricing and Availability
The SmallRig FreeRover AP-100 carbon fiber tripod is available to order now for $239, with shipping expected by the end of this year. The tripod includes the legs, ball head, phone clamp, allen wrench, and storage bag.
SmallRig also says that a carbon fiber video tripod kit is in development, although there are no further details to share.
---
Image credits: SmallRig