Rode Releases Limited-Edition White Versions of Four Popular Products
Australian audio company Rode has released a limited-edition range of white products, featuring some of its most popular products.
The White Collection comprises the RodeCaster Duo, PodMic, PSA1+, and NTH-100. The exclusive white release marks the first time that any of these products have been released in custom colors, allowing creators to brighten up their setup and workspace, which could be important for video content creators in particular.
The centerpiece of the new limited-edition white products is the RodeCaster Duo, which was part of what Rode called its "biggest product announcement ever" earlier this year. The RodeCaster Duo is a compact, all-in-one audio production solution for a wide range of users, including podcasters, musicians, streamers, and content creators.
"Released earlier this year to widespread acclaim, the RodeCaster Duo boasts all of the same groundbreaking features as the RodeCaster Pro II — Rode's flagship audio console in a compact and portable form factor," the company explains.
Also available in the White Collection are Rode's iconic PodMic broadcast microphone, the PSA1+ professional studio arm, and the NTH-100 headphones.
Of the PodMic, Rode promises "broadcast-quality" audio. The company says its USB mic offers a "rich, full-bodied sound," and the mic includes an internal pop filter to minimize plosives.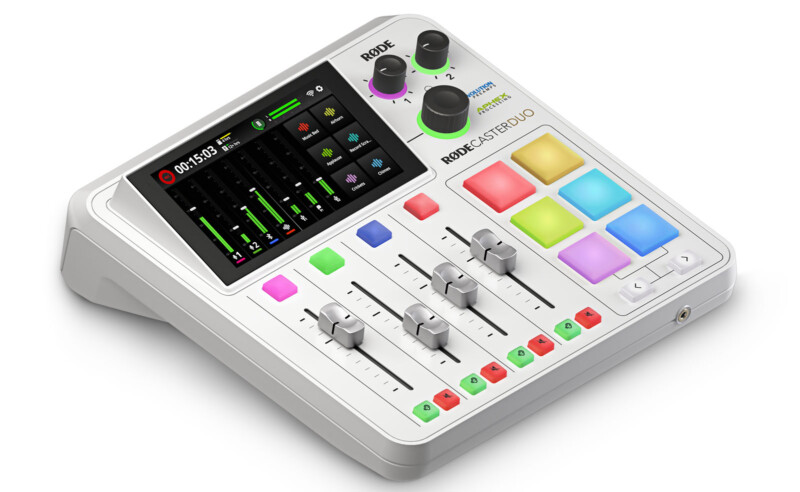 Between the RodeCaster Duo, PodMic, studio arm, and headphones, creators and audio professionals can fully white-out their workflow.
The Rode White collection is available exclusively from Rode itself, and products are available in limited quantities. The white RodeCaster Duo is $500, while the white PodMic is $100.
It is worth noting that the limited-edition White Collection Rode products do not cost more than the standard black versions. The white RodeCaster Duo and PodMic are available for less than the original list prices for the black versions, perhaps signaling that current discounted prices will remain in effect indefinitely.
The company is also offering two bundles. The first, the solo creator bundle, includes all the new products and costs $788. The other bundle, dubbed the "podcaster bundle," contains two of each accessory plus a single RodeCaster Duo console. This bundle is $1,127. Each bundle comes with premium XLR cables.
Complete details on each product in the White Collection are available on Rode's website.
---
Image credits: Rode