Concertgoers Use iPhone 15 Zoom For 'Front Row Feeling' Amid High Ticket Prices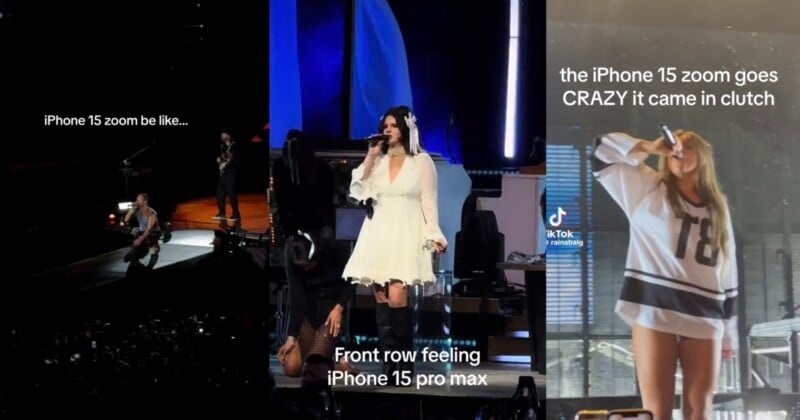 Concertgoers are using the iPhone 15 zoom features for the "front row experience" in viral TikTok videos.
The price of attending blockbuster concerts has reached astronomical heights, but Americans are still buying tickets even for worse seats. However, the iPhone 15 zoom is allowing concertgoers to work around this and get the close-up view they want.
TikTokers have been sharing how they were able to get a front row view with the iPhone 15 zoom at Lana Del Rey, Coldplay, Travis Scott, and Tate Mcrae concerts — despite having nosebleed seats.
In a TikTok video, with over 55.3 million views, TikToker Anthony Xavier films a Coldplay concert at the Rose Bowl stadium in Pasadena, California. He centers in on the band as they perform their hit song Paradise on stage.
The viewer is led to believe that Xavier has secured concert seats close to the stage and is filming Coldplay as she sees the band from his seating.
However, Xavier then dramatically and unexpectedly zooms out of his shot of Coldplay to reveal just how far away he is from the stage.
'This Should Be an Ad For The iPhone 15'
In another video, that has over 2.6 million views, TikToker Jack films a Lana Del Rey concert at the MidFlorida Credit Union Amphitheatre in Tampa, Florida.
He sits a considerable distance away from the stage and is barely able to see Del Rey as she sings Chemtrails Over the Country Club.
However, the TikToker then reveals how he can achieve the "front row feeling" with his iPhone 15 Pro Max — as he smoothly zooms in with the smartphone camera to get a perfect close-up view of Del Rey.
Viewers insisted that Jack's footage "should be an ad" for Apple's new smartphone.
In a similar TikTok video, Fitzroy Powell Jr. showed off his front row view with his iPhone 15 zoom at a Travis Scott concert in Spectrum Center Arena in North Carolina — despite being miles away from the stage.
'Apple Users Don't Care About Samsung's Space Zoom'
Likewise, in a TikTok video, that has racked up 2.4 million views, influencer Raina Baig said her iPhone 15 zoom "came in clutch" at a Tate Mcrae concert in Houston. Baig shows her impressive close-up view of the Greedy singer — even though she was far away.
Some viewers pointed out that "Samsung has been doing this for years" — with its 100x Space Zoom. However, other TikTokers argued that "Apple users don't care about Androids" and the iPhone 15's new zoom capabilities were a "huge deal" for them.
In September, Apple introduced the iPhone 15 family of smartphones — with the iPhone 15 Pro Max featuring a tetraprism lens capable of 5x optical zoom.
The 5x optical zoom is an upgrade over the 3x zoom that's available in the iPhone 15 Pro and the prior-generation iPhone 14. According to Apple, when the 5x optical zoom is enabled, users can also enable up to 25x digital zoom by pinching the viewfinder.
According to Billboard, concert tickets have reached sky-high prices as more shows increasingly implement dynamic pricing — which is a method of adjusting ticket costs based on demand. Dynamic pricing has been used by airlines and hotels for years and now live entertainment is getting in on the model, which can shoot up the cost of a ticket.
---
Image credits: Header photo sourced via TikTok/@anthony.xavier; via TikTok/@likeamrish ; TikTok/@rainabaig.