DJI Osmo Pocket 3 Has Bigger Sensor and More Video Features
DJI has announced the Osmo Pocket 3, a new pocket-sized gimbal camera driven by a Type 1-inch CMOS image sensor.
"With the Osmo Pocket 3, we've reimagined handheld imaging, offering users a creative tool that combines precision and portability like never before," says Paul Pan, Senior Product Line Manager at DJI. "We're eager to witness the incredible stories and moments our users will capture with this remarkable camera."
The Osmo Pocket 3 can shoot slow-motion 4K video at up to 120 frames per second, a major improvement over its predecessor's 4K/60p cap. That is far from the only upgrade featured in the DJI Osmo Pocket 3. The image sensor itself is large, moving from a Type 1/1.7-inch chip to a bigger Type 1-inch sensor.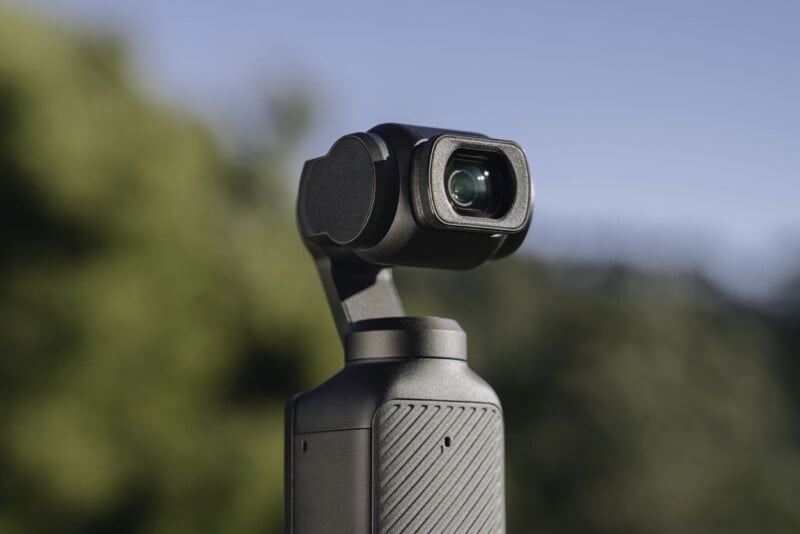 The camera can shoot standard video at 4K/60p and includes unique modes for hyperlapse, timelapse, and motionlapse content, which include resolution options of 1080p, 2.7K, and 4K. The camera also includes a Low-Light Video mode that works at up to 4K/30p. "Through specialized image quality optimization, Osmo Pocket 3's night shots bring low-light scenes to life with clarity and authentic color," promises DJI. The camera also includes fine-tuned exposure for different skin tones and has 10-bit D-Log M and 10-bit HLG color modes.
When it comes to still photography, however, the Osmo Pocket 3 shoots images at 9.4 megapixels. Interestingly, the smaller sensor in the older Pocket 2 captures 64-megapixel photos. The camera's ISO ranges from 50 to 6,400 for
The DJI Osmo Pocket 3's built-in lens is equivalent to 20mm f/2, similar to the 20mm f/1.8 lens on the Pocket 2. Despite a slightly slower aperture, the larger image sensor could result in a shallow depth of field on the newer camera.
The Pocket 2 and 3 share similar form factors, although the Pocket 3 sports some critical new features, including a larger display and a built-in joystick. While the Osmo Pocket 3 is larger across each dimension and just over 60 grams heavier than its predecessor, the larger 2-inch rotating OLED touchscreen is a compelling upgrade.
"Osmo Pocket 3 introduces a host of intelligent features to elevate your creative output. Its 2-inch full-color OLED rotatable touchscreen offers effortless control at your fingertips. The full-pixel fast focusing ensures sharp focus, even with quick-moving subjects, and introduces a Product Showcase mode for smooth live streaming and product showcasing. With its three-axis mechanical stabilization, Osmo Pocket 3 ensures steady images even during dynamic camera movements," writes DJI.
The Osmo Pocket 3 includes ActiveTrack 6.0 technology, promising multiple follow modes like Face Auto-Detect and Dynamic Framing. The gimbal camera has a built-in three-mic array to capture omnidirectional stereo sound, and it sports DJI's three-axis mechanical stabilization system.
The camera works alongside the DJI LightCut app to enable one-tap editing, AI-generated highlight reels, and much more. DJI aims for the Osmo Pocket 3 to be a versatile solution for content creators and users of all types.
All the new features have resulted in a price hike. The DJI Osmo Pocket 3 is available today starting at $519, a $170 higher price than the Pocket 2 launched at in 2020. Other kits are available that include a protective cover, wrist strap, handle, mic transmitter, windscreen, clip magnetic, battery handle, mini tripod, and more. Complete purchasing options are available on DJI's website.
---
Image credits: DJI