Amazon's New AI Image Tool Puts Fake Backgrounds Behind Real Products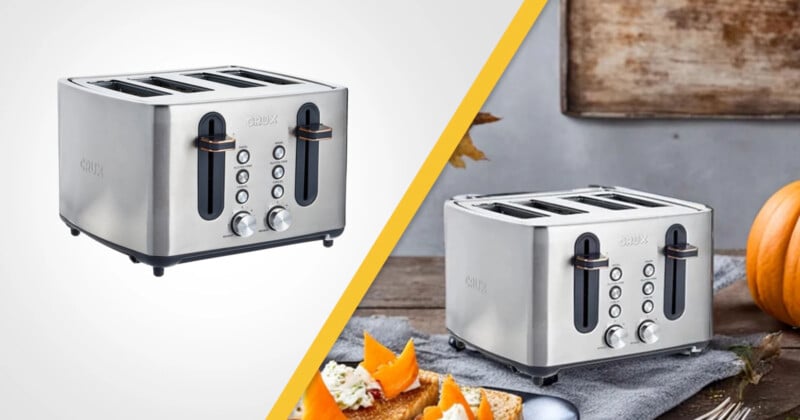 Amazon has released a new beta feature that uses artificial intelligence (AI) to generate virtual backgrounds for product advertisements, putting virtual backgrounds behind real items.
Amazon says that its generative AI solution will "remove creative barriers and enable brands to produce lifestyle imagery that helps improve their ads' performance." Amazon says that click-through rates for ads can be up to 40% higher for ads for products with lifestyle context rather than products against a plain white background.
Amazon frames its new generative feature as requiring no technical expertise, unlike doing real product photography or creating lifelike composites by hand in Adobe Photoshop.
As Engadget reports, the feature promises to be very easy to use. Advertisers can select their product within the Amazon Ad Console, click "Generate," and then pick from several image options that are created in seconds. Advertisers can further refine the generated images with short text prompts.
The latest AI tool follows one Amazon released last month that can use AI to generate text for product listings and an earlier feature launched this summer that uses AI to create summaries of product reviews.
"Producing engaging and differentiated creatives can increase cost and often requires introducing additional expertise into the advertising process," says Colleen Aubrey, senior vice president of Amazon Ads Products and Technology. "At Amazon Ads, we are always thinking about ways we can reduce friction for our advertisers, provide them with tools that deliver more impact while minimizing effort, and ultimately, deliver a better advertising experience for our customers."
"Providing tools to make image generation simple and easy is another way for us to support advertisers while also making the ads our customers see more engaging and visually rich," adds Aubrey. "It's a perfect use for generative AI — less effort and better outcomes."
Amazon Ads has started to roll out its new image generation feature to select advertisers and will expand its availability over time.
"With the launch of our image generation capability, any advertiser can now use a simple tool to create unique, lifestyle creative assets that make their campaigns more compelling, and at no additional cost," Aubrey concludes.
---
Image credits: