OM System M.Zuiko ED 150-400mm f/4.5 IS PRO Review: Worth Waiting For
The M.Zuiko Digital ED 150-400mm f/4.5 TC1.25x IS PRO debuted in early 2021 and has been nearly impossible to acquire ever since. Huge demand and lengthy back-orders have finally given way years later and we now have a chance to finally review this exciting telephoto.
The M.Zuiko 150-400mm is a serious lens for serious Micro Four Thirds users and comes with an equally serious $7,499 price tag. We took it to Idaho on a recent road trip which provided us plenty of opportunity for testing and allowed us to really look into the ups and downs of this optic.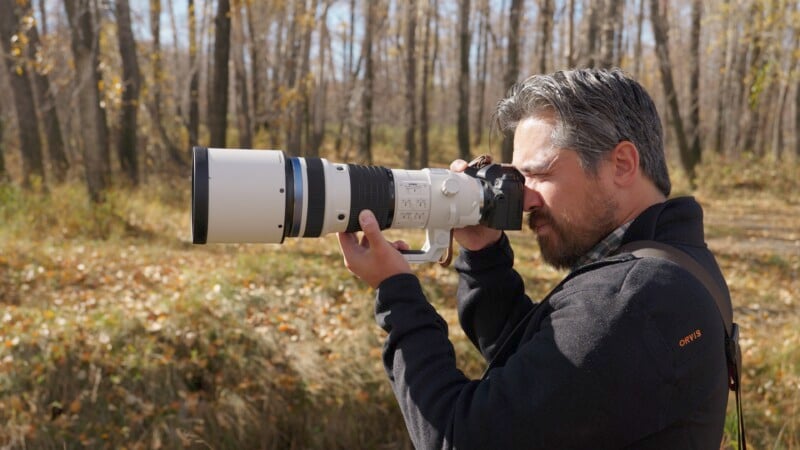 OM System M.Zuiko Digital ED 150-400mm f/4.5 TC1.25x IS PRO: Handling
The first thing you notice is how small and light this lens is for a 300-800mm full-frame equivalent lens. Weighing only 4.1 pounds (1.87 kilograms) this lens is easy to hand hold all day and small enough to provide a 95mm filter thread on the front and to fit into most shoulder bags with the hood reversed.
The zoom ring has a very short and precise throw from one end of the zoom to the other. Both the manual focus ring and zoom ring are easy to find and identify without having to look. A plethora of function buttons adorn the lens and there are the usual focus limiter switches and image stabilizer controls you would expect on a pro telephoto lens.
I particularly appreciate the lens collar having click stops every 90 degrees and the tripod mounting foot is already cut with an Arca-Swiss-style dovetail. As any pro lens should be, the 150-400mm is fully weather sealed — a standard that Olympus and now M System are famous for.
The stepping motors do a good job of moving the lens elements efficiently and I had no issues with the lens focusing quick enough in wildlife situations and the tracking worked very well with the OM System OM-1.
OM System M.Zuiko Digital ED 150-400mm f/4.5 TC1.25x IS PRO: A Built-In TC
Is 400mm not enough? Well then, you'll enjoy the built-in 1.25X teleconverter which provides a maximum 1000mm full-frame equivalent reach. It's easy to flick on and off and has a locking switch if you want to avoid any surprises.
I found image quality to be negligibly affected with the teleconverter switched on, but there is a little loss of light, changing the aperture from f/4.5 to f/5.6. You can also add on the additional MC-14 and MC-20 teleconverters for maximum reach but I feel that the overall light loss would be prohibitive.
OM System M.Zuiko Digital ED 150-400mm f/4.5 TC1.25x IS PRO: Bokeh Not OK
The lens has one downside and that is how it renders the out-of-focus areas of the image. I always look at specular highlights first to get some idea of how things will look. At f/4.5, there is some cat's eye effect but more importantly the highlights themselves have a distinct soap-bubble effect and lots of onion rings. Stopping down the lens gives a more polygonal shape to highlights than the more desirable round shapes we would hope for.
This all leads to what many wildlife and sports photographers want to know: How do the backgrounds look behind my subjects? Well, the backgrounds do tend to have a harsh and frenetic look. They can be distracting and in my opinion, this is the biggest weakness of this lens.
OM System M.Zuiko Digital ED 150-400mm f/4.5 TC1.25x IS PRO: Image Quality
We had lots of sun in Idaho and although the hood is very generous and protects the front element from light effectively, I wanted to see how the bare lens manages bright light sources. The lens coatings do a great job at preventing flare and even wide open at f/4.5 the loss of contrast is minimal. Stopping the lens down gets rid of any flare and I didn't see any ghosting to worry about.
This lens is sharp. I was impressed by how well it performs at f/4.5 throughout the zoom range. I can't think of many reasons why I would stop the lens down further, the results are that good. Corners hold up nicely at 150mm and maybe are a little softer at 400mm, but this is rarely a concern on extreme telephoto lenses.
The OM System 150-400mm is almost two lenses in one. Shooting at 400mm with the TC 1.25X turned on we get an excellent macro lens. With roughly 1.3 meters of working distance, this lens might be a bit awkward to shoot up close but the excellent image stabilization helps a lot. Results are very sharp and the ability to get around .29x magnification means that flowers and insects are all well within this lens's reach.
Worth the Wait
OM System has a versatile lens that delivers good optical performance — mostly — and gives the Micro Four Thirds users a powerful wildlife and sports lens for serious work. Despite the higher price than the format is used to seeing, I think this lens is worth the cost in order to get a faster f/4.5 aperture at the long end. It certainly was worth the wait.
Alternatives:
The OM System 100-400mm f/5.0-6.3 IS is definitely more affordable at $1,400. It's a sharp lens, too, but the slower aperture is a real detriment on Micro Four Thirds.
Should You Buy It?
Yes. If you are serious about wildlife and sports shooting on an OM System body, the M.Zuiko Digital ED 150-400mm f/4.5 TC1.25x IS PRO is the one to get.