Rare Leica 0-Series Camera Sells for a Whopping $3.7 Million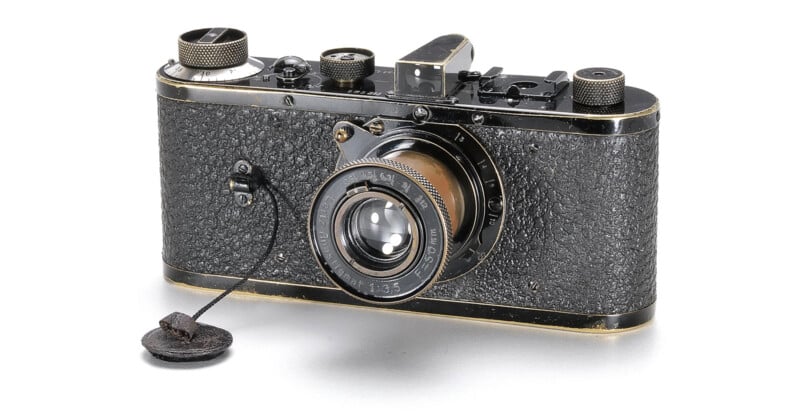 A rare Leica 0-series camera for 1923 was sold at the Wetzlar Camera Auctions on October 7 for €3.5 million, or approximately $3.69 million.
The Leica 0-series camera is one of between 22 and 25 units that were produced in 1923 for testing purposes and one of only 16 that remain in existence today. Wetzlar Camera Auctions expected the incredible 0-series camera to sell at auction for between €1.5 and €2 million (approximately $1.58 to $2.11 million).
At a €3.5 million hammer price, the camera's performance undoubtedly exceeded expectations, becoming the second-most expensive camera ever sold at auction.
The model sold over the weekend is number 121 in a series that started at 101. The auction house explains that it is unclear precisely how many Leica 0-series cameras were made because the delivery list in Leica's archive has empty lines for numbers 116, 121, 123, 124, and 125.
Number 121 has its original black paint and is in "very nice" condition. The lot (number five) included a five-element Anastigmat 50mm f/4.5 lens with "very clean" optics. The lot started at €800,000 ($844,560).
"Exactly 100 years after this camera was manufactured here in Wetzlar, we were now able to auction it here in Wetzlar — an honor for our auction house and of course an absolute highlight in our company history," says Wetzlar Camera Auctions co-owner Lars Netopil.
The Leica 0-series camera is especially interesting not only because it is the predecessor of Leica cameras, but because it, alongside the Ur-Leica, is the fore bearer of all 35mm cameras.
While the Leica 0-series lot sold for the highest sum, plenty of other rare and special cameras and lenses earned huge hammer prices in the WCA.
For example, after starting at €80,000 (just under $84,750), a prototype Leica IIIc from 1934 sold for €400,000 ($423,000). A Leica M3 that was used by the German Military (Bundeswehr) in a NATO olive green paint from 1966 sold for €162,500 ($172,150) after starting at just €30,000 ($31,780).
Rare black-painted Leica M cameras have been a smash hit with collectors in recent years, and the latest auction proved that the market is still booming. An early black-painted Leica M2 with a pair of matching black-painted lenses sold for €162,500 ($172,150) and a very early black-painted Leica M4 with a Leicavit-MP rapid-winder sold to the highest bidder at €112,500 ($119,180).
Highly sought-after Leica lenses performed well, too. Two prototypes of early Summilux lenses from around 1960 sold for huge sums. A 35mm prototype went for €275,000 ($291,330), while a 50mm prototype Summilux sold for €137,500 ($145,670).
A test sample of the famous first-ever Leitz Noctilux lens, a name that still carries significant weight with photographers, went to a new owner after they paid €137,500 ($145,670).
A 1200mm Leitz Telecron was auctioned for €93,750 ($99,320). The super-telephoto lens was created as an experimental lens for the 1972 Munich Olympics. Only three were ever built, and the lens never made it into commercial production.
The Wetzlar Camera Auctions feature spectacular cameras and lenses from brands other than Leica. This time, a Nikon super-telephoto zoom from the 1990s with a unique 1200-1700mm zoom range was sold for an incredible €425,000 ($450,240), the highest price ever for a Nikon lens at any auction.
The next Wetzlar Camera Auctions event is scheduled for October 12, 2024, and consignments are now being accepted.
---
Image credits: Wetzlar Camera Auctions