A Camera Similar to the One That Sold for $1.34M is Coming to Auction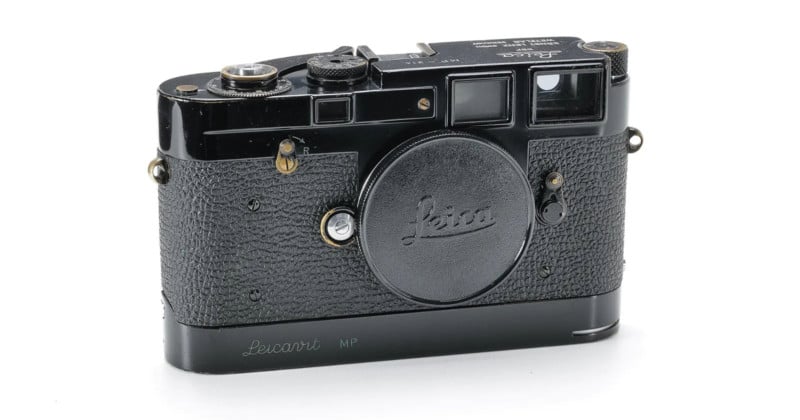 A 1957 Leica MP black paint edition, the same year and model as the one that sold for $1.34 million about a year ago, is coming to auction next month.
The Wetzlar Camera Auctions are set to be held on October 8 and the organization has shared a list of some of the most interesting items, including a 1957 Leica MP Black Paint estimated at $300,000 and a MDa NASA Replica worth $80,000.
Spotted by Digital Camera World, the Wetzlar Camera Auctions has published its catalog of items up for bid and also provided a short preview of selected highlights coming to its auction. The 1957 Leica MP Black Paint and MDa NASA Replica are two of the standout items in that preview due to their supposed value.
The Leica MP black paint edition from 1957 is estimated to be sold for anywhere between $250,000 and $300,000. This particular unit was originally delivered as a silver chrome-plated camera, according to the Wetzlar Camera Auctions. In the 1960s, as part of a factory repair, it was reworked into a black finished version on a customer's request.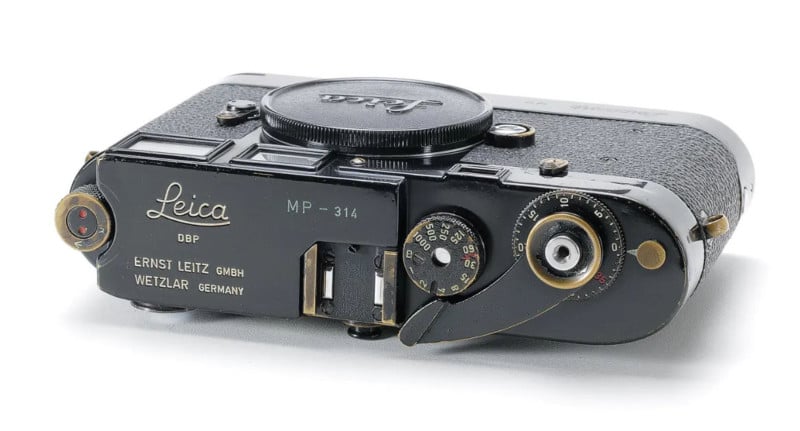 Of note, a camera of similar vintage sold for a staggering $1.34 million back in November of 2021 at the Leitz Photographica Auction. Back then, Leitz Photographica said that not only was it one of the rarest Leica models of all time (only 412 were ever produced) but it was also in fantastic condition.
The 1957 MP black paint being offered at the Wetzlar Camera Auctions does not appear to be in as good of condition as the one that sold for $1.34 million, but it is close and being valued at nearly the same range the Leitz Photographica one was set to prior to auction day (it was originally valued at between $300,000 and $350,000). If Leica camera values hold up, it stands to reason that this Leica MP will exceed its estimated value.
While not estimated at nearly as high a value, one of the other most expensive offerings at the Wetzlar Auction this year is a Leica MDa NASA Replica that is valued for as much as $80,000.
The auction house says that it is a "superbly executed, fully functional" replica of the famous camera used for the NASA Skylab Experiment S063. This experiment, executed in 1979, was designed to provide data for several studies: the photography of airglow, ozone, aurora, and Comet Kohoutek. Although five missions were planned, three went ahead, but the Skylab fell out of orbit and disintegrated upon re-entry.
A full list of all 256 lots up for sale can be perused in the Wetzlar Camera Auction catalog.
---
Image credits: Wetzlar Camera Auctions