Lightroom Has a New Lens Blur Feature That Simulates Depth of Field
Adobe has announced significant new features for Adobe Lightroom at Adobe MAX 2023. "We're excited to unveil a range of innovative Lightroom features that make it easier than ever to express your creative vision, now with more choice over where your images are stored," says Adobe.
One of the significant additions is Lens Blur, available in Lightroom, Lightroom Classic, Lightroom for mobile, Lightroom for web, and Adobe Camera Raw as an "early access" feature. "Lens Blur adds an aesthetic optical blur effect to any photo with a single tap," says Adobe.
The interactive tool allows the user to select the blur amount using a slider and the overall look of the blur, choosing from five blur types similar to the various bokeh offered by different lenses. The blur amount corresponds to the f-stop of the lens. Users can also adjust the focus area in the image to change how the blur is applied to the scene.
Lightroom will use depth map information if it is already included in the image file. Otherwise, the app will analyze the scene to determine the subject and create a digital depth map that underlies the lens blur feature.
Within app versions of Lightroom plus Adobe Camera Raw, users working on an HDR display can take advantage of improved HDR optimization. "In an industry-first, Lightroom now provides a full end-to-end High Dynamic Range (HDR) workflow, from capture (on mobile) to edit and export — all in one place," says Adobe. This feature also works for images that were not initially captured as multiple-exposure HDR files but were turned into HDR after capture.
Adobe has published a separate article that goes into much more depth about High Dynamic Range (HDR) inside Adobe Camera Raw.
Point Color is a new tool that enables users to make targeted adjustments with improved precision. It allows for flexible color selection with a selector tool, plus additional color input refinement across three dimensions: hue, saturation, and luminance. Point Color can be used to adjust specific colors in a product image, correct unwanted color casts in shadows, or adjust skin tones, for example.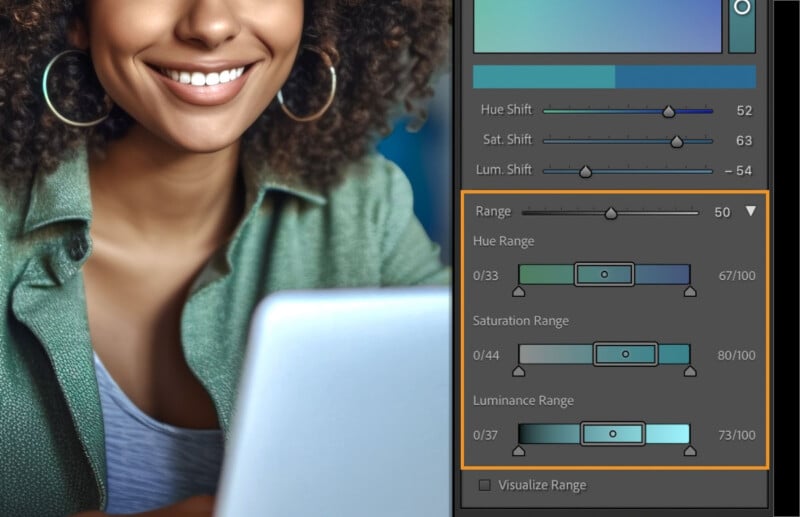 On Lightroom for mobile on iOS and Android, the new Lightroom update adds faster mobile photo access and an improved overall editing experience. The app includes a new streamlined toolbar that prioritizes the most commonly used editing tools, making it "more intuitive" to edit photos on a smartphone.
For Lightroom only — not Lightroom Classic — users can work with photos and videos inside Lightroom without importing or syncing them to the cloud. This means that files can be viewed and edited directly from an internal or external drive.
Another feature exclusive to Lightroom is newly-supported file types for the Content Authenticity Initiative (CAI). Creators in Lightroom can use CAI with AVIF, DNG, and TFF files.
The full breakdown of all new Lightroom features is available on Adobe's website, including a list of newly supported cameras and lenses inside Lightroom Classic.
---
Image credits: Adobe