Samsung's New Compact T9 Shield SSD is Much Faster and More Stylish
Samsung has announced the Samsung Portable SSD T9, the successor to the T7. The Samsung T9 offers compelling performance improvements over its predecessor and sports an attractive new design.
Improved Styling
The most apparent difference between the Samsung T7 and the T9 is how the portable SSDs look. Where the T7 sports a ridged silicone case, the portable SSD has received a new, more luxurious textured silicone with the T9 model.
Samsung says that the design concept for its new SSD is "luxury added to ruggedness," which is a fair assessment. The rubber sports a carbon-fiber texture pattern and feels a bit like fabric, thanks to the fine ridges.
The texture offers the benefit of being very grippy. The SSD stays practically glued to the surface of a table or desk and is easy to hold securely. The only downside to the design — and this is very nitpicky — is that not only is it "sticky" concerning desks, but the T9's new texture also makes it a bit of a hair and dust magnet.
The device is also rugged. It features a robust aluminum body and can withstand drops of up to three meters, which is far above a typical slip from someone's hands. The drive also comes with an impressive five-year warranty.
The Samsung T9 weighs 122 grams (4.3 ounces) and is 88 x 60 x 14 millimeters (3.5 x 2.4 x 0.6 inches). The T9's new silicone cover is a bit thicker than the T7's, which has increased the drive's weight by just over 20 grams, and the thickness has gone up by a negligible margin.
The T9 ships with a pair of 0.45-meter cables (1.48 feet). One is a USB-C to USB-C, while the other is USB-C to USB-A. The cables are rather long relative to many that ship with portable drives and are perfectly fine in use. The T9's connector, which includes an adjacent blue status LED, offers a solid, tight connection.
Overall, the T9's design is very nice and is a noticeable step up from the T7 regarding aesthetics and usability. While the T7 is not would be described as slippery, the T9 is considerably "stickier" on smooth surfaces. While it is a bit of a stretch to call a portable drive "stylish," the T9 comes about as close as any portable drive I've used. If looks matter to you, Samsung has done great here.
USB 3.2 Gen2x2 Interface Promises Impressive Speeds
Driving improved performance is the move to the USB 3.2 Gen 2×2 interface, up from the standard USB 3.2 Gen 2 standard used in the T7 and faster still than the T5 that came before it.
The T9 promises up to 2,000 MB/s transfer speeds when using its USB 3.2 Gen 2×2 interface, nearly double the theoretical max speed of the T7.
The caveat of the USB interface is that to take full advantage of these speeds, a user must have a computer or device that supports USB 3.2 Gen 2×2, which is rare across the entire spectrum of computing and almost unheard of when working on a Mac, as I do — one port on one specific model of MacBook Pro did use it, years ago. No machine with Apple Silicon has it as Apple went with the more advanced USB 4.0 instead.
My M1 Max MacBook Pro supports USB 4.0, but not USB 3.2 Gen 2×2. The result is that the Samsung T9 can theoretically achieve only half of its promised speeds in my testing, as the device supports just one lane of the dual-lane USB 3.2 Gen 2×2 interface.
This is a substantial caveat when considering the Samsung T9. However, while the T9 cannot achieve anywhere near its theoretical maximum speeds without USB 3.2 Gen 2×2, it nonetheless achieves impressive performance that exceeds the Samsung T7, which is already a very capable portable SSD that represents good value for photographers and videographers.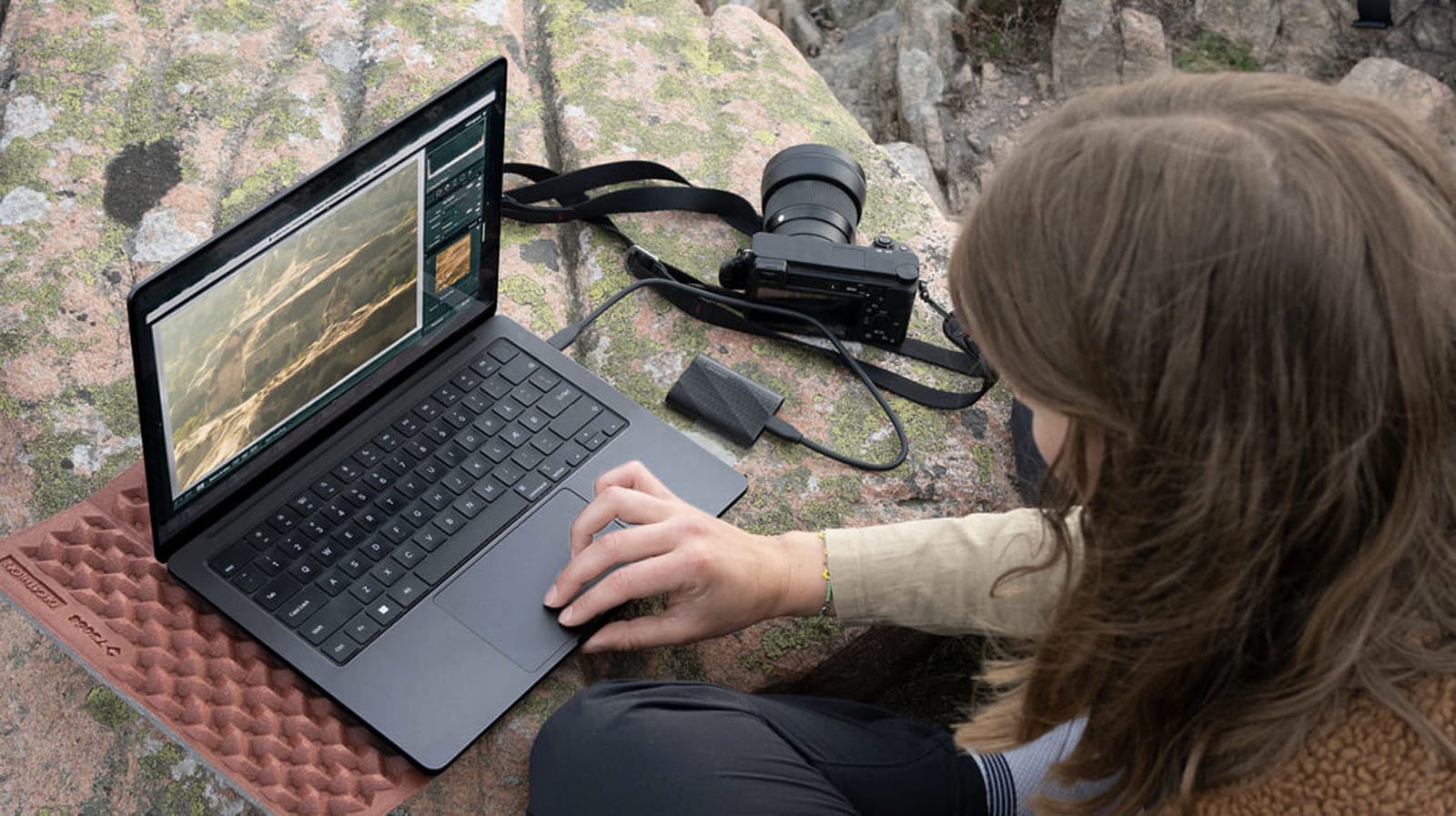 In my testing, the SSD tops out at about 905 MB/s write speeds and 900 MB/s read speeds, which can reasonably be "doubled" for anyone with a USB 3.2 Gen 2×2 compatible device. Those are rare, but they do exist. Compared to the T7's performance, this is an increase of more than 100 MB/s for write speeds and nearly 200 MB/s for read, which is a sizable improvement.
The performance also means that the T9 is suitable for basically every 4K, 6K, and 8K video format available and can handle many 12K video file formats.
While maximum speed is great and undoubtedly useful, sustained speed is vital in real-world use. To that end, Samsung's TurboWrite technology delivers a high-performance write buffer area. The T9's buffer size varies by the drive capacity. The 1TB version has a 22GB buffer, while the 2TB and 4TB capacities feature 88GB and 180GB buffers, respectively. Samsung claims that these buffers are considerably larger than competitors, especially in the case of the 4TB T9 that Samsung says has triple the buffer of a typical competing SSD.
It is worth digging a little further into the TurboWrite buffer. Samsung explains that due to SSD technology, not all of its capacity offers maximum performance when storing data. TurboWrite creates a high-performance write buffer area within the drive that can simulate maximum performance. During idle times, the data is moved from the buffer to the primary storage area, ensuring that users can achieve maximum speed when needed.
Thermal design and control also affect real-world performance. The Samsung T-series SSDs have been designed to avoid heat-related failure during extended demanding use. The T9 has built-in thermal interface controls and uses heat-dissipating materials like silicone and aluminum. Samsung claims that the T9 stays cooler than competing SSDs, including across the surface, bridge chipset, control hardware, and flash memory, which is a Samsung NAND.
During my testing of the T9, including substantial data transfers, the T9 got pretty warm, although not hot, and felt noticeably cooler to the touch than the T7 did when presented with equal workloads.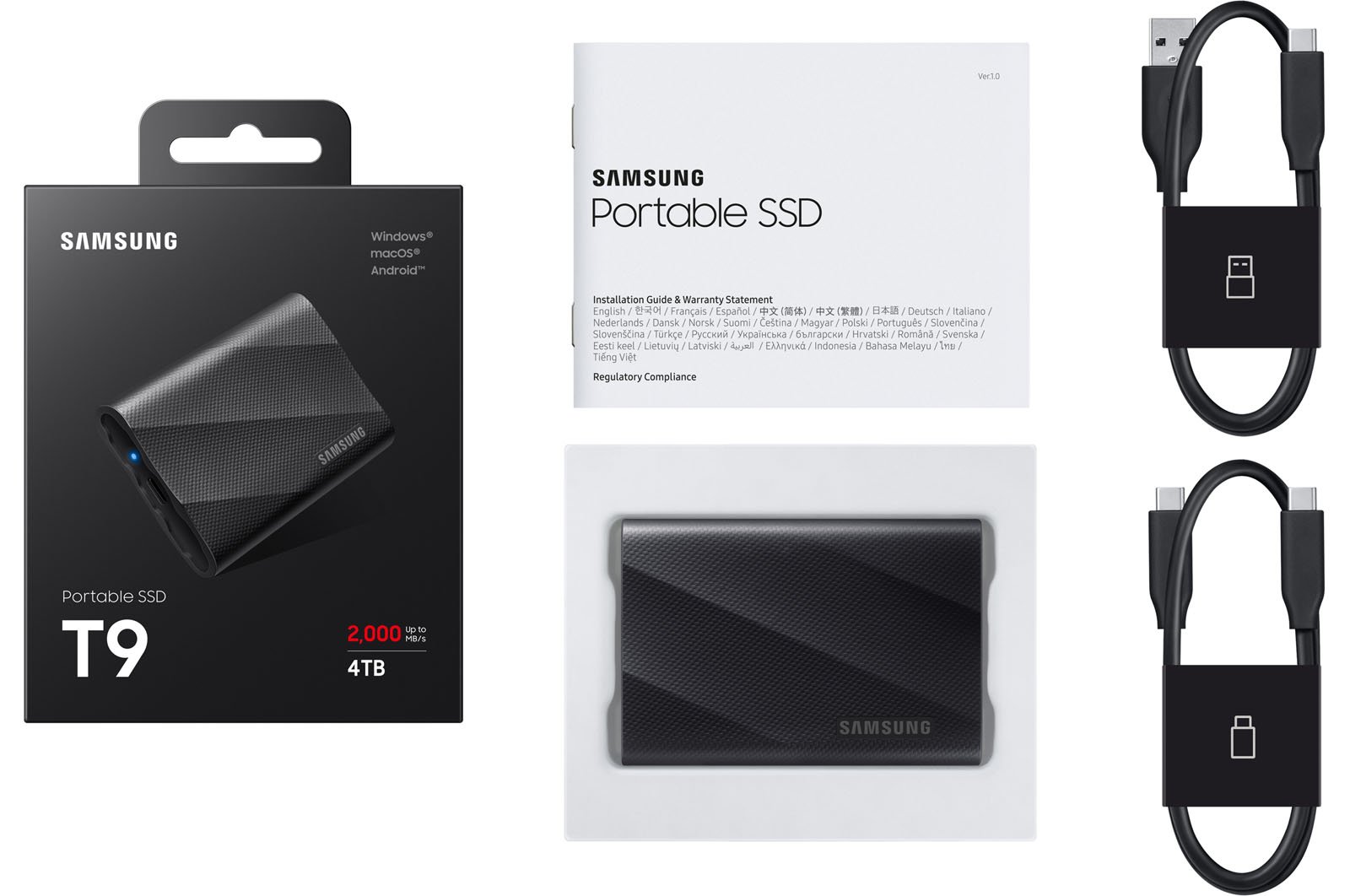 Pricing and Availability
The Samsung T9 is available now in 1TB, 2TB, and 4TB capacities for $140, $240, and $440, respectively.