Newgrain iOS App Aims to be the Digital Home of Analog Photography
Analog photography remains extremely compelling to many shooters, carving out a relatively small but passionate niche in the photo space. Alongside the resurgence in film photography in recent years, digital platforms have become increasingly crucial for photographers at large.
However, the film photography community is fragmented, and popular digital platforms are not built with sharing analog imagery in mind. A new app and platform, Newgrain, aims to solve both these issues.
Dubbed "a digital space for analog photographers," Newgrain promises to "make analog photography thrive in the digital age" through three primary features and goals for the platform. Newgrain gives photographers the "space they deserve" to share their photos and creates a unified place for the film community; it promises to be the best online resource for information about film stocks, cameras, and film labs; and the app includes a digital standard for analog shots, ensuring that film photos have important metadata, like digital image files.
The Newgrain app is designed to look and feel like an art gallery. Unlike Instagram, Newgrain does not include any ads or feature videos.
"We've removed distractions and metrics such as likes and followers, so that the focus is truly on the photographers' work. In other words, 'Quality over quantity' was our philosophy behind the creation of Newgrain," explains the Newgrain team.
Speaking of the team, Newgrain was founded by Tim Issenmann, a passionate film photographer from France who built the prototypes of Newgrain during COVID lockdowns while studying in England. Issenmann is Newgrain's CEO. Arish Tripathi is the company's CTO and a highly skilled software developer from Kolkata, India. Tripathi joined Newgrain in early 2023 while studying in England.
The Newgrain app launched in August and quickly passed 10,000 shared photos. It now includes more than 6,000 registered users.
The app's catalog of film stocks includes more than 300 films, and users can learn about each of them across different characteristics, including grain profile, exposure latitude, and contrast. The film stock index is constantly growing as the community adds more information and sample shots for each film.
Any social media platform worth its salt must have some sort of feed. Newgrain's customizable chronological feed shows users the latest photos shared by the community, ensuring that everyone has the chance to have their work seen by others. "You've put care and effort into making a beautiful photo. It deserves more recognition than what algorithms will give it," says Newgrain. Users can also customize the feed to see the most recent shots created with specific analog technology and film formats.
When new users sign up for Newgrain, they can pick out a unique URL, enabling them to share their profile and portfolio directly with others. Work that someone uploads is kept on their profile, which includes a short bio field.
"Ever wonder how a photographer achieved certain results?" Newgrain asks. The app promises to solve these mysteries quickly. Any post can be tagged by its creator with information such as film stock used, camera, lens, format, push/pull, film lab, film expiry date, scanner, and much more.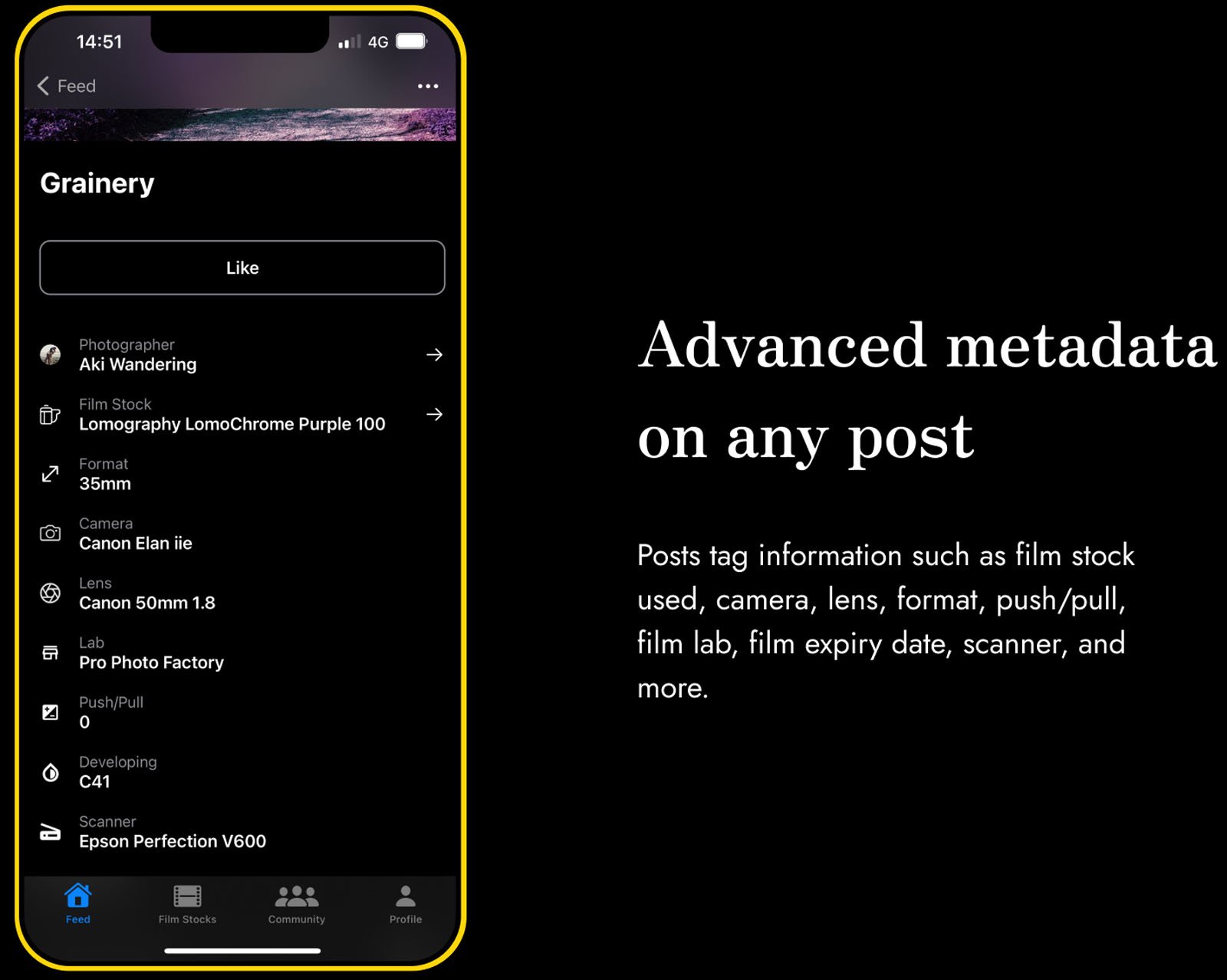 Rounding out the app's key features is its Community tab. This section of the app features curated "Newgrain Picks" that showcase the best photos from the community.
Pricing and Availability
Newgrain is completely free to download and use. It is available only on iOS, although an Android map is on the roadmap. iOS was prioritized due to the small scale of the team and its experiences working with the platform.
---
Image credits: Newgrain