Smartphone App Aims to be Analog Photographers' Digital Companion
Passionate film photographer Don Goodman-Wilson has long been seeking a digital companion app to help him keep track of all the variables that, while making film photography such a fantastic way to make photos, can clutter a photographer's mind. So, Goodman-Wilson decided to build the app he needed.
Called Crown + Flint, the new smartphone app for Android and iOS enables photographers to easily keep track of the equipment they use during their analog photography adventures, the photos they capture, and create organized notes about everything.
Goodman-Wilson writes on 35mmc that he has long tried to keep notes. In the early 2000s, he traveled with a pad and paper to write down valuable shooting information. However, this is tedious. A digital notes app not built for photographers is not much better. Goodman-Wilson was at a loss, with no solution proving easy enough to use while also including all the benefits he wanted to realize through note-keeping.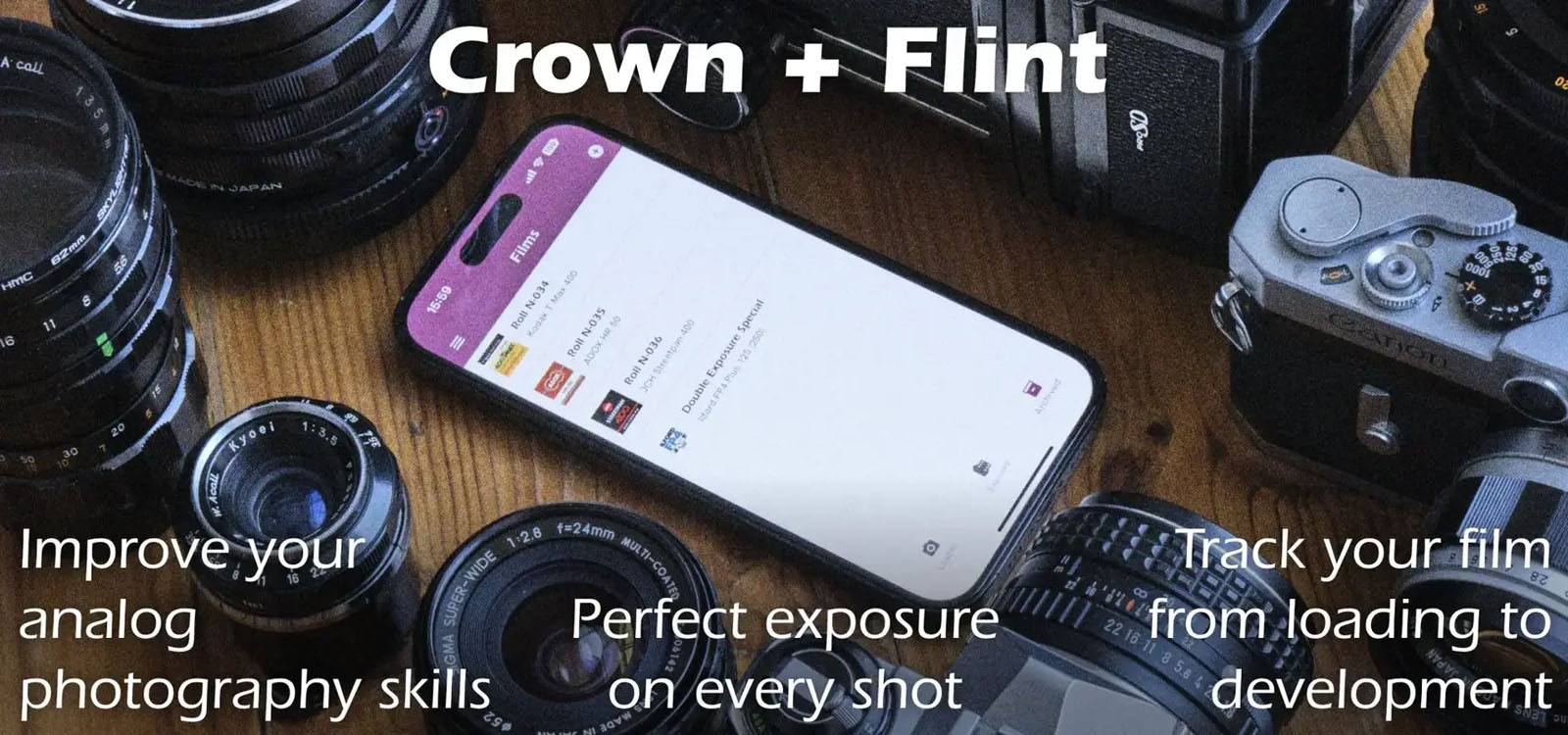 "So, I wrote an app. I set some pretty stringent goals for this app. It must collect relevant metadata on shots I take: Exposure, light metering, location, time, which camera body and lens I used, what film is loaded. It must be no more cumbersome to use than a hand-held light meter. It must make it easy to correlate the collected data with the physical film itself, ideally through some combination of printable sheets to store with the negatives and/or EXIF data I can merge into film scans. And it should reflect the needs of the photographer, not just the needs of the data being collected," he explains.
Crown + Flint has three primary modes and the first allows the user to manage their equipment. Users can create files for each of their cameras, including information about available shutter speeds and compatible lenses they own.
As Goodman-Wilson explains, this mode is not something photographers will frequently use, but it underpins the app's other features.
The equipment management informs the app's second mode, its metadata and light metering functionality. An app for light metering is not new in and of itself. Still, because Crown + Flint includes camera and lens information, the light meter is catered to the camera and lens combination the photographer uses. For example, the light meter will only suggest apertures and shutter speeds that a photographer's gear can use.
"Crown + Flint uses your device's camera to suggest a light meter reading as an exposure value (relative to ISO 100), just like many light meters you may have used before. The key difference is that, unlike most hand-held or in-camera meters that offer relatively primitive methods to evaluate the scene, Crown + Flint uses your smartphone's native intelligent evaluative metering to make sure that shadows retain detail, while the rest of the scene remains in balance," Goodman-Wilson explains.
The final primary mode in the app is film tracking. This section tracks the lifetime of a user's film, including the ability to assign film to a camera and mark when a film roll has been expended.
Once exposed and developed, there are also areas for photographers to keep meticulous notes about how best to use the film, their thoughts about the results, and full development details. "Never wonder what's loaded into which camera, or what rolls are waiting to be developed," Goodman-Wilson says.
Pricing and Availability
While film photographers reading this may already be chomping at the bit to download Crown + Flint for themselves, it is unfortunately not yet available. Goodman-Wilson quickly found many suitable beta testers, who are hard at work testing the app to ensure that when it is ready to release to everyone, it will be as good as possible.
Goodman-Wilson expects Crown + Flint to arrive on the Apple App Store and the Google Play Store by early October. Additional details should be available soon on Crown + Flint's official website.
---
Update 10:25: The app is now available on both the Apple App Store and Google Play.
---
Image credits: Images courtesy of Don Goodman-Wilson