Canon Launches Its First Seven RF-Mount Cinema Prime Lenses
Ahead of this week's International Broadcasting Convention (IBC) in Amsterdam, Canon has announced its first set of RF-Mount cinema prime lenses.
Canon has begun the ambitious task of releasing its cinema lenses in native RF-mount versions in addition to existing EF and PL mount options. The first set of lenses to receive the RF treatment are seven cinema primes, ranging from 14mm to 135mm, with prices around $4,000.
"The new lenses combine high optical performance for 4K and 8K shooting, cinema-style operability, and RF mount communications. The first set of seven RF-Mount Cinema Prime Lenses is only the beginning. Canon plans to swiftly expand the lineup of RF-mount-compatible video production equipment to meet the needs of professional video production of such content as movies, TV, and commercials," says Canon.
The seven Canon CN-R lenses include the CN-R 14mm T3.1 L F, CN-R 20mm T1.5 L F, CN-R 24mm T1.5 L F, CN-R 35mm T1.5 L F, CN-R 50mm T1.3 L F, CN-R 85mm T1.3 L F, and the CN-R 135mm T2.2 L F.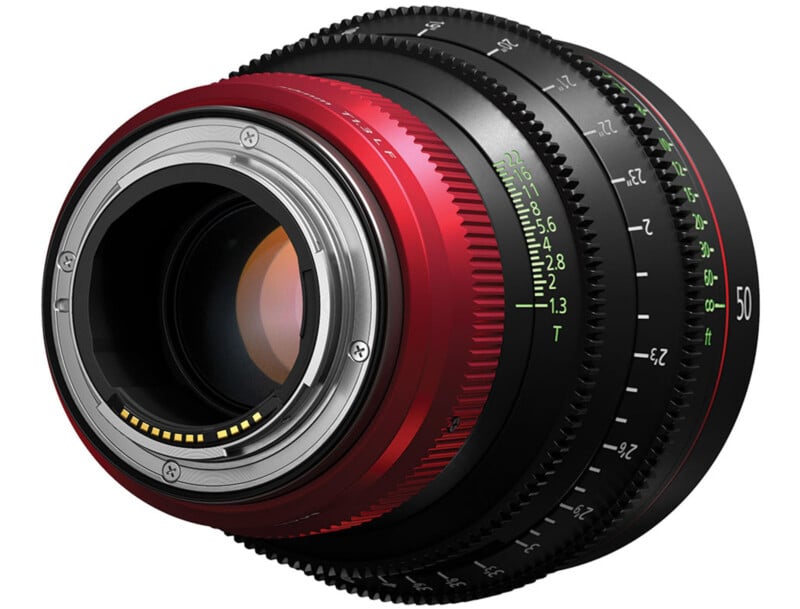 The CN-R 14mm, 20mm, and 24mm primes are each $4,220, while the remaining four lenses, the 35mm, 50mm, 85mm, and 135mm primes, are each $3,950.
The 24mm, 35mm, 50mm, and 85mm CN-R lenses are slated to arrive in late January 2024. The CN-R 14mm follows in late February, the CN-R 20mm in late March, and finally, the CN-R 135mm at the end of April.
Based on Canon's language, more CN-R lenses will come shortly after.
The Canon CN-R lenses are each designed for use with 4K and 8K cinema cameras. The lenses feature large-diameter aspherical lens elements and anomalous dispersion glass, which Canon says ensures optimal image quality.
All the lenses are compatible with full-frame cameras and feature 11-bladed aperture diaphragms. Canon promises that its CN-R lenses deliver shallow depth of field, natural round blurring, and "soft image expression." Further, the lenses throughout Canon's Cinema EOS lineup promise unified color balance, ensuring consistent color no matter the lens a person uses.
Further, the lenses promise an "ideal level of ring torque" and feature unified gear position and diameter. This ensures that the lenses can be effortlessly swapped in and out without adjusting matte boxes or external focus accessories. Canon has implemented a new coarse surface near the mount to provide a comfortable and ergonomic fit in the user's hand.
With RF-Mount communication, the new CN-R lenses work alongside many features on Canon EOS R series cameras, including focus magnification, chromatic aberration correction, peripheral light correction, dual-pixel autofocus, and lens distortion corrections.
---
Image credits: Canon