Apple iPhone 15 Pro and Pro Max: There is a Lot to Unpack Here
Visiting Apple Park in Cupertino for the launch of the brand-new iPhone 15 series was quite the experience, and after a day getting to know the Pro and Pro Max series devices, I was left with a few answers and a lot more questions.
To preface this, I am an Android user. My job as a camera reviewer has taught me –if nothing else — that being brand loyal is not the way to go. Being open to what a particular camera or phone system can accomplish for you is the better way to approach personal choices. So now I'm asking myself if the iPhone 15 Pro or Pro Max would work well for me as a photographic tool, and I feel like I can approach it from an unbiased point of view despite having never owned an iPhone before.
As a photographer, one of my main deciding factors for a smartphone is going to be how capable the cameras are. Heading into a full evaluation of the new "pro" handhelds, there are several factors I would like to investigate further.
The Main Camera
I've known about the inherent quality of the 24mm main camera's 48-megapixel quad-Bayer sensor for a while now and it is very impressive, especially when using the Apple Pro RAW format. Shooting 48-megapixel RAW files is always an option, albeit a more ponderous shooting method. On the other hand, the 12-megapixel HEIF or JPEG output wasn't particularly impressive.
Of course, when used for social media purposes, it's acceptable. However, the new iPhone 15 Pro and Pro Max are upping the ante. The phones are still combining a series of 12-megapixel images like the predecessors do, but also compiling a 48-megapixel file as well and raising the overall megapixel count to a more appealing 24-megapixel final photo. So one question is, how much better will this larger file be in practical terms?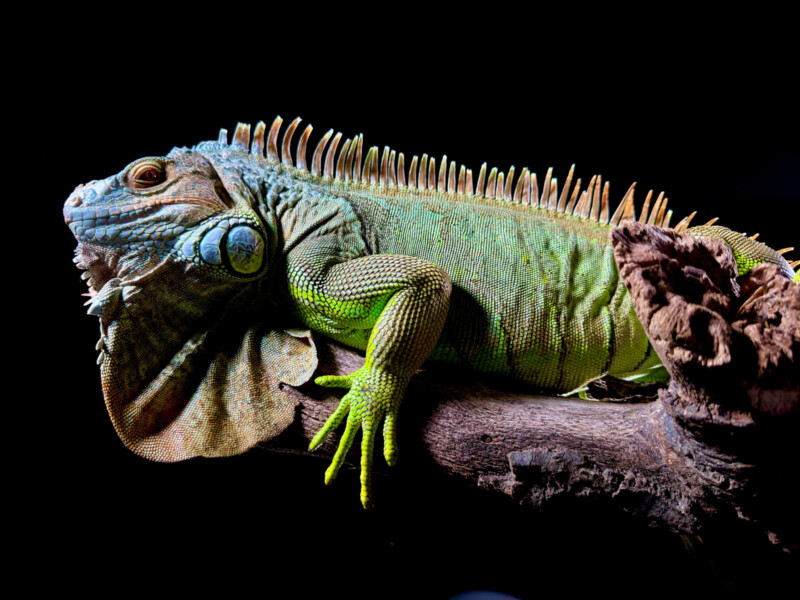 I was very pleased to hear that the iPhone 15 Pro and Pro Max now offer 48-megapixel HEIFs as an alternative to Apple Pro RAW, which will retain much of the quality compared to Apple Pro Raw and yet save a considerable amount of space both on the phone and the cloud.
Speaking of the main camera, the iPhone 15 Pro and Pro Max seem to have the same sensor as the iPhone 14 Pro. The aperture is still a bright f/1.78 and pixel density seems to be exactly the same as well. Apple was quite cryptic about its Night Mode feature as well. The company says it's better overall, but without providing any hard details as to how or why. Low-light shots are particularly good on current Google Pixel cameras so another question I want to answer soon is whether the new iPhones can give them some serious competition.
The Seven Deadly Cameras
So, the main camera is improved, but what about the others? First, let's look at the 13mm f/2.2 ultra-wide camera which seems at least from a specification standpoint, equivalent to the older iPhone 14 ultra-wide. The iPhone 15 Pro specifically has a 3x zoom, 77mm f/2.8 telephoto module which also looks remarkably similar to its predecessor. Both of these cameras output 12-megapixel files just like before. I'll be looking to test these cameras and see if there are any appreciable differences from the iPhone 14 Pro.
Apple also introduced two new compositional options which are essentially crops of the main camera's 24mm FOV. These give you a 28mm FOV and a 35mm FOV to go with the 48mm 2x "camera" that it offered previously. These aren't what I would technically call cameras, but Apple certainly does, and when listed altogether give us the following seven: Macro, 13mm, 24mm, 28mm, 35mm, 48mm, and a telephoto.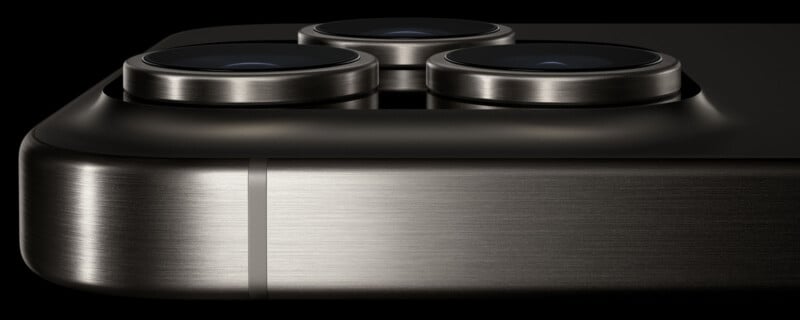 When I first saw the iPhone 13 Portrait mode in action years ago, I was not impressed. The subject did not blend naturally against the out-of-focus background. Although the iPhone 14 improved this system substantially there was still often an artificial look to the focus transitions. With every iteration getting better, I'm hopeful that the iPhone 15 will be the most natural-looking "faux-keh" so far.
More importantly, in any situation where the phone detects a portrait subject — whether it be a person or your favorite pet — the iPhone 15 will now save depth maps even if you don't manually engage the Portrait setting. You now have the option to apply the shallow depth of field effect to any of these pictures after the fact, and you can even choose to focus selectively on different subjects. If the iPhone 15 can render an even more believable Portrait Mode that lets you decide if you even want to use it, and also where the focus begins from, you have a potent recipe for creative portraits.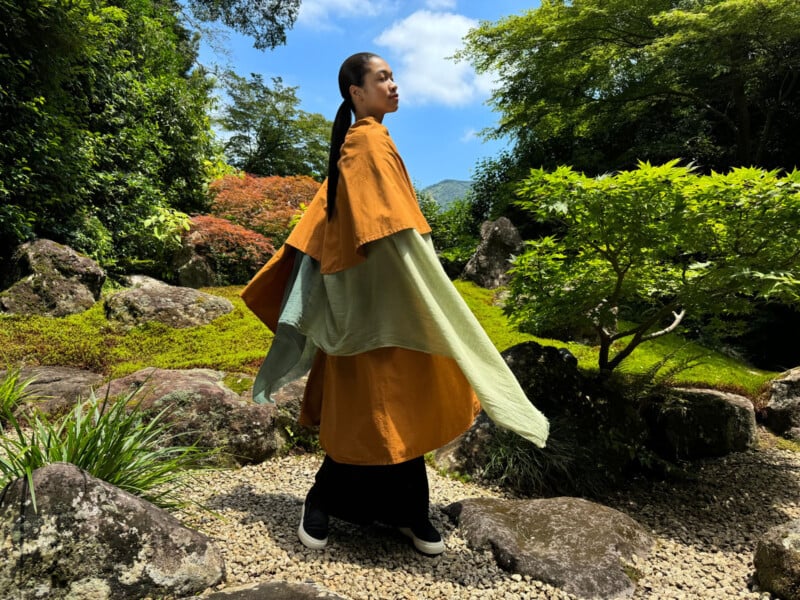 Who needs artificial bokeh when you can get it naturally? Specifically, the iPhone 15 Pro Max does not have a 77mm telephoto camera but instead, a brand new 120mm f/2.8 12-megapixel camera. This 5x zoom utilizes a tetra-prism design which bounces the light path multiple times to create the necessary distance required. I'm happy to finally see a longer telephoto option on an iPhone, but I worry that the sensor behind this lens is still quite small. Will it deliver fairly shallow depth of field naturally or will we still be dependent on a digital depth of field solution?
Finally, a USB-C Port
I didn't get to use an iPhone 15 during today's visit but I did get to see a demonstration of one tethered via the new USB-C port straight into Capture One software. Not only is the new wired connectivity very interesting, but even more so is the lack of delay between sequential 48-megapixel RAW shots. The iPhone 14 Pro always had a noticeable delay in between shots, and I'm very eager to try out the iPhone 15 with its new A17 processor to confirm for myself just how fast it can shoot repeatedly.
Regardless, the decision to move to a USB-C 3.0 architecture is a wise choice and will dramatically simplify charging file transfers, and connectivity to a wide array of accessories.
Motion Picture Magic
All the new lenses available don't just benefit photographers, but videographers as well. And there are some impressive changes to the video side of the iPhone 15 in general. Because of the new high-speed USB-C connection, external SSDs can be attached, unlocking the high data rates required for ProRes 4K 60p recording.
Another huge upgrade is the addition of a log profile to provide the flattest color profiles for the utmost dynamic range. It seems to be easy to grade and should allow for iPhone 15 footage to blend well with other cinematic camera footage. This is something we are eager to test.
Just like Portrait Mode on the stills side of things, the Apple Cinematic video mode has also come a long ways since its inception. Seamless focus pulls and smooth focusing whilst also giving a dramatic shallow depth of field look should be more natural looking on the new phones. I haven't been blown away by the previous results, but perhaps this time around it will be a different story.
So Many Exciting Questions
There are many facets to the new iPhone 15 series of phones that must be investigated, yet many of these new features look really promising and there are surely many other features to explore beyond this. As soon as Jordan and I can get our hands on the iPhone 15 Pro and Pro Max, we will take a deep dive into what these new phones can offer.
---
Update 9/13: The original story said that the main camera's sensor in the iPhone 15 Pro and Pro Max was larger than the iPhone 14 Pro, but this is not the case. Apple said it was larger, but was referring to the iPhone 15 sensor and not the previous generation's, which was confusing in the context of the presentation.