Philips Releases $500 Color-Accurate 27-inch 4K Monitor for Creators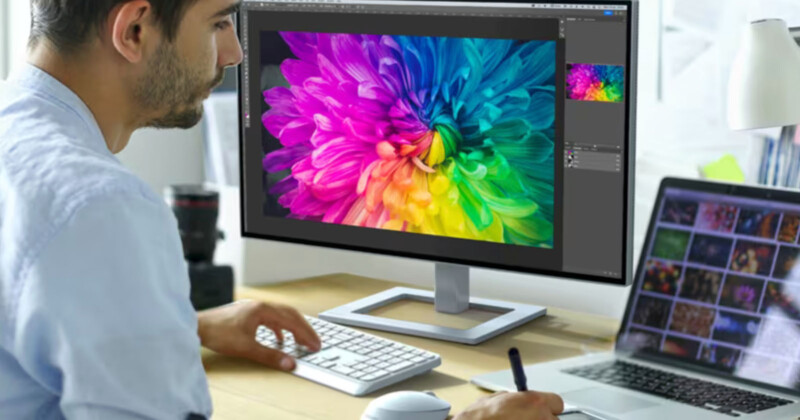 Philips's new 27-inch Creator Series monitor looks poised to deliver value to visual artists and content creators who want a high-resolution, color-accurate display that doesn't break the bank.
As seen on 9to5Mac, the Philips Creator Series 27E2F7901 monitor delivers 4K UHD resolution and an IPS Black Display panel. Philips promises that the monitor can show 100% of the sRGB and 98% of the DCI-P3 color spaces.
The 27-inch IPS display features 1.07 billion colors and is DisplayHDR 400 rated, meaning the panel's maximum brightness is 400 nits. This is not quite bright enough for high-end HDR video editing workflows but is sufficient for SDR video editing and photo editing.
As for inputs, the 7000-series 27-inch 4K HDR monitor has single HDMI 2.0 and DisplayPort 1.4 ports. Given that the HDMI port is 2.0, not 2.1, it is no surprise that the monitor tops out at 60Hz refresh rates.
The monitor also includes four USB-A ports and three USB-C 3.1/3.2 Gen 2 ports. One of the USB-C ports delivers power up to 96 watts of power. Another USB-C port can support up to 15W of power. The monitor also includes a 3.5mm audio output and does not feature built-in speakers.
For users who need to control two devices, the monitor includes a built-in KVM switch, enabling seamless switching between two connected devices using a single keyboard and mouse.
Philips also notes that MacBook users can extend their notebook's built-in display and keep their laptop powered using a single USB-C cable.
Compared to PetaPixel's current pick for the best "bang for your buck" monitor for photo editing, the HP Z27xs G3 4K USB-C DreamColor display, the new Philips Creative Series monitor is nearly $200 cheaper. Granted, the Philips panel is dimmer but promises the same size, resolution, and color accuracy. Plus, both monitors include plenty of ports.
While the new Philips 27-inch 4K monitor may not include all the features and performance of some very expensive monitors, it aims to deliver accurate colors on a large, high-resolution panel at a price that is very tough to beat. Especially for MacBook users on a budget, the Philips Creator Series offers an attractive alternative to Apple's 5K 27-inch Studio Display, which starts at $1,599. Although Apple's Studio Display is brighter and includes a built-in webcam, only some users need all those bells and whistles.
The Philips Creator Series 27-inch 4K UHD monitor is available to order now for $499.99 through authorized retailers.
---
Image credits: Philips