Sony's Drone Product Strategy is Confusing and Inconsistent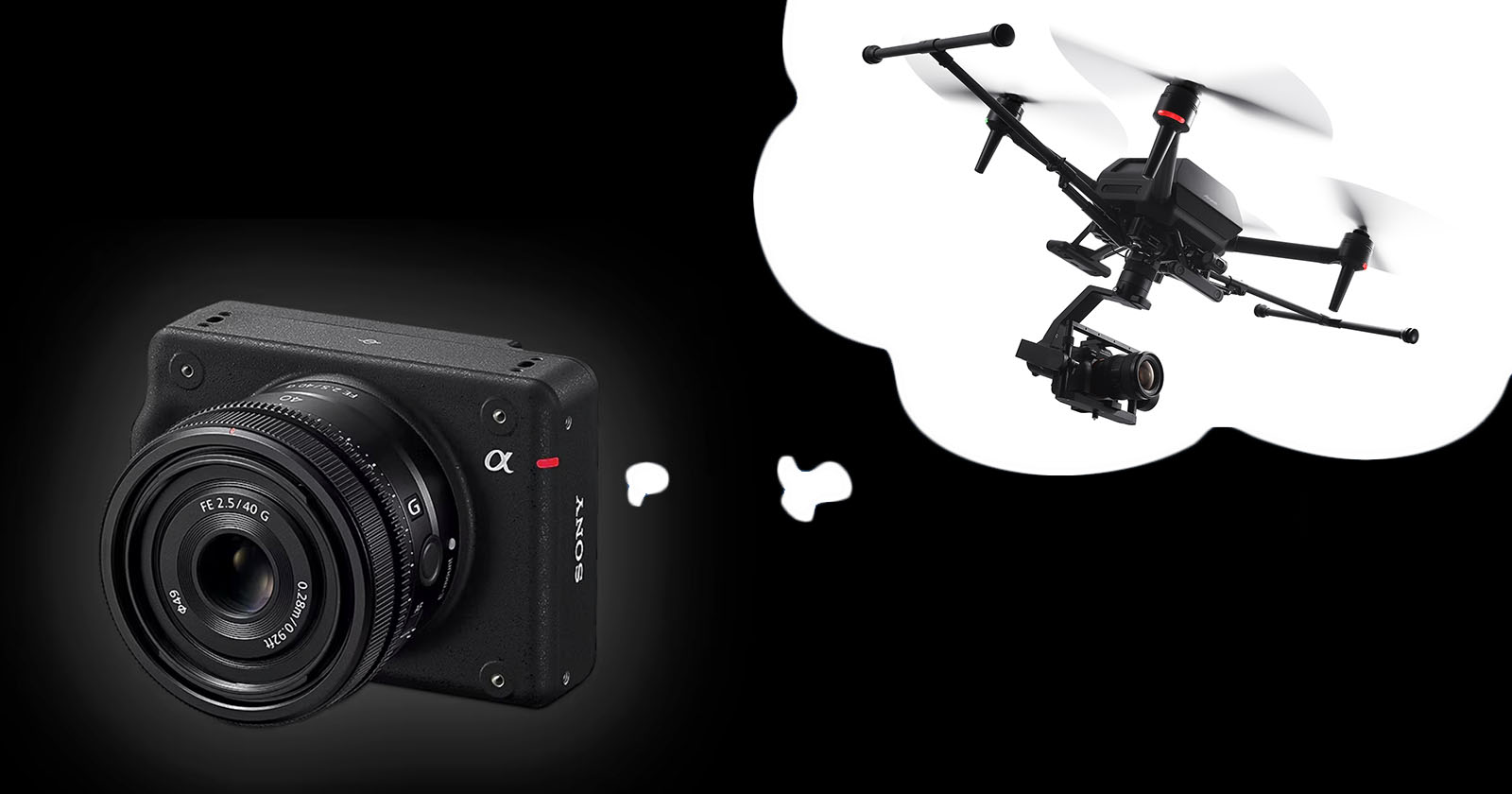 Sony's Airpeak S1 drone has thus far been a rare misstep for the respected Japanese company. Despite some (expensive) improvements to the Airpeak S1 drone, Sony's support for its flagship aerial platform, first revealed in 2021, has been significantly undercut by yesterday's reveal of the Sony ILX-LR1 full-frame camera.
The new Sony ILX-LR1 is a boxy, compact, lightweight, full-frame, interchangeable lens camera with a 61-megapixel image sensor. If it seems like a great camera to use on a drone — that is no accident, as that is precisely what Sony has built the camera to do.
"Upgrade your drone pictures and videos with Sony's advanced imaging technology. Transform your images with a 61.0 effective megapixel full-frame image sensor, and interchangeable E-mount precision lenses. With more resolution in every shot, you can see details that would be invisible with conventional drone cameras," Sony explains.
However, here is the kicker: the Sony ILX-LR1 is not compatible with Sony's drone. How can Sony, a company with an active flagship drone platform, release a high-end camera for drones that does not work with its own system? It is baffling.
It is not Sony's first strange move concerning the Airpeak S1. Launching an expensive drone that requires expensive add-on accessories to function is also puzzling.
Earlier this year, Sony announced a trio of new accessories for the Airpeak, including a lighter gimbal, a Real Time Kinematic (RTK) kit, and an enhanced battery that delivers improved flight times. All three of these additions seem to address pretty much every problem PetaPixel noted in its review of the platform, but each are separate parts that add more cost to an already expensive system. PetaPixel has not been able to test the performance of these add-ons either.
The RTK kit is worth zeroing-in on in light of the ILX-LR1's release. The RTK system is built with industrial applications in mind, including inspections. The ILX-LR1 is marketed as an ideal camera for inspections. The lack of connectivity between the two industrial products is odd and confusing.
"Lightweight and compact design, ideal for drone photography," Sony says of its ILX-LR1. Ideal, except if you want to use it with Sony's drone.
Drone enthusiasts are responding very positively to the Sony ILX-LR1, even if they are not so keen on Sony's drone.
"While it's not solely created for use in drones, the new Sony camera is a big deal for the drone industry given how ideal it is for use in aerial industrial applications. Unsurprisingly, that's all thanks to its compact size, light weight and high resolution. In fact, the folks who helped design the camera have said that the largest market for this camera will likely be the drone market," writes Sally French of The Drone Girl about the Sony ILX-LR1.
French also notes that the ILX-LR1 is compatible with a wide range of drones but mentions the lack of compatibility with the Airpeak S1.
"Sony Airpeak S1, being relatively new, was not prioritized," Sony told PetaPixel and other media during a briefing for the camera ahead of launch. This leaves the door open for the ILX-LR1 to one day be supported by the Airpeak S1, although the company does not mention future support, or the Airpeak at all, in its ILX-LR1 press materials.
Many other online commenters celebrate the release of the ILX-LR1, lauding Sony for putting a high-resolution full-frame image sensor into such a compact and lightweight body. While there are some knocks on the ILX-LR1, including its use of a micro HDMI port instead of a full-size HDMI port and some rather lackluster video performance on the part of the image sensor, much of the response to the ILX-LR1 is very positive.
Clearly, Sony can design products that excite aerial photographers. So why can't Sony do the same with its first-party drone?
It is not like Sony spared any expense with the Airpeak S1. The company pulled out all the stops, even if that meant a final product that cost significantly more than its contemporaries.
The drone costs $8,999 and requires the user to supply the camera and lens separately. But that's not all — the Airpeak also doesn't ship with a gimbal. The Sony Gremsy Gimbal T3 for Airpeak S1 will add another $2,199 to the tally. The newer Gremsy PX1 gimbal, which has been designed specifically for use with the Airpeak S1, unlike the T3 gimbal, is $4,000.
The new enhanced battery is $400. The RTK Kit for using the Global Navigation Satellite System (GNSS) with the Airpeak? $4,000.
When the customer is finally ready to put the Airpeak S1 into the air with all the add-ons required for the best performance, they have almost certainly shelled out around $20,000, possibly a fair bit more depending on the selected camera and lens. That's now about in-line with DJI's new Inspire 3, except that drone has reviewed favorably and has years of DJI's flight expertise behind it, which make it easier to set up and fly quickly.
Even after spending so much with Sony, there is no guarantee that the Airpeak S1 will deliver the features and performance that drone users expect. While the prospect of putting a Sony Alpha camera into the air on a drone is attractive, the Airpeak S1 lacks widespread appeal due to high cost and performance issues.
Perhaps it is no wonder that Sony has not prioritized its own drone when developing the $3,000 Sony ILX-LR1 box camera.
---
This story is part of PetaPixel's weekly newsletter Clipped Highlights.
---
What is Clipped Highlights?
Clipped Highlights is a free, curated, weekly newsletter that will be sent out every Wednesday morning and will focus on a few of the most important stories of the previous week and explain why they deserve your attention. This newsletter is different from our daily news brief in that it provides unique insights that can only be found in Clipped Highlights.
In addition to unique takes on the biggest stories in photography, art, and technology, Clipped Highlights will also serve to feature at least one photo series or art project that we think is worth your time to check out. So often in the technology and imaging space we focus on the how and not the what. We think that it's just as important, if not more so, to look at the art created by photographers around the world as it is to celebrate the new technologies that makes that artwork possible.
If this kind of content sounds like something you're interested in, we encourage you to subscribe to the free Clipped Highlights newsletter today. You can read this week's edition right here, no subscription necessary, to make sure it's something you want in your inbox.
We'll also make sure to share each edition of Clipped Highlights here on PetaPixel so if you aren't a fan of email, you won't be forced to miss out on the weekly newsletter.