Burger King Faces Lawsuit Over Size of Whopper in Ad Photos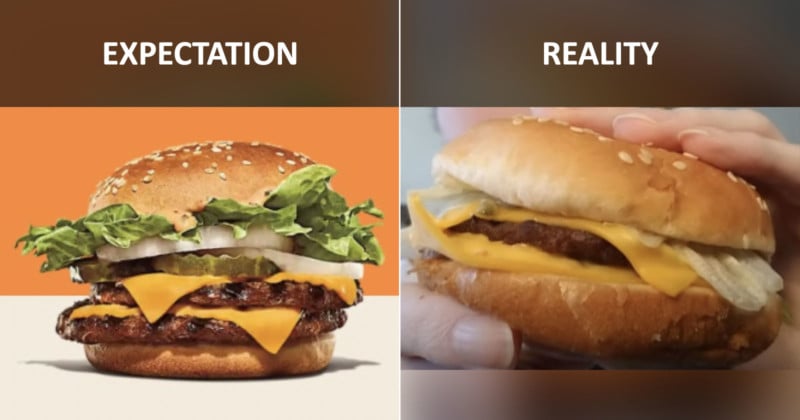 Burger King has been told it must face a lawsuit over claims that the company's advertising photos make the Whopper look bigger than what they were served up in reality.
Customers in the class action lawsuit have accused Burger King of making the Whoppers appear "approximately 35% larger in size" and containing "more than double the meat than the actual burger" in photos on its in-store menu boards.
Burger King had attempted to get the class action lawsuit from customers dismissed. The fast food giant had countered that it is not required to make its burger look "exactly like the picture."
However, according to Reuters, U.S. District Judge Roy Altman last week rejected Burger King's efforts to throw out the lawsuit and said it was up to jurors to "tell us what reasonable people think" about the images.
Altman says that Burger King "must defend against a claim that its depiction of Whoppers on in-store menu boards mislead reasonable customers, amounting to a breach of contract."
In his ruling made public on Friday, Altman's allowed the customers to pursue Burger King for what they claim is breach of contract, unjust enrichment — when one party benefits at the expense of another — and negligent misrepresentation.
However, Altman did dismiss the customers' claims against Burger King's online and television adverts, stating the fast food chain had not promised the burger would be a particular size or weight when served.
"The plaintiffs' claims are false," Burger King says in a statement on Tuesday.
"The flame-grilled beef patties portrayed in our advertising are the same patties used in the millions of Whopper sandwiches we serve to guests nationwide."
This lawsuit is the latest in a growing number of similar legal challenges as customers claim that there is a huge disparity between what fast food joints actually serve in restaurants and the products that they advertise in photographs.
Earlier this month, a disgruntled customer sued Taco Bell after his Mexican Pizza did not look like the one advertised in the company's promotional photos.
Meanwhile, McDonald's and Wendy's are being sued by a New York man who claims that advertisements for their burgers look much bigger than they actually are.
---
Image credits: All photos via Coleman v. Burger King complaint