Canon is Finally Discontinuing Its SD Card WiFi Adapter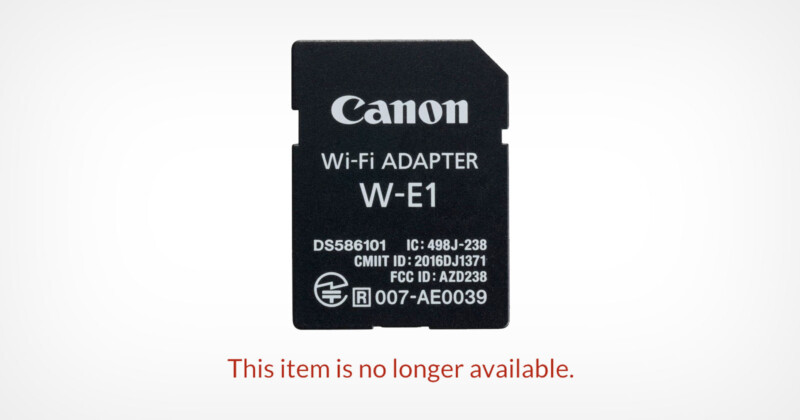 Canon is finally closing the book on its SD card WiFi adapter, the W-E1. The company has discontinued production of the little card that was announced back in 2016 and was designed to work with the company's line of DSLRs.
Canon has officially ceased producing the WiFi cards, as reported by Japanese camera retailer Ogisaku and Asobinet. Current stock on shelves is all that remains. While the Canon W-E1 is still available through some retailers in North America, others have already marked it as discontinued.
The W-E1 was announced on August 25, 2016 and online rumors of its arrival were circulating as early as a month prior. The W-E1 was able to give compatible cameras the ability to transfer photos and videos wirelessly as well as the ability to work with the Canon Camera Connect app. The W-E1 supported 802.11 b, g and n using the 2.4 GHz band.
It was also possible to wirelessly and remotely operate a camera using the W-E1 card using Canon's desktop EOS Utility, which at the time was a remarkable capability. Some reviewers found that using the desktop solution was a lot more reliable than connecting via Canon's mobile app, which probably doesn't come as a particular surprise to anyone who has used first party camera manufacturer software in the last decade.
The card was being bundled with the 7D Mark II DSLR from that point forward but was also being offered as a standalone item that could be used with previously purchased 7D Mark II cameras as well as the EOS 5DS and 5DS R. Of note, while photos and videos could be transferred from the 7D Mark II, the 5DS and 5DS R were only able to transfer photo files.
The W-E1 wasn't capable of recording any photos and only acted as a WiFi card that communicated with the camera via the SD card slot.
WiFi cards used to be extremely common back in the DSLR days. Prior to bundled WiFi capability inside of cameras, photographers had to rely on brands like like Eye-Fi in order to wirelessly transfer photos and videos. As the feature became baked-in to cameras, that need evaporated. Of note, Eye-Fi went out of business in 2016, the same year Canon brought its W-E1 to market.