Wacom's Four New Affordable Pen Tablets are Designed for Beginners
Wacom has announced four new Wacom One brand tablets designed for beginning artists seeking an affordable and portable pen tablet or display tablet solution for their creative work.
The refreshed lineup of tablets from Wacom are built for creative beginners and enthusiasts seeking a personalized device that is easy to use and leverages a simple single USB-C connection, making it easy to get started on both Apple and PC devices. These include Wacom One M and S Pen Tablets, and Wacom One 13 Touch, and Wacom One 12 Display Tablets. In addition to the easy out-of-the-box setup, the new tablets come with more than 70 educational videos and 16 optional software packages "so that anyone can get started with a digital pen."
According to the company, the Wacom One lineup of tablets comes with 16 applications, (such as Clip Studio Paint, Affinity Photo, Magma, Skillshare, Bluescape, Photoshop Express, and Pear Deck) to offer users a wide range of genre's and usage, each coming with a free-trial period meant to give users an extensive amount of time to test.
The company says including all these applications will give users the ability to "gain new perspectives so that when creativity hits, nothing will get in their way."
Wacom One Pens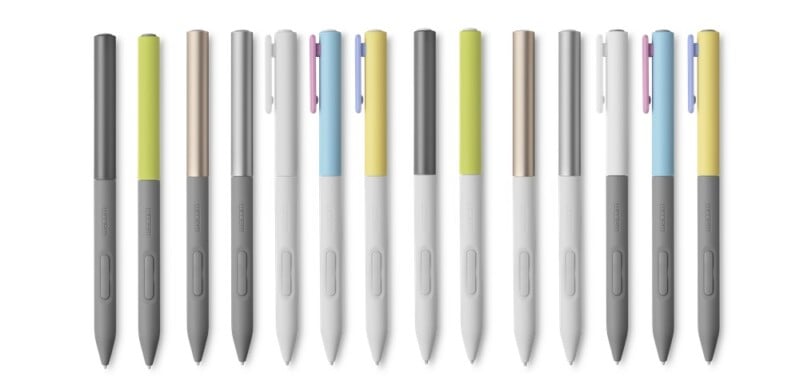 With the launch of the updated tablets, Wacom provides users with a choice of pen colors and styles to suit their personal preferences and creative style. The new 4k pressure-sensitive, cordless, and battery-free pens use electromagnetic resonance technology (EMR) which will also make the tablets compatible with other brands of stationery pens.
Wacom One Pen Tablets
The new Wacom One M and S pen tablets come in two sizes with an active area size measuring 8.5″ x 5.3″ and 6.0″ x 3.7″ respectively. Both tablets leverage a single USB-C connection as well as a wireless Bluetooth 5.1 connection, as well as offering an incredibly precise "high friction" pen-to-paper feel for users with an "ultra-responsive" surface to work with. Previous users may notice the new offer a more seamless (buttonless ) design in order to offer a larger surface area on which to work with.
The Wacom One M and Wacom One S tablets weigh only 0.77 pounds (350 grams) and 0.44 pounds (200 grams) respectively, making them exceptionally compact and easy to travel with since they can quickly and easily fit in nearly any bag or desk.
Wacom One Display Tablets
Rounding out the new tablet announcements are the Wacom One 13 Touch and Wacom One 12 Pen Display Tablets, which are similarly designed for creative beginners looking for a more flexible solution for design work than just a mouse. These two tablets are meant for drawing, editing images/video, and digital annotation, giving users the ability to work directly on their creations without having to take their eyes off their pens. While both tablets offer 1920×1080 pixel high-resolution AG Glass displays, the 13 Touch model also offers users the ability to actually use their hands to "touch" their creations and take control of their applications.
Both of the pen display tablets have 2 USB-C connections with only one needed to operate (the second port acts as a hub to connect additional devices) and offer users a display with anti-glare, anti-fingerprint, and no parallax. The Wacom One 13 Touch and Wacom One 12 tablets measure 13.23″ x 8.74″ x 4.7″ and 11.77″ x 7.48″ x 4.3″ and weigh just 1.98 pounds (900grams) and 1.54 pounds (700grams) respectively.
The $599 Wacom One 13 Touch Display Tablet, $399 Wacom One 12 Display Tablet, $149 Wacom One M Pen Tablet, and $99 Wacom One S Pen Tablet are available now from the Wacom Store and select retailers
---
Image credits: Wacom