The New Voigtlander Nokton 50mm f/1.2 is Made Just for Fuji X-Mount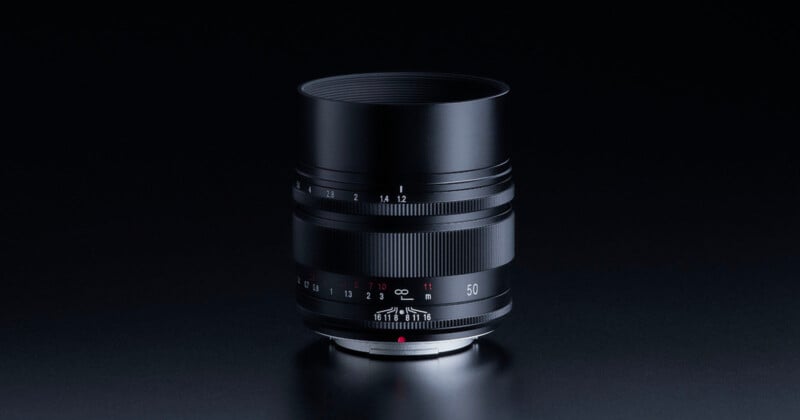 Cosina will release a new Voigtlander Nokton 50mm f/1.2 lens made exclusively for Fujifilm X-mount this September.
The company describes the new optics as a large aperture manual focus medium telephoto that has an angle of view that is equivalent to a 75mm lens in full-frame 35mm format. The f/1.2 aperture is based on the Sonnar-type lens configuration that Cosina says has an asymmetrical front and back aperture. The lens is 49mm (about 1.93 inches) long and weighs 290 grams (about 10.2 ounces).
The 50mm f/1.2 is constructed of nine elements arranged into eight groups and includes two special optics in that formula. It features an aperture range of f/1.2 through f/16 via a 12-bladed diaphragm. Cosina says that out-of-focus areas, or bokeh, are "rendered naturally" and point light sources are not polygonal, but instead are "softly rounded." The company notes that the aperture mechanism is directly connected to the opening and closing of the aperture blades in 1/3 stop increments, similar to how the company's Voigtlander VM mount lenses operate.
As has become typical, Cosina touts its all-metal helicoid focusing unit which it says has been adjusted with high precision to produce just the right amount of torque to give photographers a firm yet smooth operation that allows for fine focusing adjustments.
The lens has a minimum focusing distance of 0.39 meters (15.4 inches) and, while it is a manual focus optic, it does support electronic communication with the attached camera for the purposes of EXIF data transmission as well as focus check support, shooting distance linked display, and — if the camera body supports it — in-body image stabilization and parallax correction.
While there are electronic contacts, not all Fujifilm cameras are supported. Cosina lists all of the models that are currently supported on its website, but of note is that X-Pro1 and X-Pro2 along with several older X-A, X-E, and X-T series cameras are not supported.
Below are a few sample images captured with the new lens, published by Cosina:
The Cosina Voigtlander Nokton 50mm f/1.2 lens for Fujifilm X-mount will be available sometime in September 2023 for 100,000 yen, or about $690.
---
Image credits: Photos via Cosina