SanDisk Portable SSDs Are Failing So Frequently, We Can No Longer Recommend Them
It has been a tough year at Western Digital Corporation's San Jose, California headquarters. The well-known storage company, which also operates the SanDisk brand, has been mired by one issue after another. Adding to it, now people are losing their data, the cardinal sin of storage devices.
Over at The Verge, Vjeran Pavic lost 3TB of video because his SanDisk Extreme Pro failed. He is far from the only one.
Pavic's new failed Extreme Pro SSD is much like SanDisk's Extreme Portable and Pro SSD devices and similar to the WD MyPassport SSD. After all, drives can fail after a very long time — although SSDs have lower failure rates than hard disk drives (HDDs). No, it is the months-old replacement that Western Digital sent him after his previous drive failed and wiped all his data.
Western Digital released a firmware update to address this issue with 4TB drives. However, the issue persists and also plagues other models. Ars Technica had two 2TB Extreme SSDs fail.
PetaPixel reviewed the SanDisk Pro-G40 SSD last year, calling the compact drive "wicked fast" and lauding its performance.
A second PetaPixel team member has since experienced data loss issues with a Pro-G40. Further, the same person has experienced similar failures with the Extreme Pro drive that has troubled Pavic at The Verge.
The issues with the newer Pro-G40 started occurring not even a month after receipt and was causing DaVinci Resolve to crash repeatedly. Thinking it might have been an issue with his particular computer or install, he switched to an entirely separate machine. This did not fix the issue and even caused the entire computer to crash. Once he unplugged the Pro-G40, however, the issue stopped, pretty clearly highlighting the SSD as the cause of the problem.
This situation has been serious enough that other staff members at PetaPixel have stopped using SanDisk portable SSDs regardless of their age out of an abundance of caution.
The problems experienced here highlight one downside of typical review periods: they are not long enough to experience some issues that may only occur with extended use. Further, even with long-term experience, problems with the vast majority products from reputable companies are outliers. Most things work without fail.
Beyond The Verge, Ars Technica, and PetaPixel, many others have reported issues. On Reddit, multiple users have reported similar problems.
One Reddit user, Filmmaking_David, highlights that the issue "comes hot on the heels of massive discounts on these drives in the past few months." This is something that The Verge also noted back in May.
Do not buy these SanDisk drives. They've been faulty for months and they're trying to clear inventory with steep discounts https://t.co/Rax0FNOhod

— V (@vjeranpavic) April 12, 2023
Pavic was fortunate insofar as he had backed up his data — always back up data — but that does not help people who, for any number of reasons, had not backed up their data before their drives failed.
If there were so many issues with Extreme Pro drives, why did SanDisk continue to sell them and mark them down to push even more potentially faulty drives out into the world? Clearing inventory is one thing, but if a company has reason to believe that the stock it is peddling is faulty, that reeks of malfeasance. That might not be what happened.
However, Western Digital downplayed the issue when it spoke to The Verge earlier this year and, like with PetaPixel, has failed to answer some very basic questions.
Yes, Western Digital released a firmware update to fix data loss issues. However, the company describes the fix as addressing instances of drives unexpectedly disconnecting from a computer. That is a far cry from data loss and seems like a half-measure, at best. Given that Pavic's replacement drive following the firmware update failed, "half" might be generous.
Lost data can occasionally be recovered, but only sometimes, and not without time, effort, and cost.
Data loss happens to every storage company. It is part of why it is so important to back up data, even when someone has never experienced data loss firsthand. That said, something very unusual is happening with WD and SanDisk portable SSDs. It is especially jarring given that anyone who follows Backblaze's interesting hard drive stats roundups knows that Western Digital hard disk drives fail at an exceedingly low rate, far below average failure rates.
PetaPixel has tried for months to speak to Western Digital about issues with SanDisk portable drives to no avail. The company has had ample time to answer questions, even if it has been busy putting out fires. The silence from WD cannot be explained.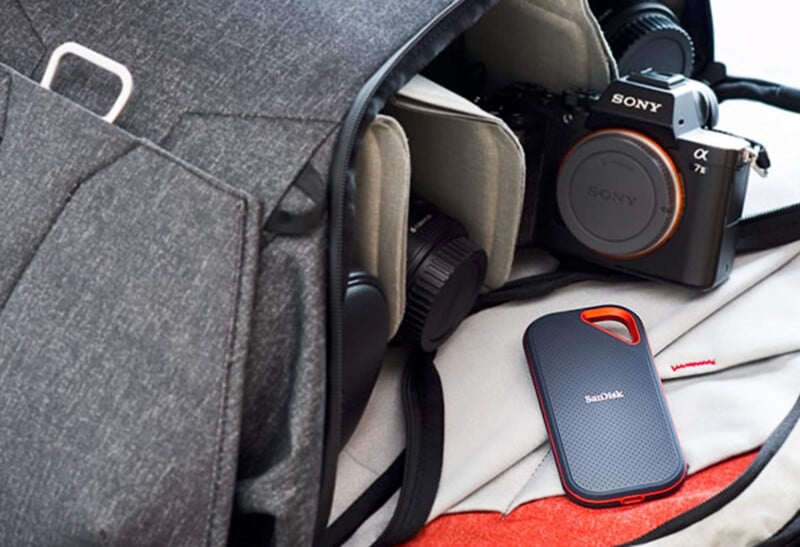 For now, anyone using a SanDisk or WD portable SSD should tread with extreme caution and ensure that their data is adequately backed up. Everyone else should ignore the continued deep discounts. Until PetaPixel feels as though the situation has been dealt with, it cannot recommend SanDisk portable SSDs. The team recommends alternative solutions from Sabrent and LaCie instead.
---
Image credits: Elements of header photo licensed via Depositphotos.