Drone Gets Smacked Out of the Air By a High-Flying Skier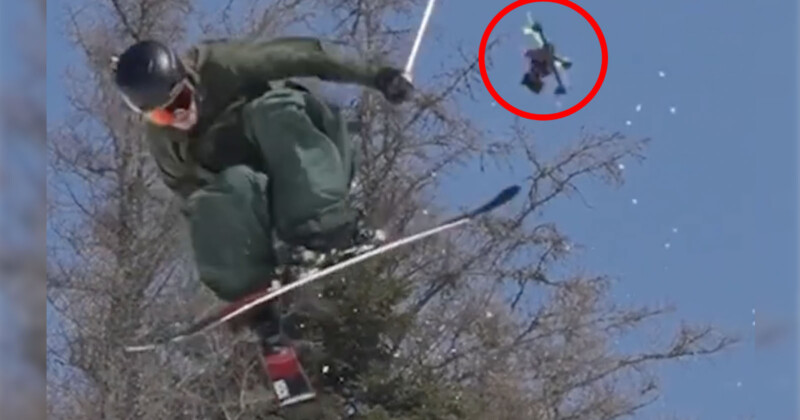 A drone got smacked out of the air by a skier performing an incredible stunt — sparking a debate on whose fault it was.
The clip was uploaded by Ski The East with the caption "When you get a little too close with the drone." It shows skier Simon Angers performing a phenomenal off-axis 900 spin and, despite being hit by the drone as he was rotating, he still lands the trick cleanly.
It is not clear what happened to the drone — which was being operated by man called Mike B — but it definitely took a whack and was knocked into its own spin.
However, most people appeared to side with the skier rather than the drone. "The DRONE got a little too close to HIM," writes Chris Oakes inverting the video caption. "Wtf was he gonna do? Slide a foot to the right midair just like a drone can?"
"Abolish drones," adds Conor Smith. "Get it out of here," adds another user.
Powder notes that drone technology has "revolutionized" how ski videos are filmed. Shots that once required a helicopter can now be done by someone piloting a drone.
However, the publication — which covers all aspects of skiing — also points out that the proliferation of drones has forced ski resorts to write policy on when, where, and who is able to fly the devices.
And it is not just skiing resorts; many ski areas inhabit National Forest land that falls under the jurisdiction of the U.S. Forest Service (USFS) which prohibits drones from flying over wilderness areas without special permission. This is a topic that PetaPixel touched up in a recent editorial.
Backlash Against Drones
Back in February, PetaPixel reported on a surf photographer who rallied against drones near the shore saying they could use "a little more public etiquette" while recording surfers.
"They are pretty loud and obtrusive, especially when they're hovering a few feet above you as is the case in the water when shooting surf," says Ella Boyd.
---
Image credits: Photo courtesy of Ski The East/Mike B/Simon Angers.