DJI Mavic 3 Pro Review: A Pro-Level Drone That's Pricey, But Worth It
After many years of growth, drone technology feels like it has reached a plateau. Even inexpensive drones now have robust collision-avoidance sensors, long battery life, good image quality, and easy-to-use software. So where does the Mavic 3 Pro3 fit in?
With drone technology being so good, the optical design is one area where drone technology improvements are still significant. Most drones feature fixed focal length lenses and only digital zoom, limiting still and video capture possibilities.
DJI's new Mavic 3 Pro and Mavic 3 Pro Cine tackle these limitations with a trio of lenses that provide up to a 7x zoom and a "Hasselblad camera" for image capture — a confusing term for a few reasons.
DJI acquired legendary camera maker Hasselblad and uses the term "Hasselblad camera" in its marketing for many drones, including the Mavic 3 Pro, to refer to their higher-end sensors and lens combinations. Still, most people think of a camera as the whole device, so for that reason, I'll also refer to the combination of the lens and sensor as a camera to stick with DJI's terminology.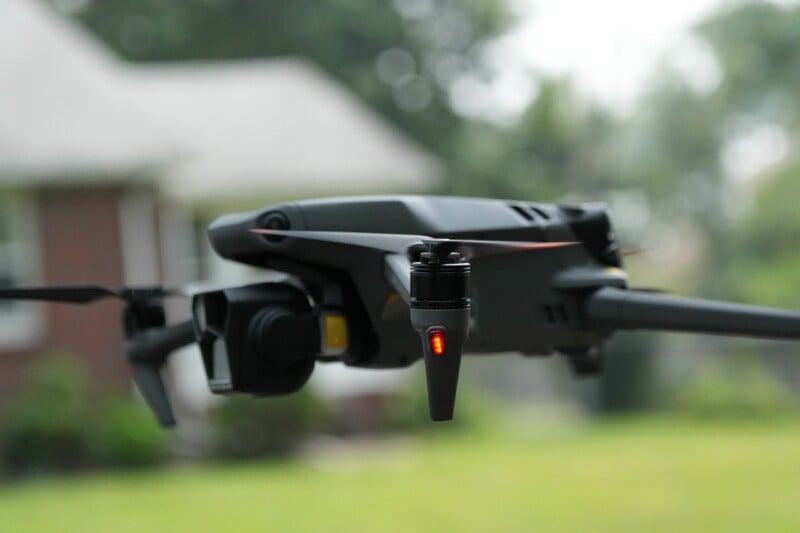 Camera Settings
DJI offers both the Mavic 3 Pro and Mavic 3 Pro Cine with similar features, and I tested the Mavic 3 Pro Cine, which boasts bigger internal storage (1 TB versus 8 GB) and a data transfer rate to the controller of a claimed 10Gbps. Of note, this is difficult to test since it's a proprietary connection, but this data rate is 10x higher than my home gigabit fiber optic connection.
The other peculiar thing is that DJI markets the Mavic 3 Pro Cine as having a Hasselblad camera, but that's only true for the widest-angle camera. That has a Type 4/3 20-megapixel CMOS, 84-degree field of view (24mm equivalent) lens with a variable aperture of f/2.8-f/11.
The medium-focal-length camera, meanwhile, is a 1/1.3-inch CMOS sensor at 48 megapixels and a 35-degree field of view (70mm equivalent) with a fixed f/2.8 lens. The third camera has a field-of-view of 15 degrees (166mm equivalent), a fixed f/3.4 lens, and a 12-megapixel sensor.
Another improvement over earlier generations of drones is that the Mavic 3 Pro can capture in Apple ProRes from each camera, capable of producing Apple ProRes 422 HQ/422/422 LT. The Hasselblad camera does 422 HQ at 3,772 Mbps, while the others cap out at 1,768 Mbps. Higher-end drones are a better option for the customers affected by this.
The Mavic 3 Pro captures 5.1K, DCI 4K, and UHD 4K resolutions on the primary Hasselblad camera and 4K from the other two cameras, and all three record FHD.
Capture frame rates vary between the cameras, but all three can do at least 4k at 60 frames per second (FPS), and the Hasselblad camera captures up to 120 FPS.
DJI claims 43 minutes max flight time and 37 minutes maximum hovering time. These numbers are not remarkably accurate when the drone is placed in real-world situations, but runtimes were very good in my tests. I got about 25 to 30 minutes of flying time while doing a mix of tests that included hovering, cinema-style video panoramas, and some aggressive tests of the collision avoidance system.
The drone's weight will be familiar to anyone using a DJI drone in this class and comes in under a kilogram. The Mavic 3 Pro folds enough to fit into a small bag—I tucked mine into a purse-sized messenger bag and had room for the extra batteries and a small camera and lens combo. It's an ideal weight for someone hiking with a backpack.
Image Quality
As with all of the current crop of DJI drones, footage from the DJI Mavic 3 Pro is excellent. Video footage is clean and clear, though at the 3x and the 7x zoom range, it becomes important to consider atmospheric haze.
The Canadian wildfires that dropped smoke on the Northeastern United States blanketed our region for weeks, and even on the days of the lightest particulate matter, footage taken with the zoom lenses shows notable amounts of softness.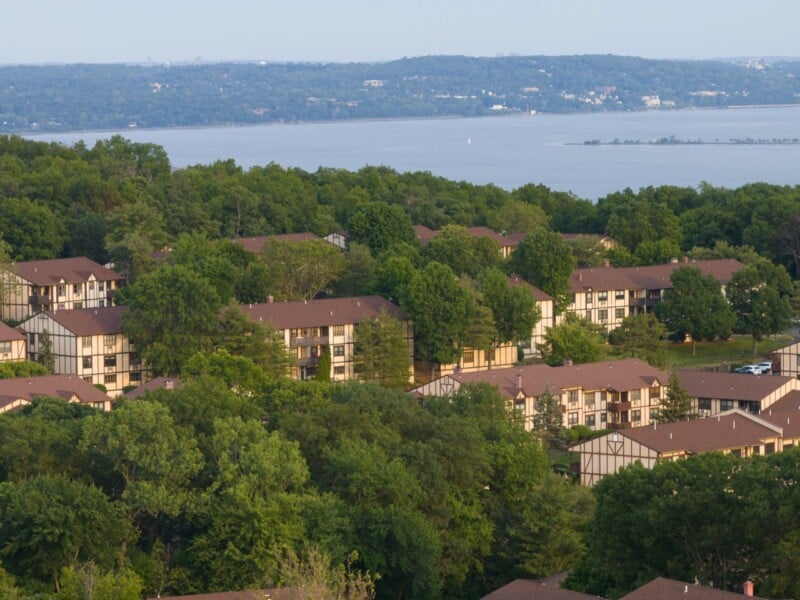 The Mavic 3 Pro Cine can capture ProRes 422 HQ and 422 LT, which is why the Cine version of the drone has 1TB of internal storage. People working on commercials, documentaries, and films benefit from ProRes's expanded color and resolution capabilities, and color grading is vastly simplified.
When it comes to video image quality, it's hard to find anything to quibble about here. To get better-looking footage than provided by the Mavic 3 Pro Cine, it would be necessary to jump to a drone with a bigger sensor, and that's a significant step up in price.
This means the Mavic 3 Pro Cine provides the best quality footage short of jumping to the DJI Inspire 3 or Sony Airpeak (which has its own set of problems). The Inspire 3 is about $17,000 and the Airpeak is around $8,000, but Airpeak is only a platform for flying, so a camera needs to be added, which increases the cost significantly. Add in the cost of the better battery and improved navigation, and the Airpeak can quickly exceed the price of the Inspire 3.
Still footage is decidedly hit-or-miss with drones in general, and the DJI Mavic 3 Pro Cine suffers from the same issues as any camera with a tiny sensor. Backlighting is challenging and over or underexposures are common issues. Outdoor scenes have wide contrast between light and shadow, making these conditions hard for the sensor to handle.
When shooting stills with drones, I like to shoot in exposure bracketing mode and merge the HDR footage after the flight.
Avoiding Trouble
Many long-time drone users are familiar with the sadness of slamming a drone into a tree or a wall due to blind spots in the collision avoidance system. The Mavic 3 Pro has detection in all directions, and the system works incredibly well. I know this because I intentionally tried to crash the drone.
With some earlier Mavic models, I could run into branches or a bush, mostly when flying backward—a notable place for blind spots. It was impossible to crash this drone in the normal and cinema modes, and I'm impressed with the re-routing capabilities of the Mavic 3 Pro. I captured great footage by flying the drone through a heavily wooded area and letting it map around obstacles.
I also had my son fly the drone directly at me, and as expected, it stopped a few feet away. I did not expect this, but as I approached the Mavic 3 Pro Cine, it would remain in a place, hovering in front of me, but it made no effort to back up as I walked closer.
Placing my hand (carefully) under the drone's ground-facing sensor, the Mavic 3 Pro headed skyward to avoid "colliding" with my hand. Yet, I could have walked straight into the spinning blades even with collision avoidance on. I'm confident this is the case with all of DJI's drones although I never thought to test it by approaching it in collision-avoidance mode until now.
Triple Sight
The standout feature of this drone is its variable focal length capture capabilities and these three lenses make the Mavic 3 Pro much more capable than single-lens drones.
With tiny sensors in the three "cameras" (the biggest is a Type 4/3 sensor), digital zoom performs a crop on an already tiny physical chip. The result of this crop in other drones has always made for very poor-quality images in both noise and sharpness. The three-camera system flips the zoom problem as all three cameras capture at the sensor's maximum resolution.
The result is excellent-quality footage. A Type 4/3 sensor will never capture a full-frame camera's dynamic range and noise levels, but DJI ekes the most out of these tiny sensors.
Powerful Capture Modes
As with previous Mavic drones, the Mavic 3 Pro has the company's excellent range of custom shooting automation. A few taps enable and trigger these auto-flying modes that produce shots that eliminate the need for booms, gimbals, and sometimes even a helicopter.
Get Control
The control pad for the Mavic 3 Pro Classic features a bright, big screen that's easy to see even in direct sunlight. Programmable buttons allow customization, but the controllers are easy to use, even straight out of the box.
After thirty minutes of flying time on an 85-degree day, the screen of the controller became very hot. I'm sure the large size of the controller allows for thermal management, but an iPhone that hot would shut off.
Fly Casually
The common design elements between the different drone models mean that flying a Mavic 3 Pro or Mavic 3 Pro Classic is identical to flying the rest of DJI's drone lineup.
The software is familiar, and I could have gone from box to flying in seconds if it weren't for the firmware updating that's always part of flying a new DJI drone.
With a consistent interface across devices, I could fly this drone without being forced to learn something new. Image transmission quality was excellent, with clear and high-res video right up to the edge of the drone's transmission range.
Super (Creepy) Zoom
One of the features on the Mavic 3 Pro that weirds me out a bit is the "Explore" mode, a 28x mix of optical and digital zoom that results in a very creepy amount of reach.
I only fly my drone over public (and legal) lands or private property with permission of the owner, and I try to only record videos of someone's property without recording behind walls or other privacy barriers.
As these examples show, it's nearly impossible in an urban environment not to peer into someone's life at 28x.
I'm not suggesting "Explore" mode should be removed; it's a fantastic feature for scouting out a route from the air. Not sure if a waterfall in the distance is worth the flying time? Zoom in 28x and check it out before using battery time. But I'd recommend avoiding Explore mode in suburban or urban environments.
A selection of images zooming in from 1x to 28x can be seen below.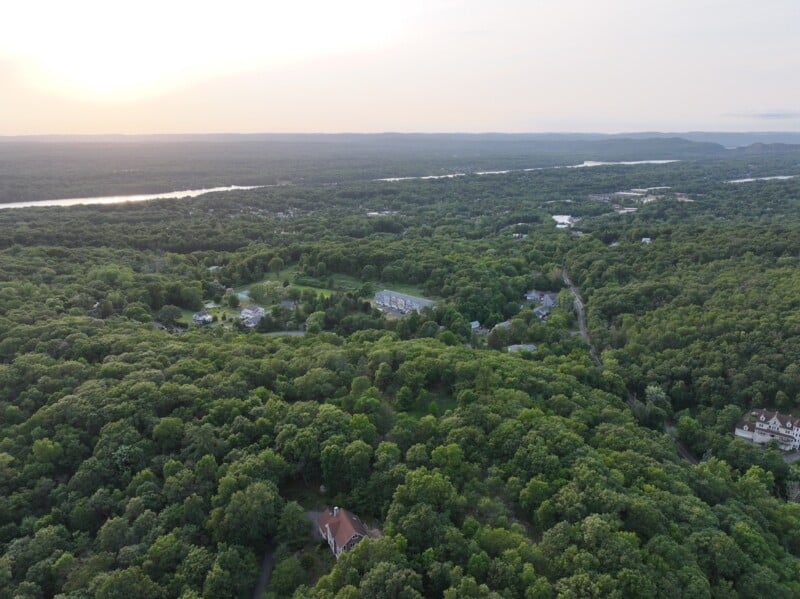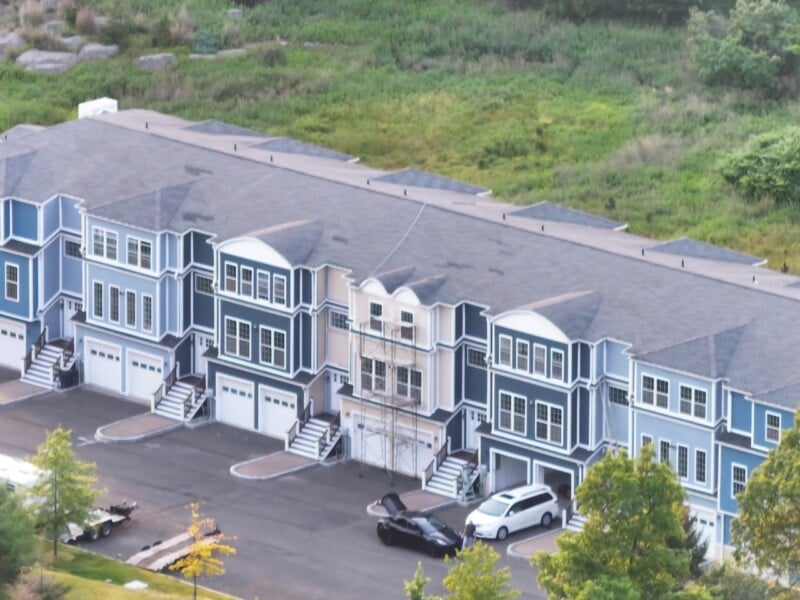 DJI Mavic 3 Pro: A Real Pro Model for Real Pros
Drones are an exercise in compromise. Weight adds stability but reduces battery life. Bigger camera sensors lead to better images but increase weight. Better batteries allow better ranges, but that requires better transmission rates, and so on.
With the Mavic 3 Pro and Mavic 3 Pro Cine, DJI has made very few compromises. The most significant tradeoff is price, as the Mavic 3 Pro and controller combo is $2,200. The highest-end combo with the DJI Mavic 3 Pro Cine Premium Combo (drone, controller, batteries, pack, etc.) is $4,800.
Are There Alternatives?
DJI has worked hard to corner the drone market, and the DJI Mavic 3 Pro and Mavic 3 Pro Cine further cement the top-end remains controlled by DJI, meaning alternatives are just going to be other DJI drones.
For anyone looking for similar flight and performance capabilities but without multiple cameras, the DJI Mavic 3 Classic, which we reviewed, is a great choice.
Should You Buy It?
Yes. If you're looking for a range of focal lengths for your drone photography and videography, the Mavic 3 Pro and Mavic 3 Pro Cine are your best choice.