DJI Inspire 3 Review: A True, Pro Level Drone… For a Price
The DJI Inspire 3 is a drone that I had actually given up hope on ever seeing. The Inspire 2 was released way back in 2016 (the hot camera that year was the Nikon D500, to give you some perspective), and progress with UAVs has been incredibly rapid since then.
---
This episode is brought to you by Xencelabs. Xencelabs is a global company providing best-in-class digital drawing solutions enabling creative professionals to expand their creativity and enhance productivity. Xencelabs is giving artists a new creative choice with its Pen Display 24 Studio Series. The new drawing display joins the company's full line of professional digital design tools. Visit Xencelabs.com to learn more.
---
With the smaller DJI drones becoming much more capable, and the larger units all being designed to support a dedicated camera, it looked like DJI had abandoned pilots looking for an all-in-one, truly professional option. Then, a month ago the Inspire 3 was announced.
Oddly, I had a taste of what the Inspire 3 would offer a couple years ago when I tested the DJI Ronin 4D. This 4-axis gimbal combined with a full frame cinema camera was the introduction of the Zenmuse X9 gimbal, housing a full frame sensor that accepted several of DJI's DL mount lenses.
I loved using the Ronin 4D, but it seemed odd that this technology was making its debut on land rather than in the air, DJI's forte. With the announcement of the Inspire 3 I was impressed by the feature set, but also stunned at the dramatic price increase. After spending time with the unit, DJI's decisions make a lot of sense if you accept that the Inspire 3 is targeting a much smaller user base than the Inspire 2 did.


First, I am not a UAV pilot. While I have flown several consumer DJI projects for the odd establishing shot, I do not have the permits required to fly these big guys in Canadian airspace. That's why I contacted Arden Shibley, a working pilot for the film and television industry to help give me some practical perspective on how the Inspire 3 could fit into a professional workflow. He's now flown the Inspire 3 extensively, and will have several YouTube episodes coming out about his experiences on the Yellowhouse Aerial YouTube channel. Be sure to check them out.


Features and Specifications
The Inspire 3 includes the Zenmuse X9 gimbal and a 45 megapixel full-frame sensor. This allows the camera to capture 8K video in H.264 or PreRes 422 at up to 30p. With the additional nearly $1,000 RAW upgrade, you can capture 8K video at up 75p, but only in a super wide 2.35:1 aspects ratio.
I was thrilled to see support for 4K recording up to 120p, but this comes with several caveats. Recording 4K or 8K up to 30p will give you lovely images (the 4K is oversampled from 8K), however rolling shutter levels are quite noticeable. As soon as you shoot 4K at frame rates faster than 30p, rolling shutter rates dramatically reduce, at the same time shadow noise increases.
I suspect that the Inspire 3 is dropping from 14-bit to 12-bit capture when faster frame rates are utilized. I was hoping that 45 megapixel sensor was the incredibly powerful one we have seen recently in the Nikon Z9 and Z8, which can capture oversampled 4K up to 60p with no dynamic range penalty, but the Zenmuse Z9 performance is more in line with the Canon EOS R5C. Certainly acceptable, but by no means class leading.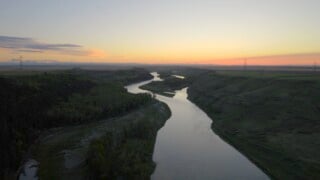 In terms of photography, the camera can capture 3:2 45 megapixel files. These are saved as JPEGs or the RAW files as DNGs, a wonderful decision that allows me to use any current photo editing software to process the images. Photo quality is excellent, however the lack of mechanical shutter means rolling shutter issues can creep into the images when the drone is flying quickly, or a fast moving object is in the frame. We were also surprised to find a noticeable lag after every photo was taken. If you need a burst of photos, you are better served recording 8K video with a fast shutter speed and extracting frames later.


The two main capabilities that jumped out to me are Repeatable Routes and 3D Dolly. These are variations on the same concept of setting waypoints for the Inspire 3 to then precisely follow multiple times. With "Repeatable Routes," the aircraft and gimbal will exactly duplicate a move, allowing compositing and lighting changes in multiple takes, when things to be duplicated exactly.
We used this to transition from a daytime establishing shot to night. The 3D Dolly allows you to set a path for the drone to fly, but the operator has control over the gimbal and speed of the aircraft. This is great when you know where you want to Inspire 3 to fly, but don't know how fast your subject will be moving when they enter the frame. We used this technique to follow Chris as he was speeding up and slowing down moving through bodies of water.
Design and Build Quality
In terms of design, it DJI has addressed most of the shortfalls from the Inspire 2. The aircraft can now be comfortably grabbed from the top, it can be placed in the case with batteries still attached and, while still loud, the annoying high pitched whine of the Inspire 2 is greatly reduced.
Arden commented to me that the ability to play back clips through the controller's HDMI port was the biggest improvement to him. Previously, you could only play back clips on the small screen of there controller, now playback can be sent to other client monitors or a video village. I did find the reflective display on the controller difficult to see in bright light, but at least the touch interface is now much more responsive than the Inspire 2. The Inspire 3 battery will last around 20 minutes, just like the Inspire 2, which is standard in this class.


Another major improvement is the first-person-view camera. This camera is not used for capturing video, but for the pilot to reference while flying the drone, especially if the main camera is pointed in a different direction than the craft is heading. The Inspire 2 had an itty bitty Type 1/7.5 sensor with a narrow 84 degree field of view. The Inspire 3 FPV camera boasts a vastly larger Type 1/1.8 sensor with a 160 degree field of view.
The wide frame makes it easier to see obstacles, and the larger sensor makes the FPV view much more useable in low light situations, or with extremely contrasty light.


So the Inspire 3 is undoubtedly a superior filmmaking tool to its predecessor, but it needed to be after so many years and with a vastly higher price. While working at The Camera Store in Calgary back in 2017, there we certainly high end filmmakers looking at the Inspire 2, but also commercial videographers, real estate shooters and UAV enthusiasts.
Years later, there are now a variety of very capable, smaller and less expensive DJI drones that can satisfy the needs of most videographers. The Inspire 3 makes sense for pilots working in collaborative, high end productions, where the new Repeatable Routes, dual operator controls and top notch image quality will unlock creative options lesser drones can't. At least not yet.
A True, Pro Level Drone… For a Price
There is a very particular audience that the Inspire 3 caters to, and it's not necessarily the same group that would have purchased the Inspire 2. This is very much a professional, high-end filmmaking device that requires a steady amount of incoming work to rationalize the $16,500 price. For those professionals, it is certainly worth it given the huge quality increase over the previous iteration and the fact it is so easy to fly compared to custom build options and any other high-end pre-builds currently available.
That means it's not for everyone, but those who will pick one up will be extremely happy with the purchase.
Are There Alternatives?
There are two notable alternatives, but both aren't necessarily great options. For one, you could pick up the Inspire 2 and still be quite pleased with what it can do, but obviously there are limitations and DJI has addressed many issues professionals had with that drone with this iteration.
The other option is the Sony Airpeak S1, but PetaPixel's experience with that drone left a lot to be desired. It is possible that drone will get better with some optional upgrades that Sony is making available this summer, but there are no guarantees and that drone would also be substantially more expensive than the Inspire 3 once you've purchased everything you need.
Should You Buy It?
Yes, if what you are shooting requires the capabilities of this high-end drone. Most don't even require what the Inspire 2 can do, and the Inspire 3 is is significantly more powerful and has a high price to match.