Sony's 70-200mm f/4 II is Lighter, Smaller, Faster, and Adds Macro
Sony has announced the 70-200 f/4 Macro G OSS II, a follow-up to the original that was brought to market nine years ago. This new version improves basically every major aspect: it's smaller, lighter, focuses faster, adds macro, and takes sharper photos than the original.
This second iteration of the lens is 15% shorter and 15% lighter than Sony's first 70-200 f/4 (it weighs 794 grams — 28 ounces — and is 5.8 inches long) and supports both of the company's 1.4x and 2x teleconverters. Additionally, the lens supports full 1:1 macro capability when paired with the 2x teleconverter and has half macro capability across the entire zoom range.
The focusing system has been dramatically improved and now utilizes Sony's new linear XD focusing technology. The 70-200 f/4 Macro G OSS II uses four of these motors to achieve 20% faster focusing than the lens's predecessor. Sony says that it uses four motors because two are used for each of the optic's focus groups, which allows it to be better and more precise with autofocus tracking as well as improving its raw speed. Overall, Sony says to expect about twice the tracking performance while zooming compared to the previous version.
Sony says that it provides smooth and silent zooming during video recording and the use of this motor style was one of the primary reasons that allowed the company to make the lens smaller.
Optically, the lens is constructed of 19 elements arranged into 13 groups, which includes one advanced aspherical element (to minimize aberrations), three extra-low dispersion (ED) glass optics (to suppress chromatic aberration), one ED aspherical lens that is designed to suppress both chromatic and spherical aberration, and one standard aspherical lens. It features a nine-bladed circular aperture diaphragm.
It provides a minimum focusing distance of 10.2 inches at 70mm and 14.2 inches at 200mm, which translates to a working distance of 3.5 inches at 70mm and 7.5 inches at 200mm. Sony says it has "excellent" close-up performance.
Sony says that the lens has reduced focus breathing overall and reduced focus shift and axis shift while zooming. It also, as expected, will work with the Alpha 1's blackout free 30 frames per second continuous shooting performance (the original only supported up to 15 frames per second).
On the outside of the lens, photographers will find three customizable focus hold buttons, a tripod mount, a zoom lock switch, and an AF/MF switch.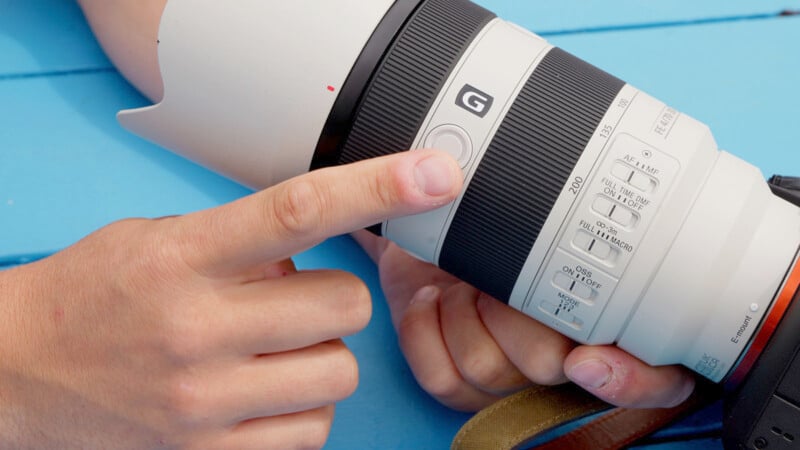 It also has three modes of optical image stabilization, a focus range limiter (including macro), and full-time DMF. It is dust and moisture-resistant, has sealed seams, buttons, and switches, and features a fluorine coating on the front element.
The Sony 70-200mm f/4 Macro G OSS II will be available to pre-order on July 13 for $1,699.99.
---
Image credits: Jordan Drake for PetaPixel