Epson's Two New High-Res Photo Scanners Are Pretty Affordable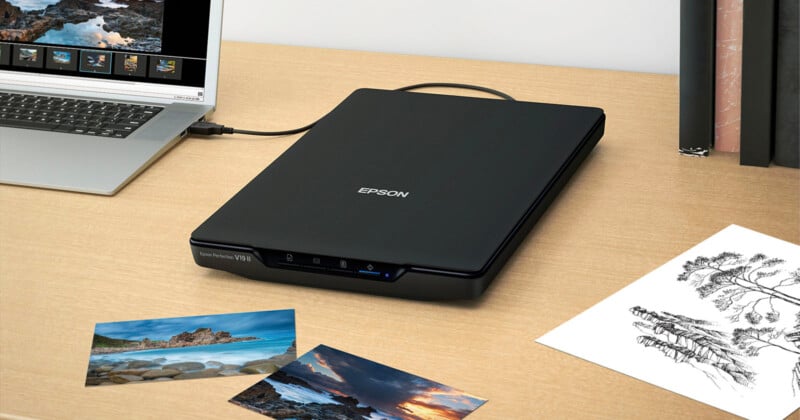 Epson has announced two new high-resolution photo scanners that are designed to make digitizing photos simple and approachable, both in their design and pricing.
The new Perfection V19 II and Perfection V39 II flatbed scanners feature an optical resolution of 4,800 DPI to deliver extreme clarity while a revamped user interface reduces the number of steps a user needs to take to go from physical photo to digital scan. Both are designed to scan color photos and documents in a way that's simple and straightforward so that users more easily restore and share photos, artwork, illustrations, books, documents and more.
The V39 II separates itself rom the V19 II with two features: the higher-end scanner can scan to cloud storage services as well as stitch together oversized images.
Otherwise, both scanners are capable of bringing in old, faded photos and restoring them with Epson's Easy Photo Fix software. The V39 II and V19 II aren't only for single photos, as Epson says it designed the lid to be removable so that it can accommodate bulky items such as books or photo albums. Both scanners can also send scans directly to Microsoft Office — such as Word, Excel, and PowerPoint — and those files have optical character recognition to allow them to be edited once imported.
Both claim to deliver finished scans in as little as 10 seconds, are powered by USB, and include a built-in kickstand for what Epson characterizes as space-saving vertical placement and storage.
"Designed to make scanning simple for consumers and photo enthusiasts, the Perfection V19 II and Perfection V39 II scanners deliver quality, convenience and functionality in a compact design," Carrie Fox, director, Scanners, Consumables and New Business Initiatives, Epson America, says. "Building on decades of heritage and innovation, Epson is a leader in the photo scanning market dedicated to delivering cost-efficient and easy-to-use solutions people can depend on."
The Perfection V19 II is priced at $89.99 while the more advanced Perfection V39 II doesn't ask much more at $119.99. Both are available at major computer, office, and electronics retailers as well as directly from Epson via its online store.
---
Image credits: Epson