Epson Unveils World's Fastest Photo Scanner, Scans One Print Per Second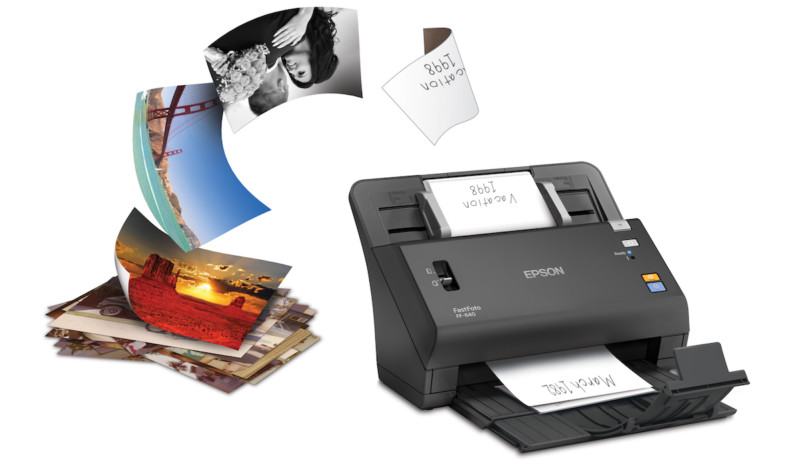 It's not often we have a reason to write about scanners, but Epson's FastFoto FF-640 gives us one very compelling reason: speed. Dubbed the 'world's fastest photo scanner,' it can digitize prints at a blinding fast one photo per second.
If you've got boxes of old prints fading away in storage, the FF-640 promises to digitize them faster and more conveniently than any other scanner out there.
Just pop up to 30 photos of various sizes into the scanner's auto-feeder, set your resolution—300dpi scans at one photo per second, higher res takes a bit longer—and let the little scanner do its thing. Images will automatically upload to your hard drive, with the option to back up to Facebook, Dropbox, and more.
The scanner can also capture the front and back of a photo (or postcard) at the same time. And if the photo is faded, Epson's FastFoto software can automatically try and restore it using the company's "Smart Photo Fix Technology."
"Scanning shoeboxes of photos on a flatbed scanner can take hundreds of hours, and sending photos out to a scanning service is pricey and puts irreplaceable photos at risk of being lost or damaged," points out Larry Trevarthen, director of Commercial Printing and Scanning at Epson. "FastFoto offers a fast, easy and affordable solution for preserving a family's legacy."
This is a beast of a little photo scanner, so it should come as no surprise that it comes with a bit of a hefty price tag. At $650, the FF-640 will definitely set you back more than your average flat bed scanner… but given how much time it'll save you, it might be an investment worth making for you photo print hoarders.