Talented Photographer That 'Nobody Knows' is Ready to Quit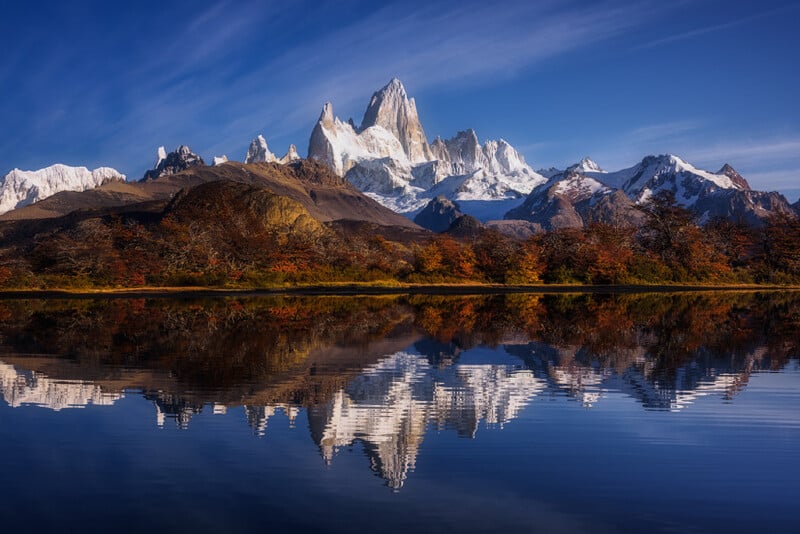 A talented landscape photographer says his decision to reject most social media platforms has resulted in him being "virtually unknown" and he is ready to bow out of the medium.
Despite capturing breathtaking landscape photos, Andrew Waddington tells PetaPixel that nobody is aware of him "primarily because I refuse to use Instagram" and his best work "barely receives a handful of views on Flickr."
Waddington's only online outlet is his Flickr page which he fills with stunning views of Patagonia where he has spent four years.
"Few words are needed to describe the beauty of Patagonia. I come specifically to Los Glaciers National Park because I'm drawn to the sharp dramatic peaks," he says.
"I've seen nearly all of the world's 8,000 meters (26,000 feet) peaks and nothing comes close to Cerro Torre and Mt Fitz Roy."
Rejecting Social Media as a Photographer
Social media plays a vital role in the photography landscape, for many it's not just about sharing their work for likes — it's also a vital marketing tool and a way to land clients.
However, there are many pitfalls. And in 2017, despite having a following on Instagram and other platforms, Waddington felt the negatives outweighed the benefits.
"I closed them down after I became aware that certain places were being damaged through over-visitation," he says.
"In more recent years, I've tried not to look at the work other people do. Instead of looking at other people's pictures on Instagram, I prefer to use Google Earth to try to visualize how a landscape might look.
"I do this because I want to find new compositions on my own. I'm not always successful, at times I've shot the same scene as others, when this happens I like to give credit to the person I believe shot there first."
Overtourism is a problem the world over, but that's not the only reason Waddington has declined to upload his photos online.
"If you hope to improve as a photographer social media can also help you to improve," he says.
"However, if you're using social media for dopamine hits then you're probably using it for the wrong reasons.
"In many ways, I like the freedom I have without having to appease Instagram followers and so I don't feel disenfranchised [from photography]."
Quitting Photography
Waddington tells PetaPixel that he is ready to "call it a day" and take up printing instead.
"Some years back I set a goal to capture five images, I wanted five images that would have a really strong meaning to me," he explains.
"I like getting a lucky 'snap' just like anyone else, but the photographs that took real effort; perhaps the ones that happened despite adversity are the ones that will have a lasting appeal to me.
"I've spent roughly four out of the last 13 years in Patagonia. I believe I've captured images I'd like to be looking at in old age and so processing and printing them is the next logical step. I aim to create the finest quality, cleanest prints using a linear profile and work on raw on raw layers."
Aside from that, he acknowledges that heavy camera equipment is a burden and can prevent further travel.
"I like to hike with just a lightweight backpack. If I'm content with five prints then subsequent photography is likely to just remain as web images," he says.
"If that's the case I don't see the need to carry heavy camera gear. I might just as well shoot with a cell phone."
No Social Media, No Pressure
The English photographer is demanding of himself, admitting that he "can be extremely picky." He has made foreign trips without returning with a single image.
"I don't have the pressure to keep performing to my audience in the way someone with an Instagram following might," he says.
"I would, however, be lying if I said I don't miss some of the encouragement I used to get from having an image top of 500px."
More of Waddington's work can be seen on his Flickr page.
---
Image credits: All photos by Andrew Waddington.