Pergear's New CFexpress Type A Cards Are Swift and Affordable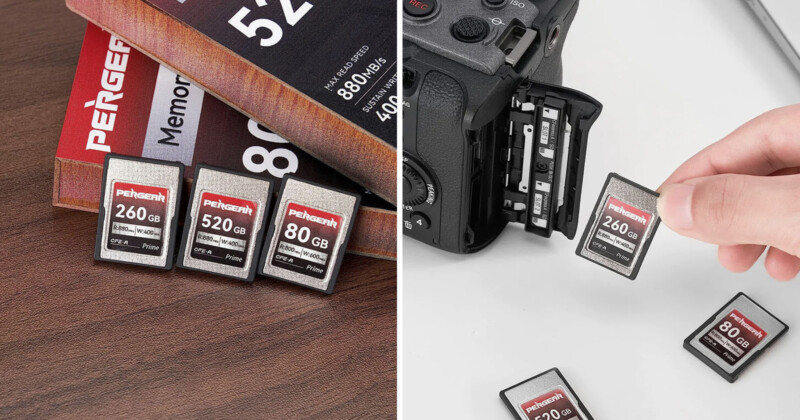 Pergear has announced a trio of new CFexpress Type A cards that promise high-speed performance for an affordable price.
Pergear is no stranger to CFexpress, having released very affordable CFexpress Type B cards last October, cards that PetaPixel says are among the best value options on the market.

First seen on Digital Camera World, Pergear's new CFexpress Type A cards are not quite the bang for the buck that the company's CFexpress Type B cards are, but they are not outrageously expensive.
At launch, the new cards will arrive in three capacities: 80GB, 260GB, and 520GB, with the larger two cards promising relatively superior performance. The 80GB card is capable of 800MB/s max read and write speed and a minimum of 600MB/s sustained write performance.
The 260GB and 520GB cards up the ante with a slightly swifter 880MB/s max read speed and 900MB/s max write speed. However, the larger cards have a slower sustained write speed of 400MB/s.
After an extended period where there were very few CFexpress Type A options for photographers using Sony's latest Alpha cameras, such as the a7 IV, a7S III, and a7R V, many cards are on the market today. Just a couple of months ago, Angelbird launched a massive 1TB card for only $500, undercutting Sony's 640GB card that currently sells for just under $1,000.
Not to be outdone, Sony announced 960GB and 1920GB cards earlier this month, although Sony's new cards are costly. The new 2TB card does not come cheap, as its asking price is an eye-watering $1,400\. It is quite incredible that there is a 2TB CFexpress Type A card on the market, as less than a year ago, Exascend's 240GB card touted the world's highest capacity.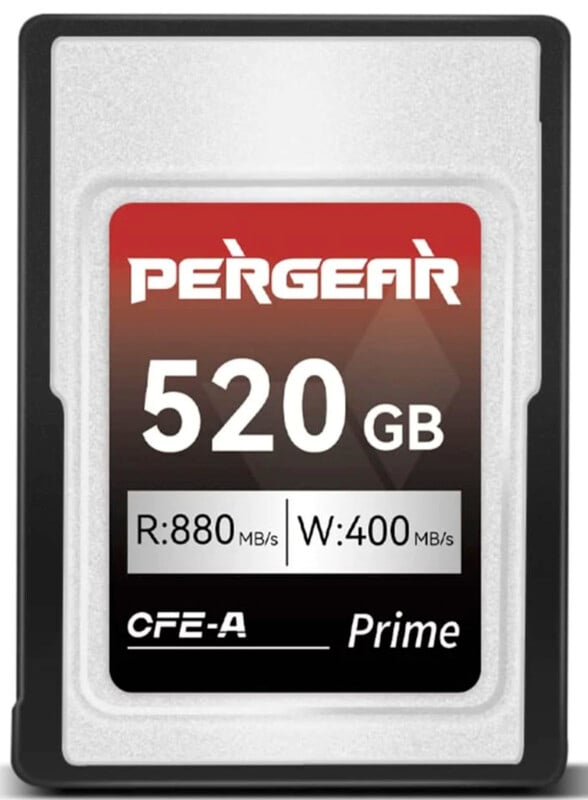 Returning to Pergear's CFexpress Type A cards, the cards start at $99 for the 80GB version, while the larger and faster, at least in terms of maximum speed, 260GB and 520GB cards sell for $189 and $359, respectively. Users can add a reader for an extra $30.
From a price perspective, Pergear's cards are competitively priced. Lexar's 80GB CFexpress Type A card is $160, for example, while Sony asks for $200 for its 80GB card.
Considering Pergear's 260GB card, it is an unusual capacity. ProGrade offers a smaller 160GB card for $273, on sale from its regular price of $365. Lexar's 160GB card is $316, $44 off its typical price. The 320GB Lexar Gold Series CFexpress Type A card for $480, 18 percent off its MSRP.
There are no direct comparisons for Pergear's new 520GB either, but from a price per gigabyte perspective, the new cards represent a substantial value.
---
Image credits: Pergear