Smart Shooter 5 Adds Tethering for Up to 10 Cameras at Once
Tether Tools has announced the latest version of its customizable and powerful tethered capture software, Smart Shooter 5. The major new release supports Fujifilm cameras, adds multi-camera tethering for up to 10 cameras, and integrates bulk QR/barcodes into professional workflows.
Smart Shooter 5 is custom-built using each supported camera's Picture Transfer Protocol (PTP), which Tether Tools promises results in improved reliability, faster image transfer and import, expanded camera controls, and support for more advanced features. Smart Shooter 5 supports Canon, Fujifilm, Nikon, and Sony photographers.
"We've taken everything you loved about Smart Shooter 4 and Smart Shooter Pro and combined them into one great software. This latest update packs a punch with exciting new features that streamline workflow and boost productivity," says Josh Simons, Tether Tools CEO. "With new support for Fujifilm and Sony a7r V cameras, support for Apple Silicon chips, and enhanced Lightroom Plug-in support for Sony, Fujifilm, and Nikon shooters, plus a host of new customizable features, Smart Shooter 5 is designed to work seamlessly in your tethered photography workflow."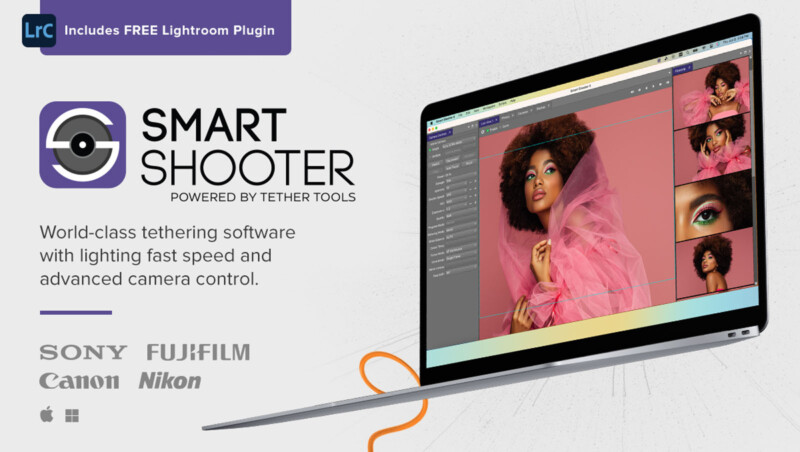 Concerning the new multi-camera feature, Smart Shooter 5 allows photographers to connect 10 cameras simultaneously, which Tether Tools says is ideal for multi-angle product photography, 3D modeling, scanning, and more.
Two or more cameras can be grouped together to capture images or run scripts. The software's multi-workspace interface can show up to four cameras at once in Live View, and the software can be triggered by the camera, software, or remote trigger.
Smart Shooter 5 also adds "MyWorkspaces," which Tether Tools describes as a customizable docking window feature. The workspace can be tailored to individual user needs and supports high-resolution displays.
"Smart Shooter 5 takes QR/barcoding workflow to the next level for photographers looking for better organization of data during a shoot," explains Tether Tools. Photographers shooting products, cultural heritage subjects, portraits, or anything else in bulk, can save information to individual image files or metadata upon capture, which will help manage complex, large shoots.
Smart Shooter 5 offers expanded file saving options as well. "SmartSave" lets users save photos to multiple locations, including card, computer, and cloud file services. Files can be sorted and stored in folders by camera type, name, group, or data.
Smart Shooter 5 also incorporates features previously included in "Pro" versions of Smart Shooter software, including native scripts for time-lapse photography, bulb time, HDR, and more. A Live View Overlay Mode, driven by open API integration, is also included in the new all-inclusive Smart Shooter 5 software.
Pricing and Availability
Smart Shooter 5 is available via a perpetual license for $99 for one camera. Each additional camera is $99, with up to 10 cameras connected to a single license. Each license can be installed on three computers. Further, each license purchase includes the Adobe Lightroom plug-in and the Tether Tools Bulk QR Code Generator.
Smart Shooter 5 is available on macOS and Windows. Full specifications and compatibility information are available on the Tether Tools website.