Insta360 Go 3 Review: Not the Best Looking, Maybe the Most Fun
In its third iteration, the Insta360 Go 3 continues to hone in on what makes this series of action cameras so attractive.

Design and Build Quality
Go 3
The Go 3, which refers to the small detachable camera module, weighs just 1.25 ounces (36 grams) and measures 2.1 inches on the long side, 1 inch on the shorter side, and is 0.9 inches in depth (54.4 x 25.6 x 23×3 millimeters). By itself, it's smaller and lighter than any other camera I've used. It's very manageable to slip into tight spaces and mount on all sorts of things where larger, heavier action cameras can start feeling like a whole production to get it going.
The lens on the Go 3 does protrude about an eighth of an inch (3 millimeters), including the Lens Guard that comes preinstalled. One nice consideration is that the guard can easily be unscrewed and replaced if it were to get damaged.
It's not obvious, but there is a single button next to the lens on the front of the Go 3 that can be programmed in the menu to perform a limited list of things when it's pressed once or double-pressed in succession. For me, it's set to record a FreeFrame video with one press and a slow-motion video when double-pressed.
The backside doesn't have any camera functionality, but it does have magnetic powers. It's a main component in the Go 3 ecosystem and is central to each accessory. Outside of the accessories, it can just as well stick straight to magnetic objects as commonplace as the refrigerator in your house or onto the hood of your car. It's a fairly strong magnet and to date, I haven't had any accidental drops because it couldn't hold on.
The Go 3 uses an internal 310 mAh battery that recharges through the Action Pod. Insta360 claims the Go 3 by itself has 45 minutes of battery life when measured in "lab conditions" at 1080p at 30 frames per second. I tend to record mostly at 1440p at 30 frames per second, and testing a continuous recording with those settings got me nearly 34 minutes of video.
Action Pod
The Action Pod weighs 3.4 ounces (96 grams) by itself and 4.65 ounces (132 grams) when combined with the Go 3 module. The weight is comparable to the GoPro Hero 11 Black, which weighs 4.47 ounces.
The Action Pod acts as the hub that charges, monitors, and controls the Go 3. The interface and usability are very much like any other action camera, it's just that with this system, the camera can pop out and work remotely. When the Go 3 is detached, the Action Pod can wirelessly monitor the camera and display the video feed on its 2.2-inch flip-up touchscreen.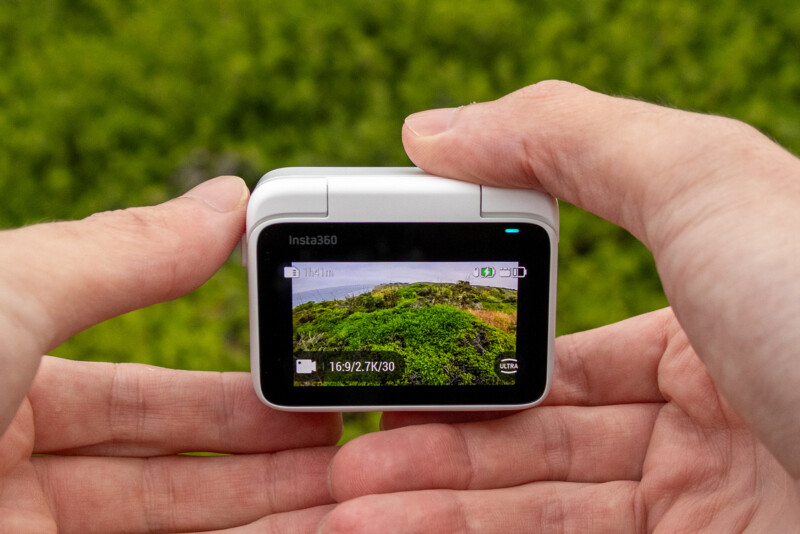 The three buttons on the Action Pod include a power/sleep button on the right side, a "Q" button under it for recalling settings, and the shutter button on top. On the left side is the release for taking out the Go 3 module. The bottom of the Action Pod is where it's magnetic and connects to the assortment of accessories.
To charge the Go 3 module, it gets placed into the Action Pod where it then automatically starts recharging, kind of like how Apple AirPods work with its charging case. So the Action Pod also has its own 1270 mAh integrated battery that recharges through USB-C. When the Go 3 battery is dead, it can be thrown into the Action Pod to recharge and keep shooting. However, when the Action Pod battery goes out, it's the end of shooting because the battery can't be swapped out for a full one like most other action cameras.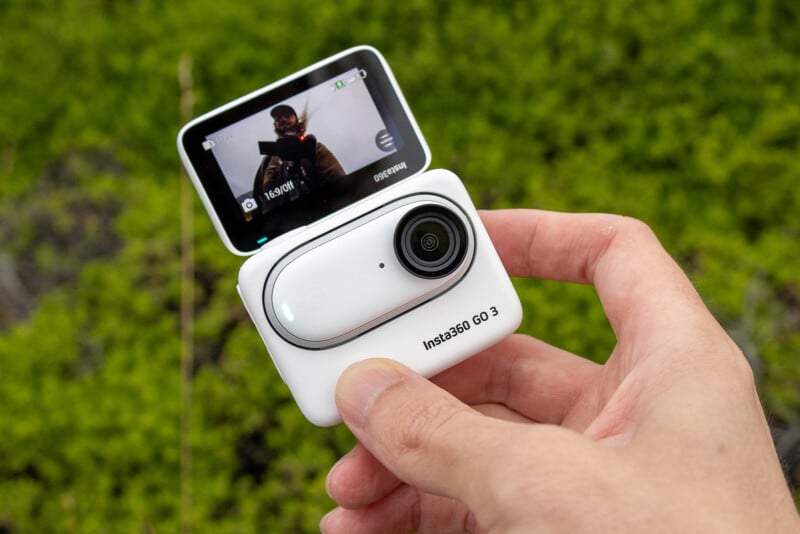 The integrated components don't stop there. The Go 3 also uses internal storage, so at the time of purchase is when you need to decide how much memory you'll need. There are options of 32 GB, 64 GB, and 128 GB. My review unit is 64 GB, which is a good balance between having enough storage for a day trip and not spending the top price for 128 GB. That said, it's only $30 more to double the memory capacity going from 64 to 128 GB for the storage worriers out there that aren't dumping video every day.
On my 64 GB model, shooting 30 frames per second in 2.7K shows 2 hours and 53 minutes of record time. Shooting 50 frames per second in 1440p as well as 120 frames per second in 1080p shows 1 hour and 37 minutes of record time.
Starter Accessories
Inside the box, the Go 3 comes with a Magnetic Pendant, an Easy Clip, and a Pivot Stand. The Magnetic Pendant works by wearing it around the neck like a necklace and placing it under a shirt. Then, the Go 3 module sticks to it over the shirt, where the magnets will secure the pieces together. It holds well, even through thicker materials like a fleece or wool jacket. It even comes with an optional wedge piece that sits on the back of the pendant so that it can get a better camera angle.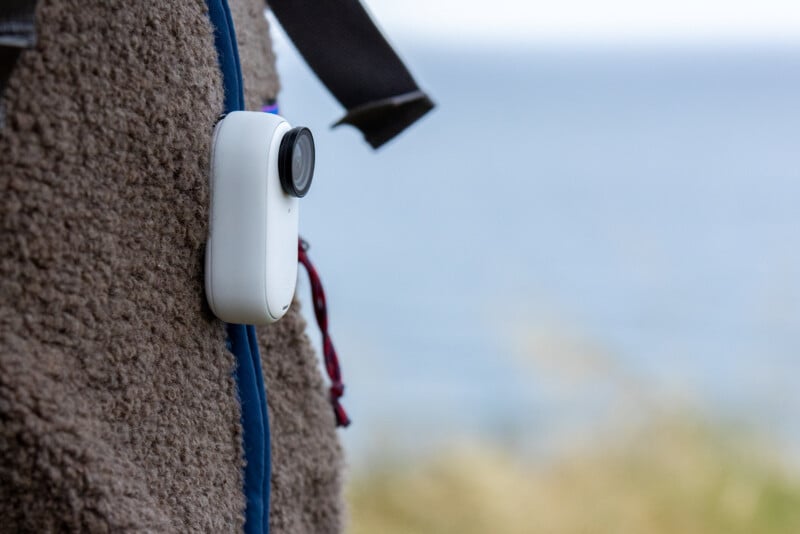 The Easy Clip is poorly designed and I didn't use it much. The exemplary use is for mounting the Go 3 onto the bill of a cap. I also tried it out with my dog's collar for some pet POV. There is no mechanism to expand the jaws making installation incredibly difficult and is prone to damaging anything it slides over. It's also very wide, making it not work on many cylindrical objects. For clamping the Go 3, I used the GoPro Magnetic Swivel Clip instead.
Then there's the Pivot Stand which can accept either the Go 3 module alone or the full Action Pod onto its magnetic base. It has a 1/4"-20 mounting hole to attach to selfie sticks and tripods. It comes with a reusable sticky mount in the box too. This is an important part that will bridge the gap to using the millions of available GoPro accessories by way of a 1/4″-20 to prong adapter.
Video Settings and Quality
The Go 3 has an 11mm-equivalent lens with an f/2.2 aperture. The ISO range goes from 100 up to 3,200. It can shoot up to 2.7K video in standard mode at 30 frames per second, or up to 1440p at 50 frames per second in FreeFrame mode. Slow Motion Mode can do 120 frames per second in 1080p.
While the standard video mode can shoot the Go 3 at its highest resolution, the trade-off is that the stabilization is baked into the file, and there is no horizon lock capability. On the other hand, giving up some of that resolution and shooting 1440p in FreeFrame mode (also known as Pro mode) opens up more options in editing. FreeFrame records the full image circle so that the aspect ratio can be changed in post from a vertical 9:16 for Instagram Reels or 16:9 for YouTube. It also benefits from having a 360 horizon lock, so getting level footage is never a problem, regardless of how the device is mounted.
There are four options of field of view to pick from, but after some use, it's pretty clear that Ultra gives the best picture as there are fewer corrections pushing and pulling at the pixels.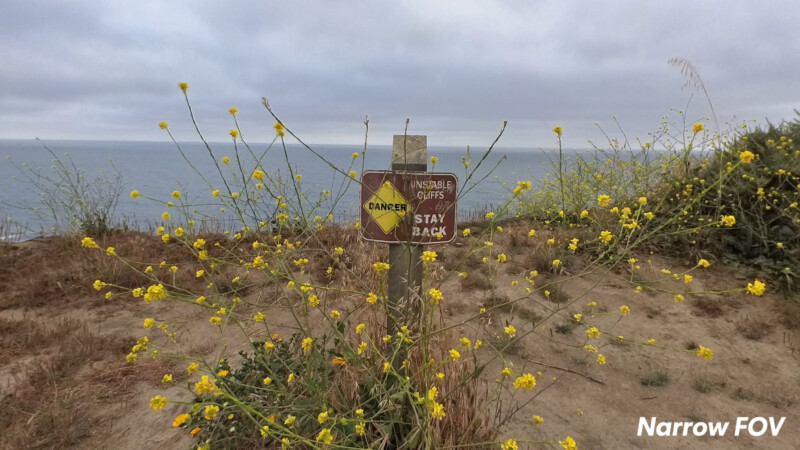 The resulting image quality from shooting video on the Go 3 is adequate in every sense of the word. For almost all internet videos I watch, the image quality is not the focus of the video, it's what's being said or the situation in which the video takes place. I think the Go 3 delivers in this area of giving a voice a visual. This product excels in being simple and small so that it can be thrown anywhere without becoming a distraction to getting a story out there.
The Go 3 does have a Photo Mode and HDR Photo Mode, but if you have a smartphone made within the last couple of decades on your person, it's going to have better image quality than this. It's really not worth using the photo modes unless you find yourself in some really specific situation where it's the only option.
Say Hello to My Little Friend
If it's specs and resolution you're after, which is perfectly valid, this probably won't satisfy that craving. But if you want a camera that promotes creativity by making you think of a bunch of weird little places to place the module while monitoring the composition on the Action Pod, there's nothing else quite like it.
Are There Alternatives?
The Insta360 Go 3 takes a unique approach to action-style cameras, and there are no direct product comparisons to be made that I'm aware of outside of the predecessor Go 2.
The magnetic mounting system is akin to what DJI started with the Action 2 and continued in the Action 3, but when it comes down to size and weight, the Action 2 seems to be a more comparable alternative. It's a camera that I did enjoy using during my review and does have better overall shooting specs and image quality than the Go 3.
Should You Buy It?
Yes. The Insta360 Go 3 is a clever take on action cameras that proves to be more than a gimmick.