Zeiss is Not Leaving the Photo Biz, But Admits Its Latest Camera Didn't Sell
Zeiss has clarified its position in the photography market and soundly denied allegations that it is leaving the photography industry. That said, don't expect a follow-up to its Android-powered ZX1 camera.
Earlier this month, a rumor that originated on a Fred Miranda forum and disseminated by The Phoblographer claimed that the storied optics manufacturer was leaving the photo industry. The rumor started with a customer's conversation with an Australian distributor, who claimed that Zeiss was discontinuing its lenses and filters.
"Hi all, I just had confirmation today from the Australian distributor, that Zeiss are discontinuing all of their still lenses and filters: no more Loxia, Batis etc. End of an era," the forum post claimed.
Zeiss Affirms Commitment to the Photo Industry
Zeiss was not reachable for comment in the days surrounding the story, which did not help un-muddy the waters. Many took the silence as tacit confirmation, and the story spread further. Speaking to PetaPixel, Zeiss admits that the situation could have been handled better.
"That rumor at the first glance seems believable and then it automatically spread. And if one person has a story, everyone feels like they have to have a story. But that's not what is bothering us, but it is more that we know we have to be more transparent in the market. What we are doing is not sufficient, obviously," the company says.
When asked how such a rumor would even start, Zeiss could obviously not say for sure, but one representative did offer a possible explanation, assuming that the conversation between the Australian distributor and the customer did actually take place.
"We can only offer a personal opinion. Companies are often measured by how many products they release a year, and from that perspective, [the Australian distributor] could get the impression that we are not as committed to the lens market as we were in the past."
But the company wholly denies the rumor.
"We are not leaving the photo lens market. Definitely not. There are no restrictions on [the availability of] our products," Zeiss says.
It might be hard to believe Zeiss since Samsung famously denied it was leaving the photography industry as it was actively shutting down operations. To this day, Samsung has never actually admitted to PetaPixel that it stopped supporting the standalone camera market.
PetaPixel mentioned this to Zeiss, and the company says that it understands. Now that people assume the company is out of the market, it can be difficult to convince them otherwise. The best evidence it can provide is that it is still actively manufacturing camera products.
"We continue to support photographers. There is no exit. Zeiss is actively producing lenses. If we sell them, we must continue to manufacture them. There are also still software updates," the company says.
"We have frequent tours of our imaging lab [in Germany] and we invite people to see what we are doing and invite them to talk to our image scientists. This is the imaging lab for our cinema lab and we are as transparent as one can be in this market."
The ZX1 Did Not Sell Well and There Will Be No ZX2
While Zeiss affirms that it will still continue to produce lenses and filters in support of photographers, its latest product — the compact Zeiss ZX1 camera — was not successful. The concept behind the device, which combined an Android-based operating system into a point-and-shoot body that allowed photographers to shoot and edit in Lightroom all in one device, sounds promising, but an extended development cycle mixed with a high $6,000 asking price didn't resonate with the public.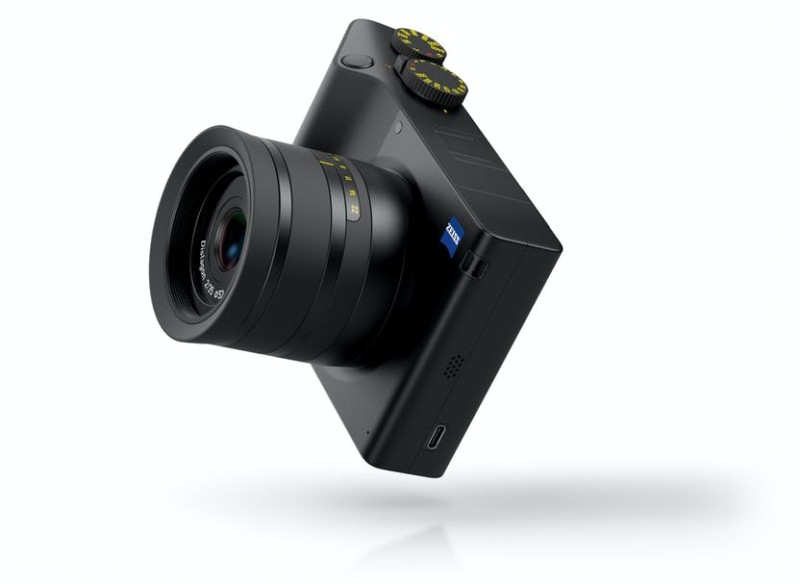 The ZX1 was in development for years before it finally hit the market in 2020. The camera was first revealed in 2018. After a firmware update in 2021, Zeiss finally closed the book on the camera this past February and officially discontinued it.
"We made the ZX1, but there is obviously no market for it and together with other issues like chip supply, there won't be a ZX2," Zeiss says.
"But we learned a lot from the ZX1 so it was not a lost experience, but it is an experience that will not result in a ZX2."
Smartphone Support is Important, but Not the Most Important
Zeiss says that its presence in the mobile phone market is a strong indication of its dedication to consumer photography. The company understands that most people, a vast majority, shoot photos with the camera in their pocket.
But when asked if development into smartphones was as important or more so than its work with photography and cinema, the company said no: smartphones are not more important or even equally important to the other lens development areas.
"We have three areas — photo, cine, mobile — and of course we have a lot of product releases in mobile imaging which is due to the logic of the smartphone market. [But] be have a couple new cine products, and for photo lens market stay tuned!" the company says.
What Happened with Sony?
Some photographers have pointed out that Zeiss used to have what appeared to be a much tighter relationship with Sony in its Alpha division — as it used to co-develop mainline lenses with Sony for its Alpha system. After the rumor of Zeiss's future in the industry disseminated, many pointed to the apparent decline of this relationship over the last several years as further proof.
While Zeiss declined to comment on Sony's products or portfolio policy, it did say that its relationship with the company remains strong.
"What we see is that we have a very trustful partnership with Sony and growing, evolving, and expanding. Sony they have their policy and we respect that, but we have our lenses for Sony E mount and there is some co-development and some continuing collaboration in mobile imaging technology," Zeiss says.
Zeiss adds that Sony appears to have decided to go its own route with regard to its lens roadmap and this is "a decision on Sony's side." That said, "the partnership with Sony is really strong and we are in a good relationship with them," and Zeiss adds that the most recent vlog-focused camera, the ZV-1 Mark II, uses Zeiss optics.
Will Zeiss Produce Lenses for Other Mounts?
Photographers no doubt would like to see Zeiss make new lenses or at least adapt current optics for other camera manufacturers like Nikon, Canon, or Fujifilm. To that end, the company declined to speak about possible future products, but did say it's not entirely up to it to make these kinds of moves.
"It takes two to tango," the company says. "New mounts require a perfect match of brand, quality and R&D, as well as working together on the optimal alignment of lens and camera plus software. It sounds like a good idea, but in practice it can get complicated."