The Lit Duo 1 is a Clever New Light Meter Made for Filmmakers
A team of light-obsessed filmmakers and photographers in Sweden has founded Lit Systems and its first product is a highly anticipated, sleek, and feature-packed light meter called the Lit Duo 1.
"Say hello to the future of light metering," Lit Systems writes on the top of the Lit Duo 1's product page. The light meter promises to "reinvent" the light meter by combing tools for color, exposure, illuminance, spectrum, and flicker measurement, into a sleek, pocket-sized aluminum body.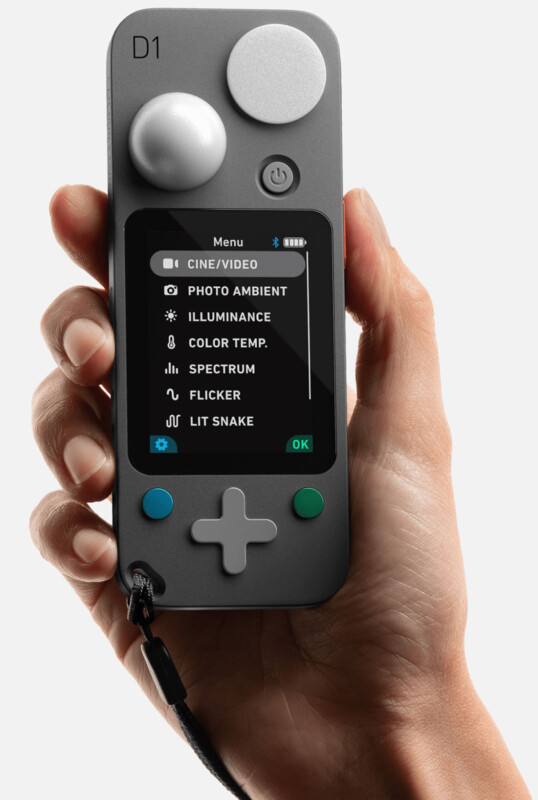 The Lit Duo 1 is designed for ease of use and to deliver a fast, effective workflow for filmmakers and photographers. The team says its light meter provides a novel user interface, tactile physical controls, and clever software.
"I think it took us more than 300 design and physical prototype iterations to come to the current design," Lit Systems tells PetaPixel in an email. "It all started in 2020 when we had our first serious thoughts about creating a light meter we would love to use ourselves."
Using Other Light Meters Informs Lit Duo 1's Design and Features
The team's experience using various light meters and running into different pain points created the desire to make Lit Duo 1 and helped inform the device's design and features.
"We've been using various light meters on different jobs. For instance, the latest Sekonic L-858D is a fantastic tool, but slightly too big, covers only exposure, and has a touch display, which we always hated on all light meters. We love Minolta IV F, but it's getting outdated and not sensitive enough. When it comes to color and spectrum, the situation is even worse. At some point, we even bought Gigahertz Optik and GL Optic (both German) professional handheld spectrometers to see if they were any faster than the C-series from Sekonic. Lumu Power is great conceptually, but not standalone and thus tricky to use all day in professional workflows," Lit Systems tells PetaPixel.
One of Lit Systems' primary goals for Lit Duo 1 is that it's feature-packed without being challenging to use.
"We felt light meters have only become more feature-packed, more complex, advanced, and expensive. It's hard for anyone new to begin using them," says Lit Systems.
A Feature-Packed Light Meter Designed for Video
Features include helping users measure and dial in the perfect color temperature. Lit Duo 1 works alongside any type or brand of light source and delivers color temperature in Kelvin and green/magenta shift on the device's large color display.
The Lit Duo 1 includes color temperature matching and full-color light measurement functions. Users can measure two lights and see suggested color correction filters, and see values in different color units, including CIE 1931 or HIS.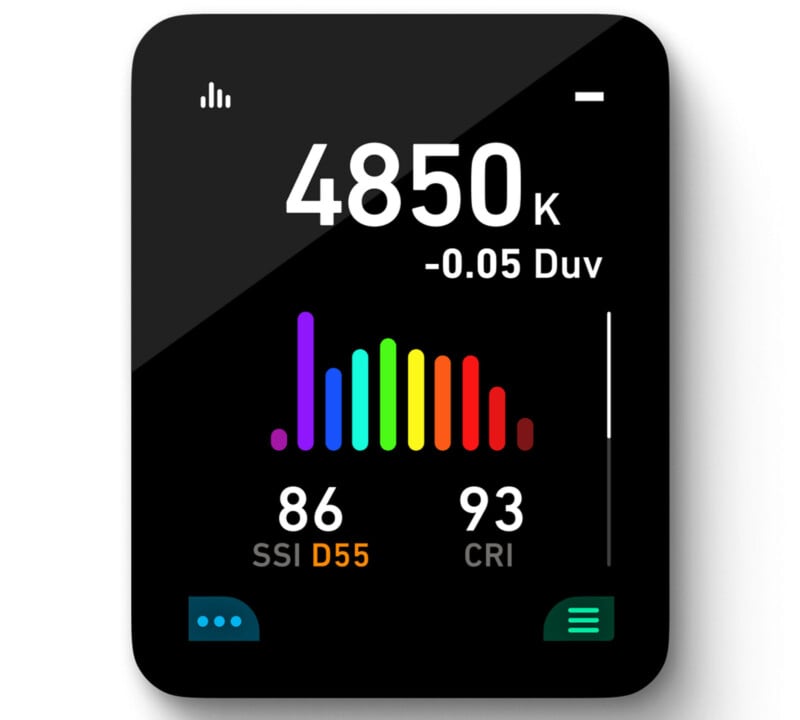 As for exposure, it can be measured and correctly set for any camera. Users can adjust numerous parameters, including shutter angle, shutter speed, aperture, frames per second, neutral density filters, and exposure compensation.
There are also exposure difference average and camera target functions, allowing people to measure the difference or ratio between two points or set up lights before a camera is set up.
Additional features include illuminance measurement in lux or foot candles, spectrum measurement (CRI, SSI, TLCI, etc.), flicker measurement to see which shutter speeds to avoid, and even a built-in snake game to help kill time and get a mental break.
The built-in Lit operation system (Lit OS) includes what the company characterizes as many helpful user interface graphics and features, including active sensor indicators, measurement activity, and long presses for the device's physical buttons.
Aggressive Price Target and Necessary Compromises
With that in mind, and intending to redefine the barrier to entry for using light meters concerning usability and price, Lit Systems hopes to release Lit Duo 1 at a price "significantly below" $1,000.
PetaPixel asked the company if there was a specific reason that the ability to meter flash exposure was omitted from the Lit Duo 1, and it turns out that the answer relates to these barriers to entry.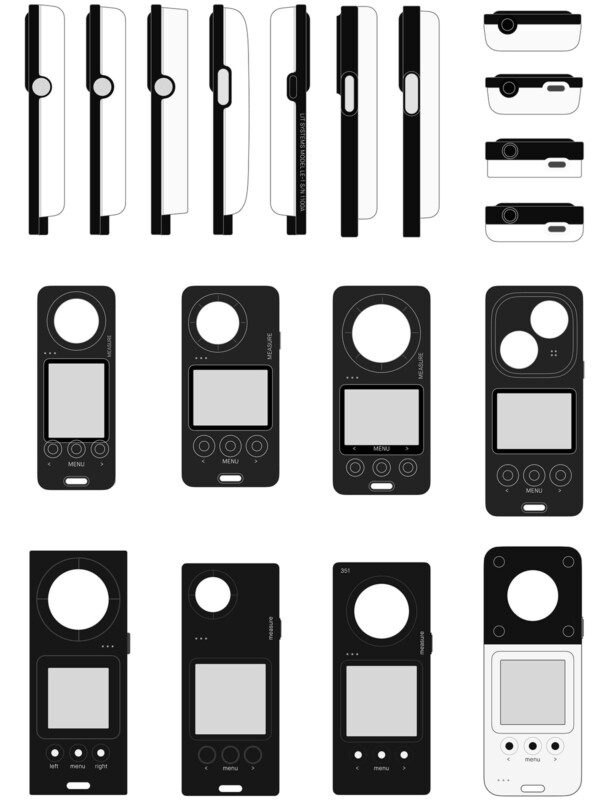 A Photography-Oriented Light Meter is in the Works
"That's why we felt squeezing the flash meter function in would compromise simplicity, quality, and price. We want to make the device's functionality and experience optimized for a certain user group (or use cases), instead of trying to make it do too many things in a half-assed way," Lit Systems explains.
"We're working on several more models — a flash meter from Lit System needs to be a great flash meter. It shouldn't only have cordless auto-detection flash mode, it should have multiple connectivity options. Perhaps it should even have a seamlessly integrated hot shoe so the photographer can slide in the trigger of their choice? You know, that kind of thinking, we're trying to challenge the traditional norms," Lit Systems says of its future plans for additional products.
With that in mind, the company's first product, Lit Duo 1, is "slightly more focused" on motion picture creation, such as directors of photography, gaffers, video creators, light designers, etc. The team hopes to build up its product lineup from there.
Challenges and the Iterative Design Process
While these compromises are challenging decisions, they're not the only difficulties the team has faced so far. Lit Systems says the hardest part so far has been nailing down the form factor and its physical features, including the display type, size, and resolution. The team began with a plastic body and mono-color display before moving to the eventual aluminum body design with a full-color display.
The decision to adopt dual-sensor technology also arrived fairly late, about a year after the team began the design phase. "These two very different sensors are optimized for different purposes," Lit Systems explains. "It blew our minds when we realized we can measure light with both sensors simultaneously and fuse those measurements to improve the final result and accuracy — think spectrum-corrected exposure readings."
After locking in the key product features, the team spent about a year iterating on its user interface, menu, functions, and accompanying app.
Feedback Drives Innovation
"We sketched the initial idea first and then began reaching out to various people in the industry and potential users," says Lit Systems, explaining that more than 30 people provided input concerning design and function.
PetaPixel asked about the Lit Duo 1's integrated sensors, which slightly differ from many other light meters that include a swivel-head design. "We've been exploring the idea of having a swivel head, as most light meters do, but we decided to abandon it — at least for this model — in return for lower end-user price and greater robustness. We got that confirmation also from the target users. Placements of both sensors have been evaluated so the device performs correctly when measuring," Lit Systems replies.
Following these discussions with potential users and people in the filmmaking industry, Lit Systems made further iterations, including ensuring the design easily fits in the user's hand while also working with gloves.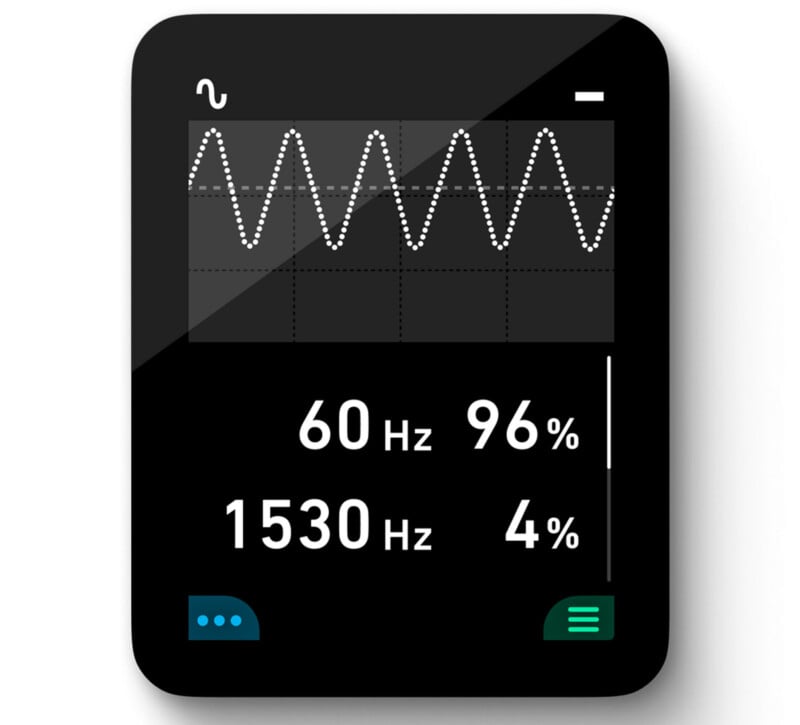 Another outcome of the feedback is the device's flicker measurement. "Measuring flicker is also something it came out of these discussions with target users. To be honest, it's not so hard to pull it off. We're certain that some other light meters, such as the Sekonic L-858D, are capable of doing it and there's no reason why they shouldn't add that feature through the device Firmware update," Lit Systems says.
Concerning firmware updates, Lit Systems aims to treat its hardware as a platform for its software. The company plans to add improvements and features through firmware updates, which can be installed seamlessly using the Lit app.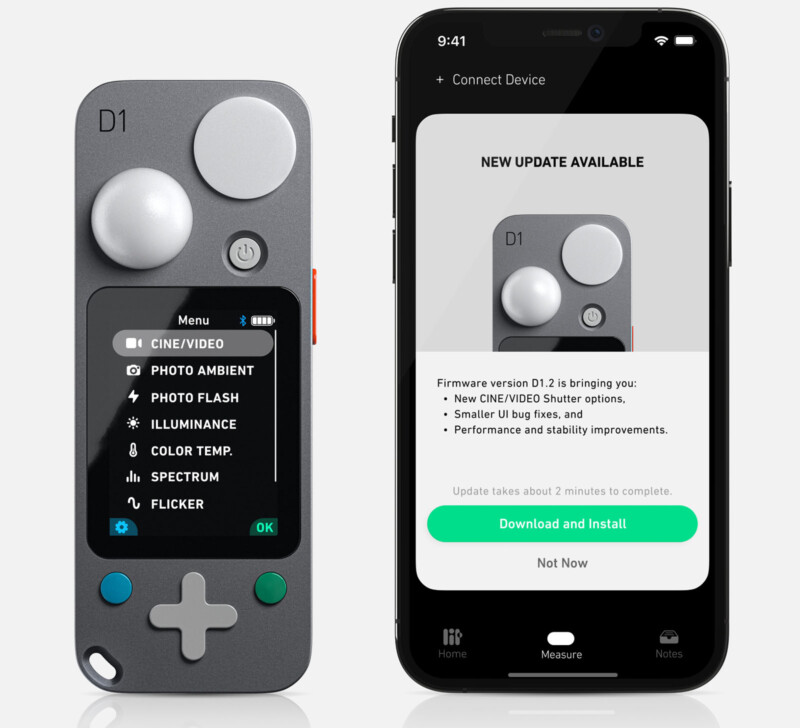 Pricing and Availability
Lit Systems has already said that it targets a price well under $1,000, but availability is a bit less clear at this point.
"The project is well in progress, but the device won't be shipping within 2023. It takes time, and we don't want to mess anything up. Measuring instruments are a tricky category," Lit Systems says.
The team also tells PetaPixel that it's looking for ways to speed up its development finalization and begin manufacturing. The company is open to investors and looking for partners on the project.
Prospective investors and those interested in learning more about the Lit Duo 1 from a consumer perspective can contact the company via its website. People can also sign up for a planned public beta.
---
Image credit: Lit Systems