The Sharge Disk is a Tiny USB SSD That Works with Mirrorless Cameras
Sharge Disk is a new super-compact, actively cooled, USB-C connected, M.2 NVMe SSD that is about the size of two bottle caps and promises transfer speeds of up to 1,000 MB/s.
Described as an ultra-lightweight and portable M.S NVMe SSD, the Sharge Disk is the latest from SharGeek which has seen widespread success through crowdfunding campaigns in the past (it has raised more than $2 million) and is probably best known for its Storm series of battery bank systems.
Moving from energy storage to data storage, the Sharge Disk can be outfitted with a maximum of 2TB of NVMe storage and is housed inside of a tiny, actively cooled aluminum shell and surrounded by a silicone case that helps protect it from the rigors of everyday use.
The Sharge Disk is advertised as a storage solution for those who regularly need high-speed access to their data from their phones, laptops, and cameras.
Specifically, cameras that support the recording of files to an external recorder (such as the Blackmagic Pocket Cinema Camera) can plug-and-play with the super-small Sharge Disk and the data transfer rates that SharGeek promises are more than enough to handle 4K resolution video.
Writing that much data can generate a lot of heat, which is why SharGeek built a tiny fan into the compact body, which it says is a 13,000 RPM that can help the drive maintain a "suitable working temperature." The company states the fan is "silent," but does stipulate that it has a working volume of up to 32 decibels, which is enough to hear clearly in a quiet room. It probably isn't loud enough to affect video footage, but it's worth bearing in mind.
"We are still continuing to reduce the fan noise and we hope to bring it down to less than 20dB," the company says.
The company characterizes the drive as versatile since not only does it work with cameras that support external SSDs, computers, and smartphones, it also is compatible with the Steam Deck, the Playstation 5, and iPads.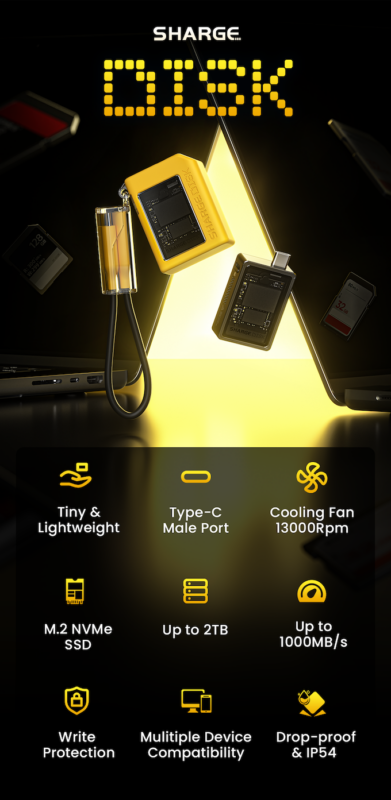 At this point, the Sharge Disk sounds just like a souped-up thumb drive, but it separates itself further from that comparison because the SSD inside the tiny enclosure is replaceable via a tool-free method.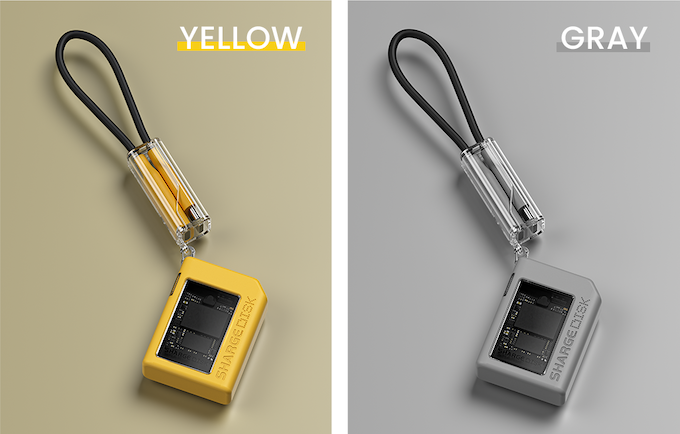 Sharge Disk will launch equipped with Western Digital SN740 SSDs(in 512GB, 1TB, or 2TB capacities). The drive, available in either yellow or gray, is available to back on Kickstarter starting at $29 for just the enclosure, with increasing cost depending on the SSD selected. At the time of publication, the campaign had raised nearly $300,000.
The company intends to deliver finished products by September.
---
Image credits: Shargeek
---
Disclaimer: Make sure you do your own research into any crowdfunding project you're considering backing. While we aim to only share legitimate and trustworthy campaigns, there's always a real chance that you can lose your money when backing any crowdfunded project.