Sabrent's New Thunderbolt Dock Features a 16TB SSD and Tons of Ports
Sabrent has announced the DS-SKRT-D16TB Thunderbolt 3 Dual NVMe SSD Docking Station that promises to turn any Mac or PC into a powerhouse workstation thanks to tons of fast SSD storage and a wealth of ports.
Sabrent positions the Docking Station as a way to immediately increase the options and capabilities of a connected computer thanks to expanded storage and a substantial amount of I/O.
Ports, Ports, Ports
The Sabrent Docking Station comes in four capacities of 2TB, 4TB, 8TB, and a whopping 16TB of NVMe SSD storage that are capable of delivering out up to 1.5GB/sec (1500MB/sec) through multiple connection options. It has two Thunderbolt 3 ports with up to 40Gbps of bandwidth, two USB 3.2 Type-A ports, and one USB 3.2 Type-C port which both are capable of up to 10Gbps. It also has a USB 3.0 Type-A port that's good for up to 5Gbps.
The Docking Station also has DisplayPort 1.4 connectivity which can support up to 8Kp30 and 5Kp30 (as well as 4Kp60 and other lower resolutions). It also supports HDR, HDCP 2.2, and VESA Adaptive-Sync (FreeSync).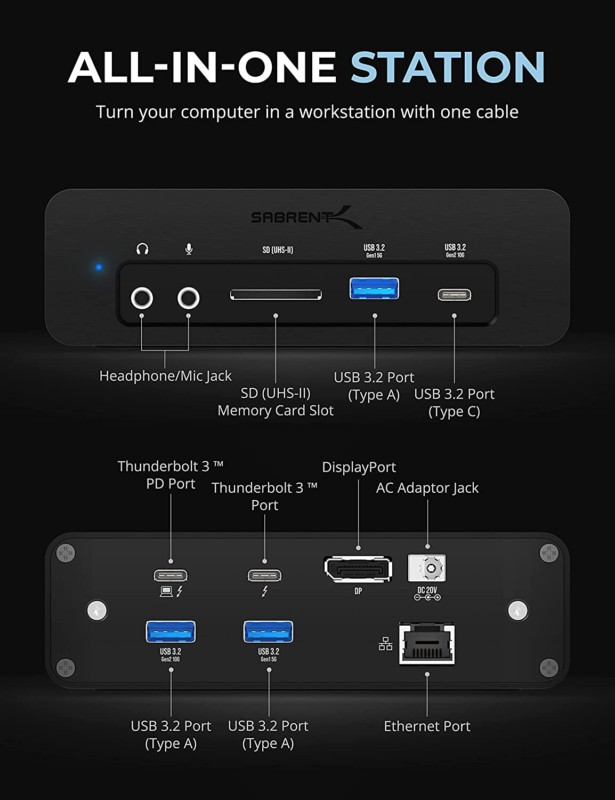 Finally, it also includes a gigabit ethernet port, front access 3.5mm audio output, front access 3.5mm microphone input, and a UHS-II SD card reader that Sabrent says supports up to 270 MB/s transfer speeds. The dock can also provide power to connected devices up to 96 watts.
The specifications of the Sabrent Docking Station are top of the line with the exception of Thunderbolt 3. When asked why it doesn't include the Thunderbolt 4 specification, Sabrent responded that given the current chip shortage, it is difficult to acquire Thunderbolt 4 chips. The company hopes to be able to get its hands on some later this year. That's disappointing but understandable.
The differences between Thunderbolt 3 and Thunderbolt 4 are notable, but most photographers are probably going to be ok with Thunderbolt 3. According to Anker, the main differences between the two is that Thunderbolt 4 supports 4K to dual monitors or 8K to a single monitor, while Thunderbolt 3 supports 4K to dual monitors or 5K to a single monitor. Thunderbolt 3 has a PCIe data transfer speed of 16 Gbps, while Thunderbolt 4 supoorts a PCIe data transfer speed of 32 Gbps.
Pricing and Availability
As might be expected, the large capacities of NVMe SSD storage offered comes at a high asking price. The Sabrent Thunderbolt 3 Docking Station costs $500 for the 2TB configuration and $650 for 4TB, but jumps to $1,300 for 8TB and caps out at a substantial $2,900 for 16 TB. For those who are working with a lot of files and need fast access to them, that price might be worth it.