Sonnet's Echo Dual NVMe Thunderbolt Dock Packs Storage and Ports
Sonnet has announced a new SSD dock that is built for storage and connectivity. The Echo Dual NVMe Thunderbolt Dock brings compatibility with M1 Macs, the iPad Pro, and PCs and can be equipped with up to 16TB of SSD storage.
There is no shortage of options when it comes to desktop peripherals that expand the usability of both Mac and PC computers and Sonnet's new Echo Thunderbolt Dock looks like another solid option to consider, especially if access to a lot of SSD storage is a must.
On the front of Sonnet's dock are two USB Type-C ports, one USB Type-A port, and a Thunderbolt 3 port. On the back is another USB-Type A port and another Thunderbolt 3 port as well as a Kensington lock slot.
Sonnet describes the two 40Gbps Thunderbolt ports as follows: one port is designed to be the connection to a computer, the other exists to allow the dock to daisy chain up to five additional Thunderbolt peripheral devices plus a display. The Thunderbolt peripheral port offers 10Gbps USB 3.2 Gen 2 support and provides up to 15W of charging capability.
Speaking of charging, the USB 3.2 Gen 2 ports support up to 7.5 watts of charging and can access the SSDs are full speed.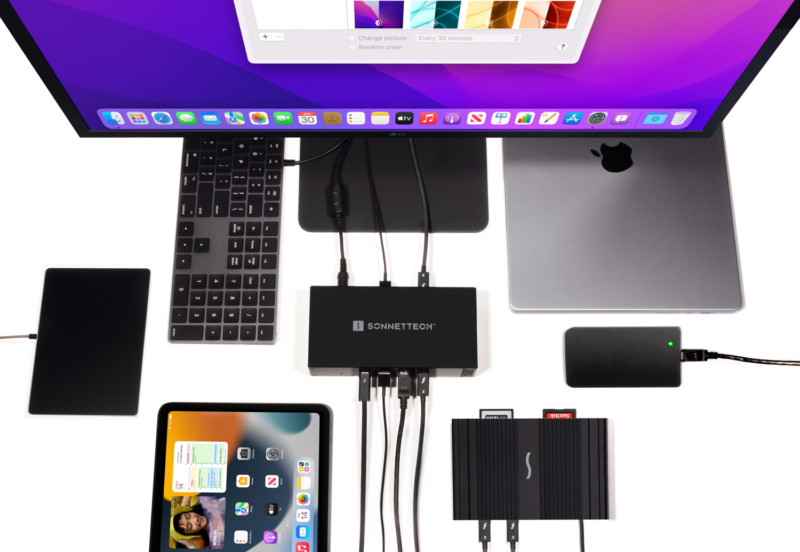 While it does operate as a dock, the Sonnet Echo leans more heavily into its storage capacity. IT features two M.2 NVMe PCIe SSD slots that interface with the dock's Thunderbolt controller to offer up to 1,500 MB/s single-speed performance and up to 3,000 MB/s RAID 0 performance when both ports are utilized. When not in a RAID 0 configuration, the SSDs will appear as independent accessible drives, which means that users don't need to match capacities if they want to start with one SSD and upgrade it with a second later.
The Sonnet Echo Thunderbolt Dock has active cooling, a design choice that will provide better air circulation and heat sinking than competitor devices like the Sabrent Thunderbolt Dock while maintaining many of the latter device's selling points. In PetaPixel's review, the Sabrent Dock performed admirably in most circumstances, but had difficulty working correclty with RAID 0 configuration and exhibited some heat sinking issues.
Sonnet's offering appears to address both those issues, and the company specifically says that RAID 0 configuration is supported on M1 computers as well as Windows-based PCs.
Like the Sabrent Dock, Sonnet's Echo also uses Thunderbolt 3. Sonnet includes a Thunderbolt cable that supports Thunderbolt's full 40Gbps bandwidth and it is fully compatible with Thunderbolt 4 and Thunderbolt 3 computers. The company has also produced a video that explains why it chooses to use Thunderbolt 3 instead of Thunderbolt 4 in all of its products.
Unlike Sabrent's solution, Sonnet doesn't offer its dock with any storage — buyers will have to source their own. The company has published a comprehensive compatibility chart for which SSDs will work with the Echo, and the Sabrent 8TB Rocket Q SSDs are included on that list. The Sonnet Echo Dual NVMe Thunderbolt Dock is available for $350.