7 Invaluable Accessories for Wedding Photography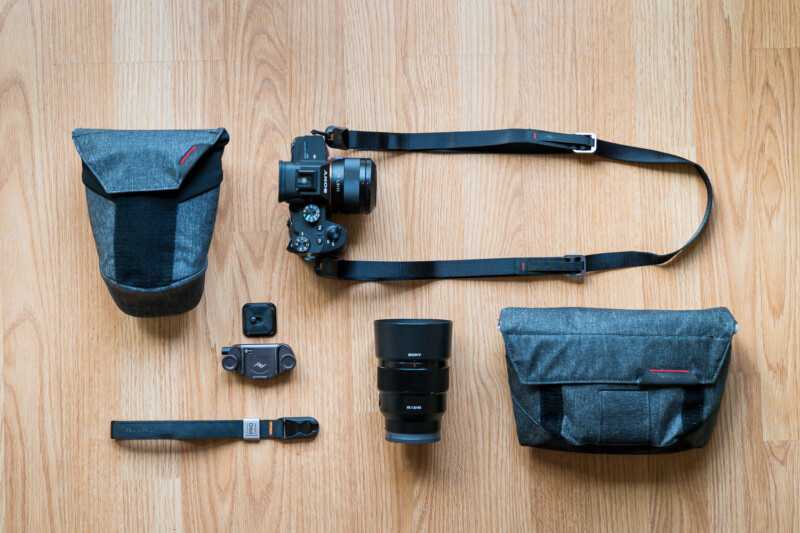 Let's talk about gear, I know some of you are obsessed with it and the act of photography is just an excuse for acquiring more gear. I can kind of relate because chips are just delivery devices for salsas. But for me, it's actually the other way around, photography gear is all about making my job easier so that I can do it better, anything else is just in the way.

Especially on the wedding day when you have a million things to think about and a hundred once-in-a-lifetime moments that you can't miss, it's imperative that your photography gear makes your life easier.
I'm going to walk through some of my favorite accessories for wedding photography. You might see some crossover between these and my favorite accessories for outdoor and adventure photography. After all, the only thing better than gear that makes my job easier is gear that serves multiple purposes.
1. Spider Holster and Removable Camera Strap
One of the most helpful pieces of gear is my Spider Holster. As we started shooting weddings I quickly learned how impactful photography is on my body. Anything that helps me have better body mechanics is essential.
You're walking around on the wedding day and you might need to set your camera down to put up a light stand or position some flowers. Or you need to be able to dig in your bag for a lens or a fresh battery. Essentially, even if you think you're going to hold your camera all day you actually need to be able to be hands-free sometimes too.
A camera strap around my neck never felt right. A camera hanging from my hip feels a lot better. I still might have a camera strap during times of the day when I'm shooting two cameras or when I'm in a precarious situation (i.e. near a lake or cliff) but the rest of the time the weight of my camera hangs from my hip, not my neck.
2. Lightweight and Compact Tripod
We don't need a tripod that often but it's really nice to have the option, especially for night portraits. Since it doesn't get used a lot, for me it needs to be lightweight and compact. I also appreciate it if it's easy to use in the dark and possibly even the cold since a lot of the time we're using it for star photos.
If you do opt to get a super lightweight tripod, I recommend you weigh it down with a backpack or other heavy object to make it more stable. Adding a few pounds to the center column hook will keep your camera steady to create tack-sharp images with slow shutter speeds.
3. Drone
Talk about making our job easier. Now, my husband Marc's the drone pilot, not me, so I feel a little unfair saying this but it seems like drone footage is the easiest way to get the most dramatic footage. We can climb a tree, scale a mountain, or stand in a river to get the shot and it still doesn't compare to the impact of seeing things from the POV, point of view, of the drone.
The trick with drones and wedding photography is that you don't want to disrupt the ceremony with a loud buzzing noise. You also have to ensure that you can legally fly at the venue. We mostly use the drone for unique scene-setting shots or couples portraits but we've also used it to get a unique perspective on the first dance.
On a wedding day, we move light and fast so stopping to fly the drone isn't always the best use of time. However, any time we've captured some unique angles for our couples they've appreciated and remembered it. It's definitely a great addition to a wedding photography gear list.
4. Field Pouch or Fanny Pack
As I just mentioned, it's important to be able to move quickly and efficiently on a wedding day. There are also tight aisles that you can't work your way through with a big camera bag on your back. It's important to be able to move lightly while still having access to everything I need.
We use the Peak Design field pouches but there are probably a lot of other great options out there now that the fanny pack is back in style. I need something to hold spare batteries, filters, a lens cloth, and my notes with things like the family picture list. That way I can set my backpack somewhere but still be completely functional during the ceremony.
On a rare occasion, I'll stash an extra lens in this bag but only the most compact mirrorless lenses will fit safely. If you need to carry an extra lens, I recommend getting a separate lens pouch (also available from Peak Design) or getting a bigger waist bag.
5. Accessory Pouch, Card Wallet, Battery Bags
Accessories are more helpful if you know where to find them. Therefore, having an accessory pouch for all your miscellaneous items is super helpful. Most of the time I don't need an Allen wrench but when I do need it I better know exactly where it is.
Similarly, at the end of a wedding night, it's helpful to have a plan for what we're going to do with all those dead batteries and full memory cards. We put dead batteries in a red sack and full batteries in a green sack so that we know what needs to be charged when we get home. Our cameras all have dual card slots so one card is taken out and put into a card wallet that we keep on us at all times until we import the photos as soon as we get home.
This organization saves us from making any irreversible mistakes after a long work day. It's late, we're physically exhausted and emotionally drained, it's helpful to have a system for ending the day in a way that makes us ready for tomorrow.
6. Backpack
All of your wedding photography gear needs to be accessible if it's going to be helpful which is where a solid backpack comes in. We have grown partial to the Shimoda Designs packs which are both functional and durable. They are made with waterproof material and offer back panel access to your camera gear which is perfect since it might rain on your wedding day.
People that work at more indoor-style venues might prefer a rolling bag or a Pelican case. It's all about finding the bag that works for you and your style!
7. Headlamp
A headlamp is a key wedding photography accessory for the end of the night when the dance floor is dark but you're trying to find a fresh battery or pack up your gear to go home. It's also great for night portraits and star photos so that you can see your subject or your camera.
I strongly recommend getting one that is rechargeable and has a variable brightness so that you can use it as a video light if needed. We've filmed first dances illuminated by the spotlight of a headlamp.
Summary
Gear is fun, sure. It's cool and flashy. But more importantly, as you've seen by my descriptions, it can make or break a wedding day. I can't afford to be weighed down by gear that doesn't pull its own weight but some accessories do more than their share.
The smallest thing like a red stuff sack for dead batteries can save a huge headache. Having an ergonomic way to carry your camera can save a backache. The reality of a wedding is that you have to be prepared for any situation but it's also nice to not be overly reliant on all the things.
Hopefully, you found something on this list that will make your life easier and your photos better. What did I miss? What's on your must-have list?
---
About the author: Brenda Bergreen is a Colorado wedding photographer, videographer, yoga teacher, and writer who works alongside her husband at Bergreen Photography. With their mission and mantra "love. adventurously." they are dedicated to telling adventurous stories in beautiful places.