ReeHeld App Uses AI to Shoot Sharp Long-Exposure Photos on iPhone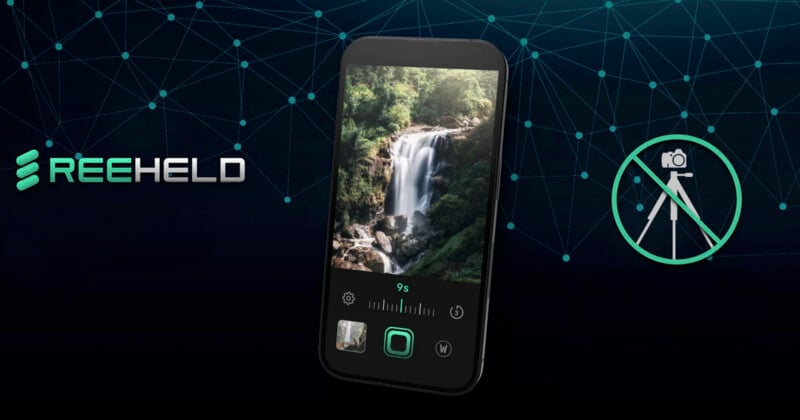 Swiss start-up Reeflex recently launched a new iOS camera app, ReeHeld, that uses artificial intelligence (AI) to deliver enhanced long-exposure photography compared to the native Camera app on iPhone.
"ReeHeld is a revolutionary camera app that lets you capture stunning long-exposure photos without the need for a tripod. The app utilizes cutting-edge artificial intelligence and the neural engine of the iPhone to stabilize the images, resulting in sharp, clear, and stunning long-exposure photos," explains Reeflex.
PetaPixel tested the app in preparation for this story, and it genuinely works as advertised. While the image below is a picture of a picture, the 10-second exposure handheld shot with the standard wide lens on an iPhone 14 Pro is impressively sharp. ReeHeld allows photographers to select shutter speeds ranging from one to 30 seconds.
The app includes an optional "Smart Indicator" in the center of the screen to help photographers stay on track when shooting long exposure images. "Keep the green cross in the center for best results," says Reeflex.
Significantly more interesting real-world images are available in a pair of video reviews of ReeHeld by YouTubers Glyn Dewis and David Addison. It's worth noting that Dewis and Addison are collaborators with Reeflex.
ReeHeld is not ReeFlex's only iOS photography app. The developer also offers Reeflex Pro Camera and ReeXpose. Reeflex Pro Camera is a mobile photography app with DSLR-inspired features and controls, including control over ISO, shutter speed, exposure compensation, focus, and white balance.
ReeXpose is a "unique and innovative photography app" that Reeflex has designed for enthusiast photographers. It's currently the only app offering RAW long-exposure photography features, including full manual controls and the ability to capture long-exposure 12-bit DNG files.
Since ReeHeld sounds similar to ReeXpose, it's important to note the differences between the two long-exposure photography apps. ReeHeld is a point-and-shoot app designed for on-the-go long-exposure photography without a tripod. It captures images in JPEG format only. On the other hand, ReeXpose provides full manual controls and utilizes iPhone's RAW image capabilities. ReeXpose is also designed for professional use and isn't built with AI to negate the need for a tripod.
Further, while Reeflex Pro Camera can shoot RAW images, including Apple's ProRAW, its slow shutter mode works only in compressed formats, including JPEG and HEIF.
Price and Availability
ReeHeld is available to download for free from the App Store. The free version of ReeHeld allows the user to capture 10 long-exposure photographs. After a user has captured 10 images, they must pay to continue using the app. ReeHeld Pro is $7.99 per year and offers unlimited photos. A lifetime license of ReeHeld Pro is available for a one-time purchase of $12.99.
---
Image credits: Reeflex