RIP Photographers? All The Wild Things People Are Doing With Photoshop's New Generative Fill Tool
Since Adobe Photoshop launched its new artificial intelligence (AI) Generative Fill tool last week, the "photoverse" has been awash with its awesome power. PetaPixel has rounded up some of the most remarkable examples so far.
Many social media posts have been accompanied by comments like "RIP Photographers" and "Photographers just lost their jobs." While that remains to be seen, the versatility of Photoshop's new tool is certainly breathtaking and makes what used to be very difficult and time-consuming now fairly easy and fast.
Expanding Album Covers
It was perhaps obvious that creative types would seek to expand iconic album covers such as Nirvana's Nevermind and The Beatles' Abbey Road.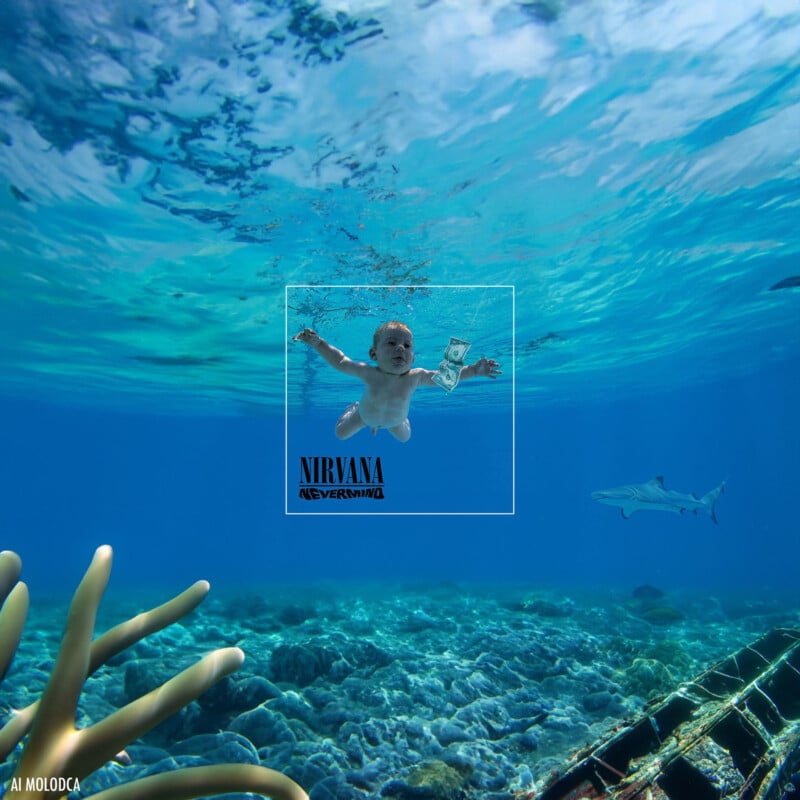 Expanding famous album covers using AI. 🪄

(Photoshop generative fill)

h/t to @dobrokotov for this amazing idea!

1. Michael Jackson – Thriller: pic.twitter.com/cgZC1cu5Ed

— Lorenzo Green 〰️ (@mrgreen) May 29, 2023
Having Fun
Generative Fill is so creative that it allows people just to have fun with images. For example, the viral pope in a puffer jacket image was expanded giving His Holiness legs and luggage.
The new 'Generative Fill' AI in Photoshop is mind-blowing.

Finally, an AI feature for practical use,

Priority #1, let's fix the Pope's photo: pic.twitter.com/HcDFjcli3r

— Lorenzo Green 〰️ (@mrgreen) May 25, 2023
Another creative decided to take a photo of the Smoky Mountains and add a bear and a Tyrannosaurus rex having a picnic.
Photoshop generative fill is a ton of fun 🪄

Meme potential is very high 📈😁 https://t.co/7qCM8IXPfp pic.twitter.com/F36UvlZUPu

— Bilawal Sidhu (@bilawalsidhu) May 27, 2023
Removing Getty Watermark
Users have also been employing Photoshop's generative AI fill tool to remove the Getty Images watermark from photographs. In a video, which racked up over 500,000 views, TikTok user @drivenbyboredom revealed how they were able to get rid of Getty's watermark in under 26 seconds.
Viewers were shocked at the ease of removing a watermark from an image with Photoshop's new generative fill tool and pointed out that it spelled bad news for photographers everywhere — not just Getty. A TikTok user writes: "This is a problem for small photographers and businesses whose clients refuse to pay for unwatermarked images."
Adding a Lake With a Reflection
In an impressive video, with over 4.6 million views, an online Photoshop expert used the generative fill tool to extend a portrait of a man sitting by a fire and add a lake to the image. The TikToker expanded the photograph and simply typed "Fill white with water like river or lake."
Photoshop's generative fill tool perfectly added a river to the image — complete with a reflection of the man and the fire in the water.
Perfecting Wedding Photographs
Utah-based photographer Dani Sork used Photoshop's generative AI tool to fine-tune wedding photographs and make them picture-perfect for the couple.
While wedding photographers would usually spend hours editing images, Sork swiftly removes unwanted people from the background of a photo and removes a yellow curb in a portrait within a matter of seconds. "We're living in the future," Sork says of Photoshop's new tool.
Giving The Mona Lisa Legs
TikToker @pixelate used Photoshop's generative AI tool to extend the iconic Mona Lisa beyond its frame and give her legs.
The TikTok user did not stop there and added a figure taking a photo of Leonardo da Vinci's reimagined painting on their smartphone.
Meanwhile, in another clip, graphic designer Henrich Henkel used the new Photoshop fill tool to masterfully extend da Vinci's The Last Supper painting.
'All Product Photographers Lost Their Jobs Today'
In an astonishing video, filmmaker Simon Mayer revealed how he was able to change the background on a product photograph with one simple click. In a mere 10 seconds, he replaced the wooden table backdrop for a bottle in a photograph with a picturesque sunny landscape.
With the launch of Photoshop's new AI generative fill tool, Mayer declared that: "all product photographers lost their job today."
It is similar to Google's recently launched Product Studio that can create "custom product scenes" easily changing the background and removing the need for "expensive" photographers.
---
Image credits: Header image courtesy of Alexander Dobrokotov and Henrich.