Tokina 11-18mm f/2.8 ATX-M Review: Strong Optics, Delicate Lens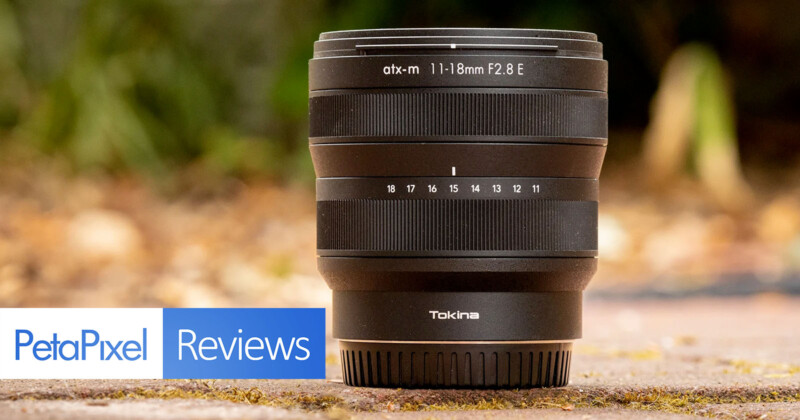 Wide-angle zoom lenses with fast apertures are few and far between when it comes to Sony APS-C cameras. The Tokina 11-18mm f/2.8 ATX-M takes its shot in this overlooked class.
This wide-angle zoom lens from Tokina is designed for Sony E-mount crop-sensor cameras and has a full-frame equivalent of 16.5-27mm. The f/2.8 aperture provides better low-light capabilities than the kit lenses and delivers some improved subject separation when shot wide open. Let's take a closer look at its strengths and weaknesses.
Tokina 11-18mm f/2.8 ATX-M: Build Quality
The Tokina 11-18mm f/2.8 ATX-M measures 2.9 inches in diameter (74 millimeters) and is 2.9 inches in length when at 18mm. As the focal length decreases, the lens physically extends. At 11mm, the length of the lens is 3.26 inches (82 millimeters).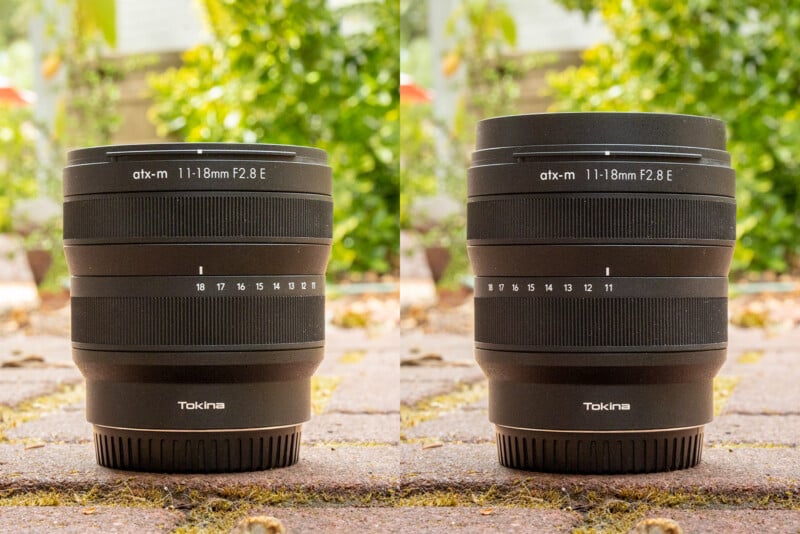 Coming in at 11.8 ounces (335 grams), the lens is a little heavier than you would expect based on looks alone. A Sony ZV-E10 is only 0.3 ounces heavier, so the weight distribution is about even when paired up. The housing is made of plastic, so much of its weight comes from the optics inside.
The exterior of the lens has a no-frills design, where the only controls are the rubberized focus and zoom rings. I find that the focus ring has a sticky start, but once moving, it glides smoothly. The zoom ring has a good amount of tension to it. However, there's a mushy feeling when it reaches 11mm and then it slightly rebounds once I let go. It's not enough to really lose anything noticeable in the frame, but just the fact that it does this still irks me a little. At the 18mm end, it's a clean hard stop.
A petal-style lens hood is provided with the lens. While functionally it's fine, there's something peculiar going on with it. The rough, matte texture that would be best at stopping light from bouncing into the lens is on the exterior side, whereas the smoother texture is on the inside. The smooth texture matches the texture of the rest of the lens and is much more pleasant on the fingers, and I wonder if there was a manufacturing error that swapped which side was supposed to face inward.
If you're looking for weather sealing, well, it appears that the Tokina may not have any. It does not have a rubber gasket at the mount but the company does not make any mention of its dust- or moisture-resistant properties. Since the lens does physically extend while zooming, that is another area that could be susceptible to issues if grit gets in there. It's a big world out there and things are bound to get messy, so it's unfortunate this lens may not be up for the tougher adventures.
Tokina 11-18mm f/2.8 ATX-M: Image Quality
Despite my notes on the exterior of the lens, what Tokina has cooked up inside is working for me. There are 13 elements in 11 groups, including two aspherical elements and two super low-dispersion elements. There is not much in the way of distortion and color fringing, and as far as the common optical problems that lenses face, its biggest weakness is probably in the ghosting that can sometimes overpower an image.
As a wide-angle lens where there's a tendency for a photographer to want to include elements all throughout the frame, I took a look at the vignetting. This is another area I'm happy with. At 11mm, f/2.8 has a moderate amount to start off with, but it's not too bad. Just one-third of a stop down at f/3.2, it's drastically taken care of. Then there's little improvement until f/4.5, where vignetting is virtually eliminated. At the 18mm end, there's even less vignetting wide open than with 11mm, and stopping down from f/3.2 to f/3.5 is where the most drastic difference is. Once again, f/4.5 is where vignetting disappears.
Testing the sharpness of the lens, I found the results to be quite consistent throughout the focal range. At both the center and corners shooting wide open at f/2.8, there is some softness to the image. The good news is that with one click down to f/3.2, it clears up substantially. At around f/5.6, the lens reaches peak sharpness, though it's nearly indiscernible from the surrounding f-stops. At f/10, the image has about the same level of softness as f/2.8, and stopping down to f/11 and beyond it continues to diminish. If it can be helped, I'd avoid going past f/16 as the softness really starts taking over image quality.
The 11-18mm has a minimum focusing distance of 7.4 inches (19 centimeters) at 11mm, 11.8 inches (30 centimeters) at 18mm. Taking into account that the lens itself is around 3 inches long, subjects can make it quite close to touching the front of the lens and remain in focus. The STM autofocus motor can only be heard with my ear pressed right up against it. While the speed of the autofocus switching from close up to far distances isn't anything to write home about, I found it to be dependable. Thanks to the minimal amount of vignetting, focus points also remain reliable all around the frame.
Ditch the Kit Lens
The Tokina 11-18mm f/2.8 ATX-M brings wide-angle views and a fast aperture to APS-C cameras. I enjoy the photos coming from the lens, but it might require some added caution with no apparent weather sealing. There are a couple of other quirks with the build quality I found, but the lens' optical quality easily overshadows them. If you're looking to ditch the kit lens for something wider and faster, this would be a fine choice.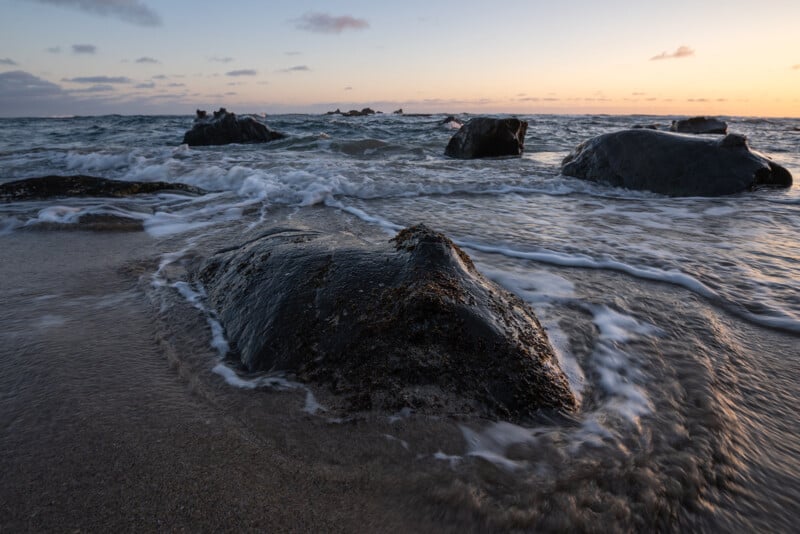 Are There Alternatives?
The closest alternative is the Tamron 11-20mm f/2.8 Di III-A RXD which matches the criteria of an APS-C wide-angle zoom lens that goes to at least 11mm and has a wide f/2.8 aperture.
The Tamron is pricier, half an inch longer, has only seven aperture blades compared to Tokina's nine, and can only stop down to f/16 rather than the f/22 of Tokina. The Tamron, on the other hand, has a closer minimum focusing distance of 5.9 inches (15 centimeters) versus Tokina's 7.4 inches (19 centimeters).
For all-weather shooters, one important difference is that Tamron boasts a "weather-sealed" construction, whereas Tokina makes no such claims.
Sony's own offering, the E 10-20mm f/4 PZ G, is more expensive and a stop slower. In exchange for that stop of light, Sony's lens is lighter, smaller and has a number of physical controls such as a customizable focus hold button, an AF/MF switch, and a power zoom rocker.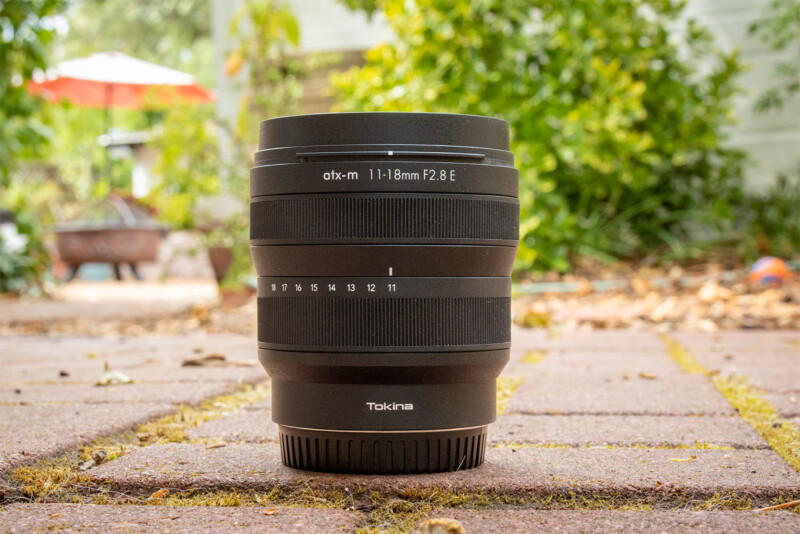 Should You Buy It?
Yes. The Tokina 11-18mm f/2.8 ATX-M is the cheapest option in its class and the build quality makes that apparent, but overall at the end of the day, the images don't disappoint.