OWC Thunderbolt Go Dock Review: Yeah, It's Pretty Great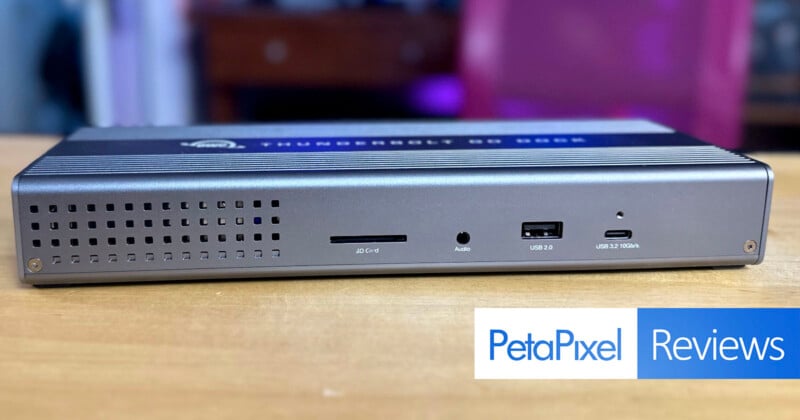 OWC's Thunderbolt Go Dock not only solves the problem of ports and connectivity but also provides a go-anywhere solution that creatives can use daily on their desktop or when traveling.
The built-in power supply makes the Thunderbolt Go Dock a convenient solution for remote working (who wants to pack a power supply and a dock), but it also makes the perfect desktop-only Thunderbolt 4 dock.
USB-C and Thunderbolt 4
In the USB 3 era, you could connect any number of devices to a USB hub, and they'd operate at the same speed, but USB-C is a different beast. USB-C combines the standard USB protocol with a faster and more powerful standard developed by Apple and Intel called Thunderbolt. So while the port for each looks the same, making connections a lot simpler, there is a difference between standard USB-C and Thunderbolt 3 or 4.
Thunderbolt combines multiple interfaces into a single cable. It can transmit high-speed data and Ethernet communications while providing up to 100 watts of power and the ability to daisy-chain multiple devices. As a result, Thunderbolt cables can replace HDMI cables, network cables, and power cables, which clears desktop clutter and provides a convenient way to connect devices.
Thunderbolt 4, the current iteration of the spec, allows for a critical bit of functionality missing in Thunderbolt 3: the ability to add hubs to docks. In Thunderbolt 3, you could connect your computer to a device with multiple ports (either a hub or dock, depending on how the manufacturer refers to this) and then connect multiple devices.
What you could not do, though, was connect that device to another multi-port device. If you connected your computer to a hub or dock, you couldn't connect that hub to another multi-port device. Thunderbolt 4 removes this limitation allowing users to connect a hub to a multi-port device to a daisy chain.
You can now, for example, connect a Thunderbolt 4 hub to a hard drive with dual Thunderbolt 4 ports and connect another Thunderbolt device to the second port, getting full connectivity.
Design and Build Quality
OWC is one of the best-known and most reliable manufacturers of hubs and docks (from here on, I'll refer to these as docks), and I've been using its products connected to my Macs for as long as I can remember.
The "Go" in this case refers to the built-in power supply, eliminating the need for an external power brick. For those using this drive as a desktop solution, the fact that there is no brick is merely a cosmetic improvement. For those traveling with equipment for a remote shoot, it removes the need for an external brick which is often as heavy and cumbersome, if not more so, as the dock itself.
The internal power supply makes this a bulkier dock than most, and it takes up a lot of room on a desk, but it's not much bigger than the company's 14-port Thunderbolt 3 hub which has a massive power supply. PetaPixel's Jaron Schneider actually has that older dock and attests that it is extremely unpleasant to take anywhere and the power brick dominates an intrusive amount of space in the cable management array at his desk.
The aluminum enclosure helps dissipate heat, and the side with the power supply has large perforated grids. The enclosure has only felt slightly warm, deceptively cool, considering it can push 90W of AC power across devices.
The OWC Thunderbolt Go Dock has a single "host" port, a Thunderbolt 4 cable used to connect to Macs or PCs with Thunderbolt 4. Two additional Thunderbolt 4 cables operate up to 40Gb/second. There are two Type-C USB 3.2 Gen 2 ports, two USB 3.2 Gen 2 Type-A ports, a USB-2 port (which I only use to provide power to USB devices), an HDMI port, a 2.5 gigabit Ethernet port, and a 3.5mm stereo output port. The device also has an SD card reader slot.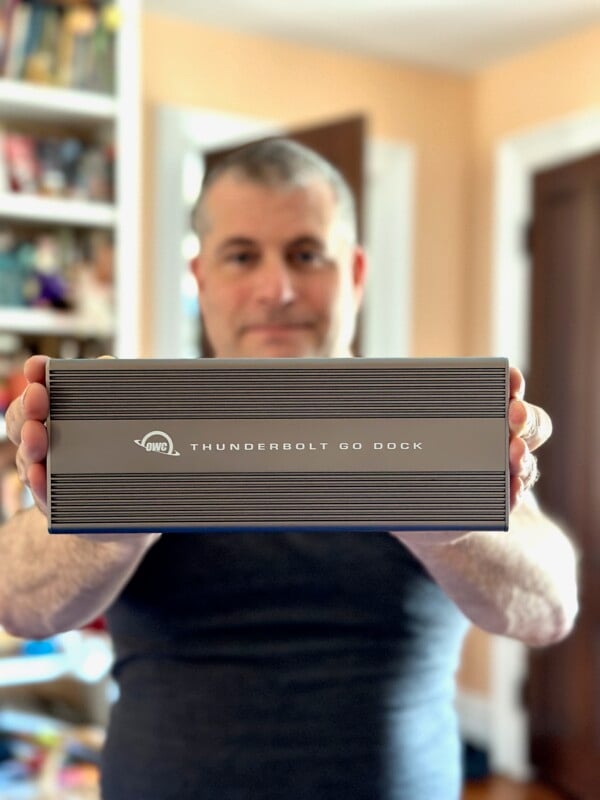 My sole issue with the device's design is port placement, with many essential connectors on the "back" side of the OWC Thunderbolt Go Dock, including several Thunderbolt 4 ports. This makes sense for a desktop dock where one would connect drives to the ports on the back, but when traveling with the dock, it's less convenient to reach around to the back of the device.
The OWC Thunderbolt 4 dock, which has a more traditional external power supply, has more ports than this device and also has more of them located on the front. The internal power supply necessitates some design compromises.
This is a minor quibble, which says a lot about the construction of this dock.
A Great Dock From A Great Company
Regarding docks, OWC makes some of the best on the market, and the Thunderbolt Go Dock is among the best of the company's docs. If you're looking for a great Thunderbolt 4 dock and an external power supply is problematic (for whatever reason), the Thunderbolt Go Dock is a perfect choice. However, if a built-in power supply isn't as much of a priority as the number of ports and price, then the OWC Thunderbolt 4 port is a solid alternative.
Are There Alternatives?
The OWC Thunderbolt Go Dock is $329, around $70 more expensive than its own non-portable Thunderbolt 4 dock. If the external power supply isn't an issue, the standard Thunderbolt 4 dock is perhaps a better option from a cost-savings perspective.
OWC also makes an exciting combination Thunderbolt 4 dock and a 4TB dual-drive RAID system, which makes a compelling portable solution as it includes its storage. Other Thunderbolt 4 solutions range from around $270 to $380, putting the OWC Thunderbolt Go dock in the middle of the price range. While I haven't tested the other docks, the most recommended ones are made by Kensington, Razer, and CalDigt — all respected names in the connectivity space.
Should You Buy It?
Yes. It performs exactly as advertised and is a solid addition to a stationary or mobile workstation.