Dell Launches a Thunderbolt 4 Dock with an Upgradeable Module
Dell has announced a new desktop Thunderbolt 4 dock that sports an unusual modular design that adds a layer of future-proofing absent from most competitors.
Dell has announced a wide range of desktop peripherals including two new hub monitors and a conferencing soundbar that are aimed at enterprise and workplace customers, but one particular new product might be a good fit for photographers working from home: the Dell Thunderbolt Dock.
The Thunderbolt Dock brings multiple I/O options to a desktop. On the front is a single USB-C 3.2 Gen 2 port and a USB-A 3.2 Gen 1 with Dell "PowerShare" functionality. PowerShare describes Dell's hardware technology that allows a user to charge USB devices when the system is on battery power.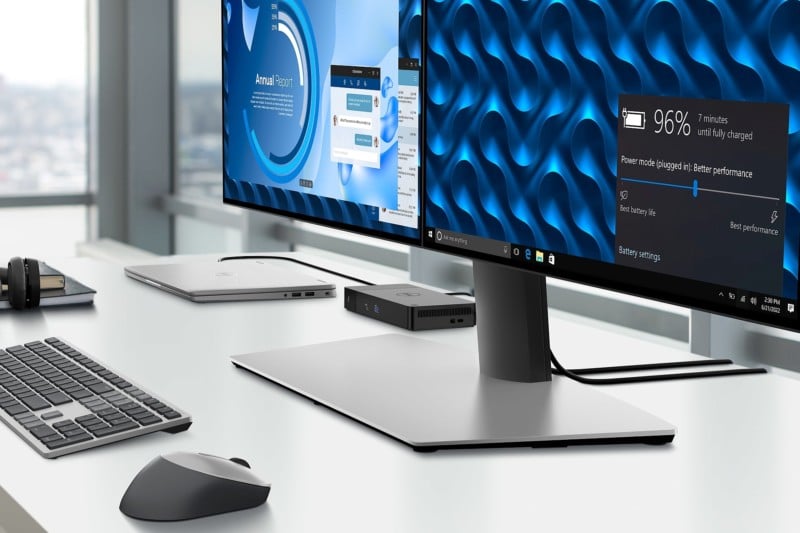 On the back are two DisplayPort 1.4 ports, an HDMI 2.0 port, a USB-C Multifunction DisplayPort, two USB-A 3.2 Gen 1 ports, gigabit ethernet, and two Thunderbolt 4 Ports.
Dell says that the Thunderbolt Dock of course has wide compatibility across Dell laptops, but is also compatible with notebooks from other manufacturers that support the Thunderbolt standard.
If the dock stopped there, it would not be particularly notable. However, it has an additional feature: the ability to be upgraded over time thanks to a swappable, upgradeable Thunderbolt module. Billed as a "future-made design," the swappable module lets users upgrade the dock to whatever might be the latest technology but keeps access to the Thunderbolt 4 ports. So while it doesn't fully future-proof the device against the possibility of Thunderbolt 5, the main module can be upgraded to support any possible changes to USB-C, DisplayPort, HDMI, or any other connections that might change in the coming years.
The modularity also allows the power cable to be replaced should it need to be repaired.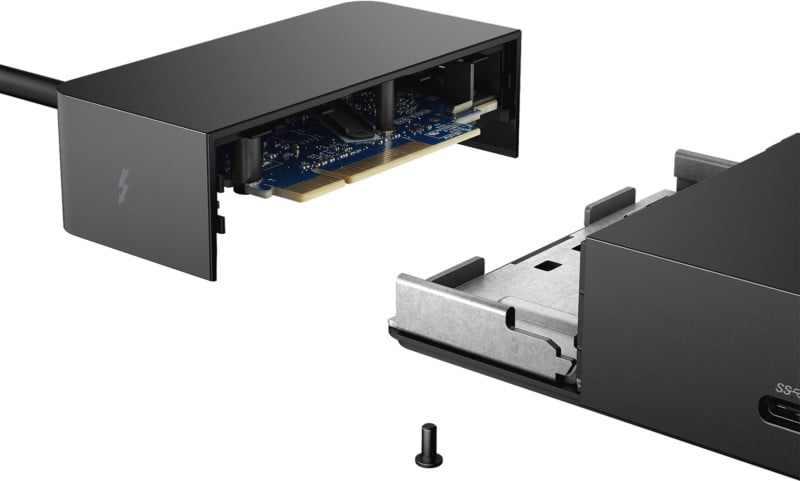 The dock is designed to work with laptops and provides power delivery of up to 130W on Dell Devices with the company's proprietary fast charging technology that enables 80% charge in one hour and 35% charge in 20 minutes on compatible devices.
The Dell Thunderbolt Dock is available for $470 and will become available in "Q2" of 2022. More specifically, Dell's website shows a shipping date of June 28.
Dell also launched a dual charging Qi smartphone charging dock and stand that allows users to see the phone and charge it at the same time.
It's not just a charger though, and as a dock, it offers four USB-A ports, two USB-C ports, ethernet, HDMI 2.1 (gratefully), and a DisplayPort 1.4 port. It will become available on May 12 for $369.
---
Image credits: Dell